Beijing Capital International Airport – T1
Beijing Capital International Airport Terminal 1 only operates domestic flights heading for major cities in China, such as Shanghai, Xi'an, Shenzhen, Xiamen, Kunming, Ningbo and Urumqi. It has become the exclusive terminal of domestic flights of Hainan Airlines Group since 2008.
Airline Companies in T1
Fuzhou Airlines (FU), Grand China Airlines Domestic (CN), Capital Airlines (JD), Hainan Airlines Domestic (HU), Tianjin Airlines (GS), Spring Airlines (9C), Lucky Air (8L)

Passenger Guide
1. Departure Hall: 2F ; Arrival Hall: 2F

2. Time for Taking Flights:
→ Arrive at Terminal 1at least 2 hours before flight departure
→ Close Time for Check-in: Domestic Flight: 45 mins. before take-off
→ Close Time for Boarding: Domestic Flight: 20 mins. before take-off

3. How to Travel between Capital Airport & Downtown Beijing: Airport Shuttle Bus, Airport Express Train + Subway, Taxi


Capital Airport Pick-up and See-off Service: private car, professional driver, low price

4. How to Get to Terminal 1 from Terminal 2 or 3:
T1 ↔ T2: Walkway on 2F, 8 min.; Terminal Shuttle, 5 min.
T1 ↔ T3: 24-Hour Free Terminal Shuttle, 15min.

5. Transfer Guide in Beijing Capital Airport: minimum connection time, transfer procedures
| | |
| --- | --- |
| Domestic Arrival Procedures in T1 | Domestic Departure Procedures in T1 |
Facilities & Services of Terminal 1 of Beijing Capital Airport

Left Luggage:
Location: east side of 2F
Charge: (one day price for one piece of baggage, by length+width+height)
≦65cm: CNY20; 65 – 115cm: CNY30; 115 – 180cm: CNY40; ≧180cm: CNY60;
Electronic password locker: Charge is based on locker's size and service time.
Hotline: +86 010-64540921



Baggage Packing:
Location: Left Luggage Service Counter at East of 2F; Service Counter No.K1 at 2F
Charge: CNY10-160 per packed baggage



Currency Exchange:
Travelex: Public Service Area of Domestic Arrival Hall on 1F



Airport Free WIFI: Its name is 'Airport-Free-Wifi-New'. Passengers need to use their passports to get a username and password from the self-service machines to connect to the internet.
| | |
| --- | --- |
| Self Check-in Service | Information Desk |

Restaurants:
| Name | Location | Average Spend | Service Hours |
| --- | --- | --- | --- |
| Starbucks | East of Public Area on 1F | CNY 45 | 24 hours |
| Coolava Coffee | East of Domestic Waiting Area on 2F | CNY 35 | 11:00-22:00 |
| KFC | East of Public Area on 3F | CNY 40 | 24 hours |
| Celestial Cuisine Restaurant | West of Public Area on 3F | CNY 100 | 10:00-21:00 |
| Western Mahua Beef Noodles | South of Domestic Departure Hall on 3F | CNY 40 | 06:00-22:00 |
| Leisure Tea House | Middle of Public Area on 3F | CNY 90 | 24 hours |
| Kangzaiyuntun Restaurant | Opposite to Security Check, Domestic Waiting Area on 2F | CNY 40 | 06:00-24:00 |

Drinking Water: Water dispensers are available in T1 providing cold and hot drinking water.

Hourly Lounge: Passengers can take the elevator from the west of Gate 8 on 2F and get to 3F.
Hotline: +86 010-64540985

Business Center: This offers facsimile facilities, photo-copying, printing, mobile phone re-charging, on-line connection via PC as well as laptops.
Location: East of Gate 2 on 2F
Service Hours: 07:00 to 21:30
Hotline: +86 010-64590343

Parking Lot:
The No.1 Parking Lot is situated at the south side of terminal building. In total it has around 700 parking spaces, which allow cars, coaches, long-distance buses and barrier-free vehicles.
Parking charge:
| Car Type | Every 0.5 hour | After 16 hours |
| --- | --- | --- |
| Small | CNY 2.5 | CNY 80 |
| Large | CNY 5 | CNY 160 |

Medical Service Room: west side of public area on 1F
Service Hours: 07:00 to 21:00
First-aid Tel: +86 010-64591919 (24 hours)
| | |
| --- | --- |
| Airport Clinic | Airport Public Phone |

Lost and Found: Contact police station located in the east side of 1F.
Hotline: +86 010-96158
Service Hours: 24 Hours



Changing Room: West of Baggage Claim Hall in Restrict Area on 1F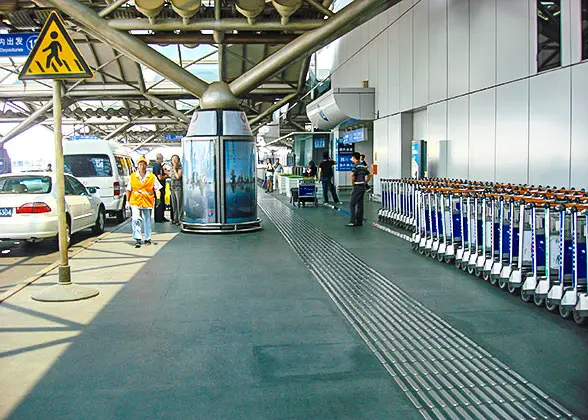 Luggage Carts

Nursing Room: Located at east & west of Departure Hall Restricted Area on 2F, nursing rooms have baby care platforms, water pools, and chairs.



Children's Playing Space: in the east & west of the Departure Restricted Area on 2F.



Smoking Room: There are four smoking rooms outside the T1. Passengers are not allowed to smoke inside the terminal building.



Obstacle-Free Facilities: Hotline: +86 010-96158



Stand-by Ticket Counter: central service counters on 2F of the Departures Hall. There are 6 stand-by ticket counters in total.
- Last modified on Feb. 13, 2019 -
Questions & Answers on Beijing Capital Airport T1
Asked by sabrina mohammed from HONG KONG | Feb. 01, 2019 06:58

Reply
Sleeping in terminal 1 of Beijing Capital Airport
Hi, I arrive at 12 midnight in T2 from HK and need to transfer to T1 for a flight to Harbin with Hanian airlines at 7am. I don't want to leave the airport, get to hotel, only to then return in few hours. can you please explain the transfer process and advice if there is a sleeping area in T1? I have been to T2 plenty of times and i know many people sleep on the seats. i don't mind doing the same if same option available in T1?
Answers (1)
Answered by Lillian from UAE | Feb. 13, 2019 19:23

0

0

Reply
Don't worry. You can take some rest at the Hourly Lounge at T1, PEK. The exact location is public space in Arrival Lounge at 3nd Floor of T1. You can easily find the place according to the detailed English signs at the airport.
Asked by Edita from IRELAND | Dec. 09, 2018 12:05

Reply
Help,first time will arrive to Beijing Capital Airport
My flight from Dublin(Dub)-Moscow(SVO)-PEK T2-Chongqing Jiangbey(CKG)-Auckland(AKL).Please tell me what I should do(step-by step from the plane) when arrive to PEK (Terminal 2),am I qualified for 144 hours Visa free exemption as my layover at PEK 13h 55min?if yes,where to get it?I carry Lithuanian passport.From wich terminal I should fly from PEK to Chongqing Jiangbey(CKG) because in the e-tickets nothing mentioned.
Answers (5)
Answered by Jason from USA | Dec. 10, 2018 22:30

0

0

Reply
No, you are not eligible for 144-hour free visa because it regulates you can only make one stop in China but you make two stops: BJ and Chongqing.Besides, the departure terminal depends on which airline you take. You can ask the airport staff for help.
Answered by Edita from IRELAND | Dec. 11, 2018 03:18

0

0

Reply
Thank you for the reply.So,right after the landing a plane in PEK T2 I should go to International Transfer if I am not eligible for Free Transit Visa?from PEK to Chongqing Jiangbei(CKG)flying with Hainan airlines.
Answered by Jason | Dec. 12, 2018 18:15

0

0

Reply
Moscow - PEK - Chongqing, it is an international to domestics transfer. The detailed transfer procedures are the following:
1: Inspection & Quarantine, Exit and Entry Frontier Inspection
2: Baggage Claim
3: Customs Inspection
4: Go to T3-C and going through Transfer Formalities
5: Security check
6: Waiting & Boarding
Answered by Edita from IRELAND | Dec. 12, 2018 18:40

0

0

Reply
am I eligible for any (24hrs,72 hrs)Free Transit Visa for exit an airport?
Answered by Jason | Dec. 12, 2018 22:22

0

0

Reply
You can only eligible for 24 hours visa free policy at PEK.
Asked by Ryan Le from USA | Sep. 22, 2018 15:20

Reply
How to apply for the Beijing 144 visa free at Terminal 1?
I arrive in Oct. 5th from the USA using Hainan Airline with a stop over and change plane at Chengdu so we will arrive at Terminal 1. I carry US passport and will stay in the city for 2 days before going to Tianjin port for an Asia Cruise (Royal Caribbean). I know we are qualified for the 144 hours Visa Free exemption but I don't see a direction for the office or booth to get this Visa at terminal 1. I know they are at Terminal 2 and 3 so do I need to walk to terminal 2 for this or there is one at terminal 1?

Thanks
Answers (1)
Answered by Sophia from USA | Sep. 25, 2018 20:26

0

0

Reply
Dear, I'm afraid you cannot enjoy the 144 hours visa because your flight made a stop in Chengdu but not directly fly to Beijing. Therefore, you need to apply for the visa in advance before you enter China.
Asked by Carlos from USA | Aug. 19, 2018 16:24

Reply
transfer in Beijing Capital Airport - T1 to T3
I land at 8am in PEK from MNL with china eastern airlines T1 and need to transfer to T3 United Airlines to Chicago at 3:20pm ( 5 hrs layover ) do I have enough time? Is there a United transfer desk in T1 to print boarding pass and leave luggage? I'm able to transit PEK without transit visa for 24 hours with proof of onward ticket. Is this possible with bag checked?
Answers (1)
Answered by Jay from RUSSIA | Aug. 20, 2018 00:11

0

0

Reply
Yes, your time is enough. Upon arrival, the flight display screen will show the boarding gate of your flight, just follow the signs to get there.