Health & Medical Service in China
Tips for Keeping Healthy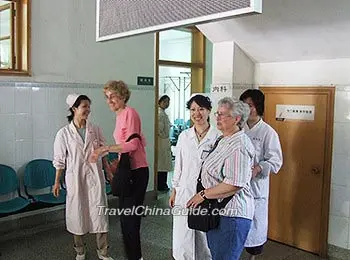 Foreigners in a Chinese Hospital
• Never drink unboiled water. Boiled water or bottled water is the best choice for you. Don't drink water from lakes or rivers directly. When potable water is not available, you can eat fruit. Hotels in China usually supply boiled water that is safe for drinking and for cleaning your teeth. It is also the custom in the country for tea to be available in hotel bedrooms. Supplies of both boiled water and tea are regularly replenished. Bottled water and carbonated drinks are also readily available. In some remote areas, water purification tablets are recommended for travelers to carry and use when neither boiled water nor bottled drinks are available.
• Avoid eating food being sold by the roadside and raw or undercooked food.
• Drink a lot of water. It could help you minimize the possibility of getting an illness.
• Wash your hands frequently and keep them away from your mouth.
• Proper precaution should be taken against exposure to strong summer sun.
•Do not undertake intimate activities without protection. Always use condoms if you have sex in order to reduce sexually transmitted diseases.
• Plan your schedule carefully allowing for rest breaks so as to avoid becoming exhausted.
• Carry your own chopsticks and a metal bowl with a lid for train journeys and meals in small roadside restaurants.
• Fruit and vegetables should be washed thoroughly in purified water, then peeled or boiled.
• Toilets off the beaten visitor track tend to be primitive so it is useful to bring along your own sanitary necessities and moist towels when venturing outside your hotel.

Careful preparation will ensure the happiness of your trip. What may seem to be a bit of a nuisance will go a long way to help you avoid mishaps.
| | |
| --- | --- |
| Ambulance in China | Medical Service in Hospital |
Medical Service
Basic medical service can be guaranteed in most Chinese cities, especially those with a large tourist market. However, quality of service may vary between geographic regions. The condition of medical facilities in the countryside is generally worse than in the city, where there are many critical care hospitals with advanced equipment and qualified doctors. Some of the superior hospitals have the capability to serve foreign patients in English. In Beijing, the United Family Hospitals and Clinics are well-known for providing quality medical care to visitors who do not speak Mandarin.

Other quality hospitals in China can also offer medical service in English, such as Beijing Xiehe Hospital, Shanghai Renai Hospital, Xi'an Xijing Hospital and Shenzhen Fuhua I.T.W.M Hospital. Some of them have a clinic specialized for foreigners, and the Information Desk may also offer triage and intake services in English.

Most four and five-star hotels in China have infirmaries that can provide immediate medical attention, but they are only equipped to deal with minor illness and injury. If this medical service is unavailable where you are staying, you can call the reception desk for assistance, as they may be able to arrange for a physician to come directly to the hotel. It is strongly recommended that you go to a superior hospital for any illness you believe may be serious.

If you join a tour group, your guide or travel agency may also be able to provide assistance with medical problems. If you feel ill, tell them as soon as possible so they may arrange for timely medical care.

The best idea, of course, is to be healthy for your trip, and be prepared to handle rudimentary health issues, like minor headaches, cuts, and blisters. Pack appropriate clothing and footwear, and make sure to bring an adequate supply of any medications you may currently be taking, as well as basic necessities such as aspirin or Tylenol. If you are traveling during the summer months, also make sure to bring sunscreen. Being healthy and prepared will help you avoid a hospital stay, and also make your trip more enjoyable!
International Hospitals in China
Hereafter are some superior hospitals in major cities:

Beijing: United Family Hospitals and Clinics
Tel: 8610-64333960

Shanghai: Shanghai Renai International Patient Center
Tel: 021-64688888

Hangzhou: Sir. Run Run Shaw Hospital
Tel: 0571-86090073
---

More about the Health and Medical Service in China:
The Health Concerns before Traveling, in Transit and When Traveling.
- Last updated on Apr. 14, 2021 -
Questions & Answers on Medical Service in China
Asked by cosmas from TANZANIA | Jun. 20, 2014 14:52

Reply
How much does IVF service cost in Beijing China
Answers (1)
Answered by Juana from USA | Jun. 21, 2014 03:32

0

0

Reply
I heard the fee is CNY10,000-15,000.
Asked by Benjamin from NIGERIA | Sep. 03, 2013 08:41

Reply
How can I and my wife get a medical help from any china hospital for IVF
Answers (1)
Answered by Vivian from PHILIPPINES | Sep. 04, 2013 00:51

0

0

Reply
Hi, you can go to Beijing, where there are many good hospitals being able to help you with the IVF.
Asked by Mr. thaha from INDIA | Nov. 06, 2010 02:38

Reply
hello,
right now i am in shenzhen with my family. now we are thinking for a baby. but we are afraid if we think about the treatment . is there any good English hospitals in Shenzhen for pregnancy treatment.
Please help us …

Answers (1)
Answered by Mr.James | Nov. 07, 2010 20:41

1

0

Reply
You can go to CanAm, an International Medical Center in Shenzhen, located in 1st floor, Block F,Fraser Place 1033 Nanhai Road,Shekou Nanshan District.