Code: GW22
Sizuolou Great Wall Adventure
Sizuolou means "four watchtowers" in Chinese. As its name indicates, there were originally four towers connected by ramparts, but now only three of them are remained. The one at the eastern end has been torn down to build a signal tower. Sizuolou Great Wall was constructed in the Ming Dynasty (1368 - 1644). Lacking of renovation and protection, the ramparts had collapsed many years ago. Shaded by lush plants, the remaining watchtowers are like mysterious castles waiting for backpackers to explore. When you get closer, you will find many bullet holes on the walls, which were left during the Sino-Japanese War from 1937 to 1945.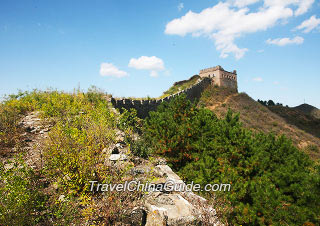 How to Get to Sizuolou Great Wall from Beijing Downtown
Sizuolou Great Wall is located in Pinggu District northeast to Beijing downtown. It is about 105km (65mi) from the city center.

→ Arrive at Dongzhimen Subway Station by line 2 or line 13 and get out from Exit H to find Dongzhimen Transit Hub.
→ Take bus no. 852 to Guanzhuang Lukou.
→ Head northwards along Misan Road for a few meters to take bus no. Ping34 to Guanshang Village and start the hiking there.
Sizuolou Great Wall Visit Route
After getting down from bus no. Ping 34, go southwards along Huguan Road and pass by Yangjiatai Village to reach Shijiatai Village. Pick the cement pavement to the southwest when you arrive at a fork at the southern end of Shijiatai Village. Go along the road for about 10 minutes and follow a gravel path to Sizuolou Great Wall. There are cloth strips bound on the branches by other hikers leading you the way.

After going through a pine forest, you will see the first watchtower of Sizuolou Great Wall. The watchtowers of Sizuolou Great Wall are at an interval of about 100 meters (110 yards). Hike along the remained ramparts of the Great Wall, you will see the other two watchtowers one after another.

After touring around, get downhill from the watchtower at the western end onto the Pinggu International Walking Road. This road is the first hiking avenue in China that meets the international standard. Take a look around and you will have an eyeful of lush plants covering the rolling mountains. It reveals the best view during spring from March to May. At that time, wild flowers are in full bloom and overspread the land on the roadside. If you come in autumn during September ~ October, the tree leaves will turn golden and the mountain will look shining under the sunshine.
How to Get Back to Beijing
After getting down from Sizuolou Great Wall, hike all the way along the Pinggu International Walking Road to the south to Beizhai Village and take bus no. Ping 39 there to Pinggu Coach Station. Then transfer to bus no. 852 back to Beijing.
Tips
1. It is suggested you find some companions for this independent Great Wall tour to Sizuolou, or hire a local villager as guide if necessary.
2. You are advised to arrive at Beizhai Village before 16:50 when the last bus no. 39 leaves for Pinggu District.
3. You can take a break at special resting places along the Pinggu International Walking Road. There are also booths selling bottled water.
4. Toilets can be found near the Luyou Square and the 10km Terminal along the Pinggu International Walking Road.

More Great Wall Hiking Routes:
Badaling Hiking: Explore Badaling in one day
Simatai Exploration: One day hike tour to Simatai and Gubei Water Town
Gubeikou Hiking: with accommodation and transportation tips
Shanhaiguan with Laolongtou: itinerary to Laolongtou, Shanhaiguan and Jiaoshan
Juyongguan Hiking: itinerary and tips for Juyongguan section



More Beijing Independent Packages:
Forbidden City: 4 routes to discovery the world's largest imperial palace