As spring is approaching in March, the major parts of China now get warmer and warmer, welcoming the blooming spring flowers. As is known to all, Chinese people had to stay at home for epidemic control reasons in the spring of last year. This year, with the elimination of domestic Covid-19 in China, tourists can go for spring outing and appreciate flowers, which in turn causes a boom in flower tours.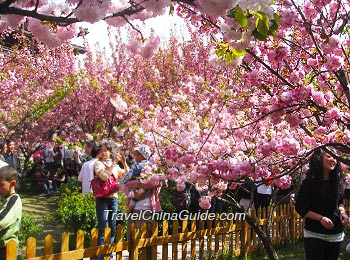 Cherry Blossom in Qinglong Temple, Xi'an
According to the estimating, the online search volume of the key word "appreciate flowers" in early March increased by 280% month-to-month in China. Besides, the bookings for scenic areas famous for spring flowers saw an increase of 115% compared with the same period in 2019. In the following spring months, an even larger number of tourists can be expected to join the China flower tours.
Effective Epidemic Control Created Safe Environment for Flower Tours
On one hand, with the implementation of effective epidemic control measures, such as health code checking, wearing masks, and regular disinfection in public places, the medium and high-risk areas of Covid-19 in China has been eliminated, which ensures the safety of travelers. On the other hand, as China is doing well in epidemic control, tourists' willing to travel gets stronger and stronger, which accelerates the revival of domestic tourism industry.

Appealing Flight Tickets Discounts Facilitated Flower Tours
In addition to the relative safe environment, favorable flight tickets discounts also facilitated flower tours. According to authoritative statistics, in early March of 2021, the average price of economy class seats is CNY 503, dropped by about 20% compared with last year. Specifically speaking, the tickets between Guangzhou and Nanjing dropped by 45%, Shanghai and Guangzhou by 43%, Beijing and Chengdu by 43%, Shanghai and Kunming by 33%, and Beijing and Kunming by 28%.

Hot Destinations in China for Appreciating Spring Flowers
Beijing:
Yuyuantan Park – Cherry blossom from late March to early May
Summer Palace – Magnolia in late March, lilac in April, wnter Jasmine in February and March
Xinghua Village in Pinggu District – Apricot blossom from late March to mid-April

Xi'an:
Qinglong Temple – Cherry blossom from late March to late April
Xingqinggong Park – Tulip from late March to early May

Wuhan:
Wuhan University – Cherry blossom from late March to late April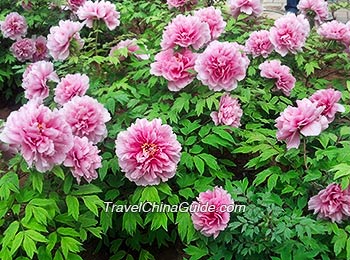 Peony in Luoyang
Luoyang:
China National Flower Garden, Wangcheng Park – Peony in April and May

Nyingchi:
Gala Village – Peach blossom from mid-March to mid-April

Jiangxi:
Wuyuan – Rape flowers in March

Yunnan:
Luoping – Rape flowers in February and March