Code: Urumqi 09
3 Days Tour to Shanshan on Silk Road
This journey will take you to Shanshan, a small county which is 290kms southeast to Urumqi. There are many bullet trains available there everyday. You could choose the train D8802 0937/1100 or train D2706 1122/1245. The second class train tickets is CNY79.5 per person and the first class train tickets is CNY127 per person.
Or you could take the long distance bus from South station of Urumqi. It takes about 3 hours with the tickets of CNY56 per person.
If you want to have an enjoyable relaxation, we suggest you go and experience a sand treatment. The Sand treatment is an important component of the traditional Uygur medical treatment. The trace minerals in the sand are very effective in curing a variety of diseases, such as rheumatism, numb limbs, blood barrier and gynecological diseases. If you are coming between June and August, Kumtag Desert here can be an ideal treatment. Then we guess you may have a good sleep tonight. But as limited by the local conditions, the guesthouse there may not be expected too much.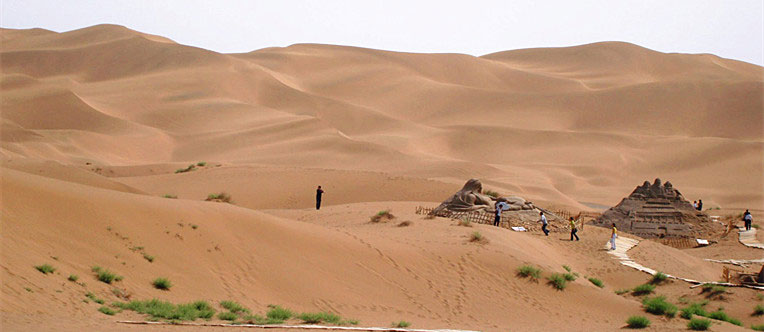 Kumtag Desert
The morning can be started with a visit in the county. Dongda Mosque is built in 1911 and is one of the largest mosques in Xinjiang Province. But it is not allowed for the non-Muslims to go in when the Muslims are attending their routine chapel. When it is getting late morning and the shops are open, your next stop can be the Shanshan Stone Market. The stones here are mainly wind-polished rock and fossil wood which have a high profile in the country. Taking your time and strolling around, you may find a piece to take home.

Having a lunch at a local restaurant and taking a bus at Shanshan passenger station to Lukeqin Town. The bus is available from 08:30 to 20:30. As the home of the Uygur music, the first Twelve Xinjiang Muqam Art Center is built here. Its beautiful melodies, profound and vivid lyrics and its warm atmosphere when singing and dancing, the Twelve Maqam is loved by people. Now, Twelve Maqam has been declared the world's intangible cultural heritage. Listening to its unique rhythm, you may feel the charm. Then take the bus back to Shanshan. The last bus departs from Lukeqin at 19:40.

Shanshan Oil Field will be your last destination of this trip. Turpan-Hami Oilfield is located mainly in Shanshan County, an area of about 50,000 square kilometers. When all the Oil Extraction Machines starts to work, this grand view is not something you can see everywhere. The pleasant Shanshan trip stops here, you may either stay a few days more to enjoy the sand treatment or be on your way back to Urumqi. The bullet train D8807 1650/1830 will be your choice.

More Urumqi Hiking Itineraries: