Endorsed by New York Times
The New York Times Travel Supplement has named our company as being in their opinion a large and reliable Chinese travel agency. Details
What Our Clients Say
Dear Selina,
My apologies for taking so long to answer - time is just flying too fast!!! Your tour was very well organized and the guide David a very knowledgeable and considerate guide. It was very informative to be taken by him and the driver to the various stops along our itinerary - a big compliment to both of them.
All the best,
Sybille
August 18, 2014
More China Tour Reviews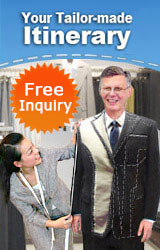 Step 1:

Inquiry

Step 2:

Get a quote

Step 3:

Free changes

Step 4:

Payment

Step 5:

Confirmation
Tripadvisor awards the 2014 Winner to TravelChinaGuide. See our detailed China Tour Company Reviews.
Toolkit
Real time weather forecast of major cities.
Join us at
what was the purpose of the terracotta warrior?

The Terracotta Warriors were a form of funerary art buried with the emperor; their purpose was to protect the emperor in his afterlife.

Seven Stars Park
We are member of:

We accept:

Security: