Endorsed by New York Times
The New York Times Travel Supplement has named our company as being in their opinion a large and reliable Chinese travel agency. Details
What Our Clients Say
Dear Sophie, Abbey, and Carol,
Thank you again for our wonderful Xi'an tour. It has been the highlight of our return to China this fall. Although we are back in Beijing and working here, we can't stop talking about Xi'an and especially Carol's skill as our guide.
Warm regards,
David Livingston
September 15, 2014
More China Tour Reviews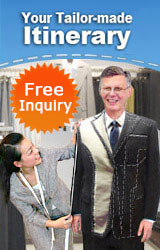 Step 1:

Inquiry

Step 2:

Get a quote

Step 3:

Free changes

Step 4:

Payment

Step 5:

Confirmation
Tripadvisor awards the 2014 Winner to TravelChinaGuide. See our detailed China Tour Company Reviews.
Toolkit
Real time weather forecast of major cities.
Join us at
what was the purpose of the terracotta warrior?

The Terracotta Warriors were a form of funerary art buried with the emperor; their purpose was to protect the emperor in his afterlife.

Seven Stars Park
We are member of:

We accept:

Security: