Top Guilin Attractions
More Things to Do
Top 10 City Tours
Code: GL26
Sanjiang Ethnic Dong Village Day Tour from Guilin
Sanjiang Dong Autonomous County is a very beautiful rural part of China's deep south, about 160 km away from Guilin.
Sanjiang
is named for the confluence of three rivers, which endows the city with incredible natural scenery. Also it is home to the Dong ethnic minority. This day tour from Guilin travels to Sanjiang Dong villages and shows you the real life of Dong people, and their traditional customs, colorful garb, stilted houses, Wind and Rain Bridges, drum towers and terrace fields.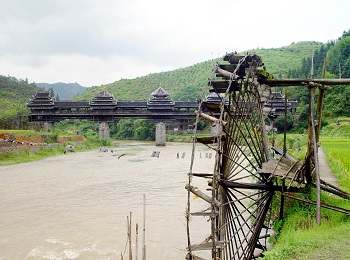 Chengyang Wild and Rain Bridge
You can take a morning bullet train from either Guilin railway station or Guilin North railway station. It is the most convenient way from Guilin to Sanjiang, with a journey of less than one hour. The train ticket for the second-class seat is CNY34 or CNY40 according to different trains. Once you arrive, find the DongXiang Reception Hall near the railway station and take the tourist bus to the Tourist Distributing Center of Sanjiang, where you transfer to the bus to Chengyang.
The entrance fee of Chengyang Bazhai scenic area is CNY60. It covers eight Dong minority villages. These villages are all connected by bridges or pathways. Among all the bridges, the
Chengyang Wild and Rain Bridge
, also called Yongji Bridge or Panlong Bridge, is the most famous one. This bridge, almost 70m long and 11m long, was built more than 100 years ago with stone and wood, but cleverly dovetailed together without using nails or rivets. Now it is still very sturdy and offers shelter to villagers on stormy days. A small river running below it, together with small patches of rice terraces, tea plants, water wheels and stilted houses make a peaceful rustic picture. If you want to have a panoramic view of the eight villages, you can go to the small hill at the end of the bridge and about 10-minute hiking, you will reach the View Pavilion. Look afar, the Chengyang Wild and Rain Bridge adds an artistic touch to the serene setting of the villages.
Dong Village
Next you can explore the eight Dong villages skirting the winding Linxi River amid verdant farmland. They are Ma'an, Pingzhai, Yanzhai, Chengyang-Dazhai, Pingpu, Pingtan, Jichang and Guandong. The eight villages offer visitors an ever-rarer glimpse into an ancient tribal society. In addition to those exquisitely designed bridges and drum towers in each village, you will also see a Dong Folk Custom Museum in Yanzhai village. A group of villagers perform traditional song and dance in Pingzhai village's square and there is "Hundred-Family-Banquet" in Dazhai village during big festivals. In Pingtan and Jichang villages, daily life follows gentle rhythms, as they are less touristy than the other villages. This two villages are a little out of the main way, a 30 minutes stroll from Ma'an village. Remember to climb to the top of Pingtan village for great views.
After finishing your tour in the eight Dong villages, you can take the same bus back to Sanjiang South Railway station. The last train from Sanjiang to Guilin leaves at 19:41. In case you may miss the last train, you can also hail a taxi from Chengyang back to Sanjiang South railway station to save the time. The drive takes around 50 minutes and costs from CNY70 to CNY100.

More Related Packages: