Best Hong Kong Tours
Top Hong Kong Attractions
More Things to Do
Top 10 City Tours
Code: HKG09
Lantau Island Exploration
One Day Independent Tour Ngong Ping 360 Cable Car - Big Buddha - Po Lin Monastery - Tai O Fishing Village
Lantau
is the largest island in Hong Kong, almost 2 times as big as Hong Kong Island. It is a mountainous region with very limited flat area. This one day independent Lantau Island tour will lead you to take the well-known Ngong Ping 360 Cable Car, and visit the Big Buddha, the Po Lin Monastery and finally enjoy a leisurely stroll around Tai O Fishing Village.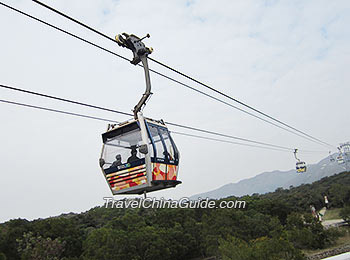 Ngong Ping 360 Cable Car
After breakfast, take the MTR and transfer to the end of the Tung Chung Line. Exit through Exit B from Tung Chung station. Then walk around 3 minutes to the Cable Car counter. It takes around one hour to get there from downtown areas. The Ngong Ping 360 Cable Car is the fastest way to climb up to the Big Buddha. During the 25-minute cable car ride, you will have a golden opportunity to overlook the Lantau Island, the international airport, South China Sea and verdant flora on the island. The single trip ticket fee is HK$130 for a standard cabin and HK$180 for a crystal cabin. Give a try on the Crystal Cabin, which is built with transparent glass and you can enjoy even the deep blue sea and lush green mountainside underneath your feet. Be prepared to wait in line for about 20-30 minutes during weekends or holidays.
Once you step out of the cable car, you will be greeted by a culturally themed landscaped garden which is called Ngong Ping Village. There are a bunch of souvenir shops and eateries. Then walk a few minutes to the Big Buddha (Tian Tan Buddha in Chinese), an impressive giant, bronze Buddha. The statue is 112 ft tall and 250 ton in weight, and it is the second largest outdoor sitting Buddha in the world. You could ascend 268 steps to have a close look at this holy Buddha.
Opposite the statue, it is the
Po Lin Monastery
, the prestigious bethel of Buddhism. Once a small, remote and tranquil temple, Po Lin became renowned when the Big Buddha statue was completed in 1993. Since then, more and more visitors and believers come to worship the Buddha. You can also enjoy a meal at its popular vegetarian restaurant.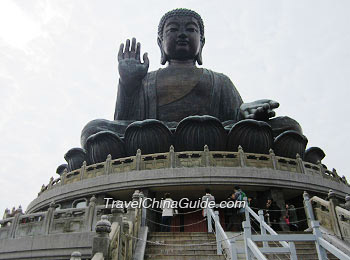 Big Buddha
Then turn to
Tai O Fishing Village
. You can take bus 21 from Ngong Ping Bus Terminal or take a taxi to reach the village directly. The bus trip takes about 20 minutes and costs HK$6.6 on weekdays and HK$14 on Sundays and public holidays. Taking taxi is the most convenient way and takes approximately 10 minutes at a cost of around HK$50. It is the earliest village that has been developed in Hong Kong. Contrast to other regions in the metropolis, Tai O retains the original stilt houses, bridges, and boats. In the village, the fishermen's stilt houses flank along both sides of the river, interconnected with each other. The inhabitants there, Tanka people, fostered by the resourceful sea, make their living by fishing. You can either take a boat cruising along the river inside the town, or stroll on the narrow alleys and passages. The seafood and sea products of Tai O are very famous; many Hong Kong people come regularly to buy some local products. What's more, you will find delicious snacks and interesting souvenirs.
After finishing the Lantau tour, you can take bus 11 to Tung Chuang and then connect MTR back to the downtown area either Hong Kong Island or Kowloon side. The bus trip takes around 50 minutes and costs HK$12 on weekdays and HK$20 on Sundays and public holidays.

More Related Trips:
Disneyland
: One day tour of Magic Hong Kong Disneyland Resort.
Family Fun
: 3 days to Disneyland, Ocean Park, Victoria Peak, Lantau Island and a fishing village.
City Travel
: 4 days suggested itinerary of the most of the sightworthy attractions in Hong Kong.