Tang Dynasty Music and Dance Show
Classical Programs: Page
1
2
Battling Dance of the King of Qin
It was usually performed by the soldiers to celebrate their triumph upon their return from the battlefield. It is said to be created by Emperor Taizong, who was the second emperor of the Tang Dynasty and titled the 'King of Qin' before his enthronement. Taizong used this dance to show off the empire's powerful military strength.
It is a traditional dance performed by a group of many people. It endured for a long time and prevailed in the Tang Dynasty. On a festive day in mid-autumn, people gathered to sing and dance at the foot of Mt. Lishan where the Tang court had come to celebrate the harvest and worship the emperor. Today's Ta Ge Dance, with its magnificent scenery and cheerful music, is designed to display the harmonious and prosperous society of the Tang era.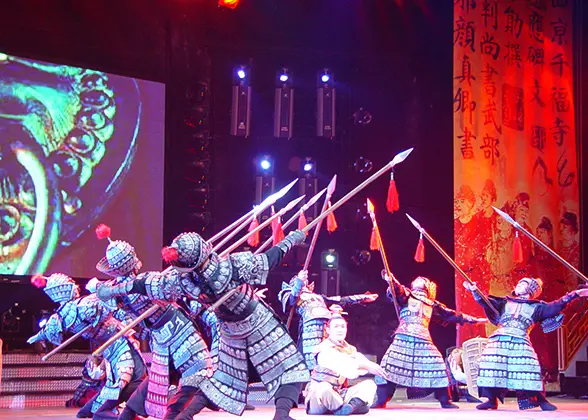 Besides these classical programs, artists have also designed new performances. There are many tourist enterprises showing their own distinctive Tang Song and Dance performances. In the face of fierce competition, the Shaanxi Provincial Song & Dance Troupe displays bold innovation and a series of new programs for the Tang Dynasty Music and Dance Show performed by the artists from that troupe have been highly regarded by the public. Among the various newly-designed programs, one of the most outstanding and successful in the recent years has been the Song of Everlasting Sorrow.
Classical Programs: Page
1
2

Further Reading:
The Tang Dynasty Palace
Shaanxi Grand Opera House
- Last updated on Jun. 28, 2022 -
Questions & Answers on Programs of Tang Dynasty Dinner Show
Asked by Laurentia Wijaya from INDONESIA | Oct. 21, 2012 23:50

Reply
Ni Hao, would Y mind to booking for me 1(day) tour with joint the group tour, pick up me at
Howard Jhonson Ginwa Plaza Hotel, with dinner and watching The Classic Program2, and send me back to Hotel? How much does it costs? Can I have take a picture during the performance? Could Y arrange to me if I wanna go to Huang Shan Mountain by cable car? I gonna stay 19-21Nov, go back to Wang Fujing Nanjing Great Hotel, by Z20 bullet train at 22 Nov,

8.00 pm, it's gonna enough time to spend my holiday in Xi'an?
Answers (2)
Answered by Linda | Oct. 22, 2012 02:01

0

0

Reply
I do not think you need to join a group tour. You can search Tang Dynasty, Xi'an online and book the ticket online. I did it once, which is very easy and conveniet.
You hotel is very close to the Tang Paradise, so you can take a taxi to reach directly and take the taxi back after the show.
As for Huangshan mountain, it is in Anhui Province, which is about thousand meters away from Xi'an, so it is impossible to take finish visiting in three days.
Answered by Laurentia Wijaya from INDONESIA | Oct. 22, 2012 06:16

0

0

Reply
I 'm incorrectly Mount Hua not Huang Shan, plz advise to me, still need tour guide, so I can understand the history, can enjoy, comfortable, and safety journey, for my vacation.. Plz
Asked by wendy from WALES UK | Aug. 27, 2012 11:13

Reply
About the dinnershow of Xi'an, Shaanxi Province.
we are traveling with titan travel we will be there on the 18 may is there dinner included in our tickets if not can you give is some menu choices and prices please
many thanks
wendy

Answers (1)
Answered by Penny | Aug. 28, 2012 01:42

1

0

Reply
Two kinds of tickets are provided for the visitors, Dynasty dinner + Tang music and dance performance and Dumpling Banquet + Tang music and dance performance. Both kinds of show tickets have dinners. So you do not need to worry about the dinners.
Asked by mango | Jul. 23, 2011 11:01

Reply
how much is a ticket for one Xi'an Tang Dynasty music and dance show ?
Answers (1)
Answered by sandy from CHINA | Jul. 23, 2011 21:17

0

0

Reply
The ticket costs 220RMB, perhaps, 350RMB including the dumpling dinner.
Asked by Mr.Trisno from CANADA | Mar. 28, 2011 09:46

Reply
Hi there,
are the classical program 1 and 2 in one show,can we watch the show only without dinner?
Can we buy the ticket at the theatre or prebook with TCG ?
Answers (1)
Answered by Mr.Hank | Mar. 30, 2011 04:55

0

0

Reply
On ticket can only allow you to see one program. You can only watch the shows without dinner, but the seat will be at the very back even if you book in advance. You can buy the ticket on your arrival, but you'd better book the ticket in advance during the peak season. You can either book the tickets on their offical website directly or through TCG.