Sanxingdui Museum (Three-Star Piles Museum)
Sanxingdui Museum (Three-Star Piles Museum) is located in Northeast of Three-Star Piles archeological site, west of the famous cultural city of Guanghan, on the bank of Jian River (commonly called Yazi River), 40 kilometers (about 24.9 miles) north of Chengdu City. Covering an exhibition area of 4,000 square meters (nearly 1 acre), and opened in October 1997 this is an archeological museum with excellent modern facilities. The cultural relics preserved here were mostly unearthed from the Three-Star Piles site.
Three-Star Piles site is a cultural relic of the ancient Shu (Sichuan). It is an important archeological discovery which changed the people's understanding of ancient history and culture. If you want to visit a place to know more about Chinese Shu (Sichuan) culture, make it this one, for the civilization shown by the cultural relics can be called a true wonder.
Three-Star Piles refer to three earth mounds at the site. The Relic area stretches for about 12 square kilometers (about 4.6 square miles), which is the largest, oldest, and most connotational Shu cultural relic in Sichuan. It is said that the Heavenly Emperor cast down three handfuls of earth which fell near the Jian River and became three earth mounds on Chengdu Plain. The three earth piles, described as three golden stars in a line, hence became known as Three-Star Piles. Now affirmed by modern archaeology, the three earth mounds are in reality the southern wall of an ancient city that was built of earth. There are two breaches in the city wall, after the collapse and subsequent erosion; it became the three mounds we see today.
| | |
| --- | --- |
| Bird-Headed Ladle | Bronze Human-Head Figure with Gold Mask |
The discovery of the Three-Star Piles Relic was a lucky chance. In the spring of 1929, a peasant found a piece of bright-colored jade whilst he was digging ditch. That was the catalyst to the discovery of a mysterious ancient kingdom; subsequently, more than 400 jade items were excavated. Later, from 1933, systematic excavations and archeological work of the relic continued for half a century. The evidence of the excavation shows the development from late Neolithic Age (7000 BC-5000 BC) through to the late Shang (16th - 11th century BC) and early Zhou Period (11th century BC - 711 BC).
The r
elic site, with more than 3,000-year history might even be the capital of ancient Shu. And this discovery uncovered the veiling of Shu and padded the blankness of bronze culture in Chinese archaeological history. In the following decades, several generations of archaeologists worked in succession on the site and achieved a lot, especially the two sacrificial pits found in 1986. With more than 1000 cultural relics unearthed, including a 142-centimeter (about 55.9 inches) long and 500-gram (about 31drams) golden staff, a golden veiled head portrait, a 260-centimeter (about 102.4 inches) tall and 180-kilogram (about 396.8 pounds) bronze figure, also a big bronze mask with more than 10 centimeters (about 3.9 inches) bulging pupils and two ears spaced at 168 centimeters (about 66.1 inches) and a big Yuzhang (a kind of jade adornment of the leader of a tribe, the symbol of power). Some cultural relics are apotheosized and mysterious, some are realistic, and some primitive simplicity but all of them are very impressive, which aroused worldwide attention.
The discovery of Three-Star Piles Relic is heart-stirring but some cultural relics remain enigmatic. According to experts, the relic is the centuries-old center of the ancient Shu on Chengdu Plain. Traditionally, archaeology considered Shu as a closed area and without communications to the Central Plain (the most developed region in ancient China), but the cultural relics unearthed here have affirmed ancient Shu is no less developed than the Central Plain and it is even the most representative cradle of Chinese civilization in the upper reaches of the Yangtze River. So research of the discovered site is a significant means to comprehend the development of history and culture in Sichuan, and even the southwest area of China as a whole, but the site is still enigmatic. The ancient Shu characters are one of the two or three unbroken characters. Some cultural relics can not be named as the archaeologists have never seen their ilk before, which also add some mysterious color to the site.
| | |
| --- | --- |
| Jade Ornaments | Jade Arrowhead |
In order to well preserve and display the cultural relics, the Sanxingdui Museum laid the foundation in 1992 and opened in October, 1997. It is divided into four sections, displayed more than 1000 pieces of cultural relics from the site and the two sacrificial pits of Shang Period, including gold plate, bronze ware, jade articles, pottery and ivory. Each of the four sections has its own theme.
Section 1 - Splendor of Ancient Shu Culture
The section is divided into five units. The first unit outlines the history of the ancient Shu and introduced the background of the ancient Shu. The next four units reflected skill, imagination and technical achievements of the Shu people through their handicraft techniques.
Section 2 - Mystery of the Primitive Faith
The exhibition in this section focuses on one topic, human and divinity. It adopted the imitative real scene to show the mental world of Shu people.
Section 3 - Exquisite Cultural Artifacts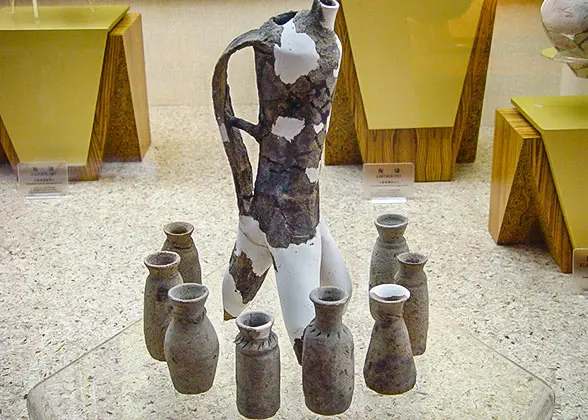 Earthen Wine Vessels
More than 10 groups of cultural relics exhibited here are the soul treasures that symbolize the Shu people's ever lasting spirit.
Section 4 - Three-Star Piles Excavation and Study
This section is a scientific display that introduced the impact of the Three-Star Piles Relic overseas, the discovery and excavation of the site, the vital position of the relic in academic study, to reflect all facets of the site.

For the swarms of tourists all year around, a new Exhibition Hall was opened on May Day in 2004, covering an exhibition area of 7,000 square meters. The exhibition in this hall is mainly a complex display of jade articles, gold plate and pottery, with the old Exhibition Hall specializing in bronze wares.

Three-Star Piles Relic is the spiritual homeland of the ancient Shu people and the Museum is the place for modern people to meet the ancient Shu.
How to get to Sanxingdui Museum from Chengdu
1. Take a bullet train from
East Railway Station
to Guanghan North within 30 minutes, and then take the bus Guanghan Line 13 to get to the museum.
2. Take a direct tourist bus at
Wide and Narrow Alley
,
Chengdu Research Base of Giant Panda
,
Wuhou Temple
or Chunxi Road to the museum directly.
See detailed information
Chengdu Sightseeing Bus
Chengdu Bus / Metro Search
Entrance Fee
CNY 72;
Free for children under 1.3m (4.3 feet).
Opening Hours
8:30-18:00 (Ticketing stops at 17:00)
Restoration Exhibition Hall: 9:00-17:00

Top 10 Things to Do in Chengdu

10 Best Places to Visit in Chengdu for First-time Visitors

Top 10 China Tourist Places for Culture Lovers
- Last updated on Sep. 19, 2023 by Gabby Li -
Questions & Answers on Sanxingdui Museum (Three-Star Piles Museum)
Asked by Ivanka from BULGARIA | Sep. 24, 2015 21:23

Reply
transport to Sanxingdui Museum from Chongqing
Hi, which is the best way to visit the museum, starting from the airport of Chongqing. Is it possible to do it in 1 day (Chongqing - SXD Museum - Chongqing)?
Answers (1)
Answered by Lily from POLAND | Sep. 25, 2015 01:49

1

0

Reply
I'm afraid that one day is not enough for you to come back to Chongqing. You are suggested to stay near the musuem for one night.

From the airport, you can take subway line 3, get off at North Railway Station, Exit 2. Then walk southwest around 480 yards to get to Longtousi Bus Station. There are two bus schedules every day that can take you to Guanghan Bus Station. One is at 08:20. The other is at 13:40. After arriving, take a taxi to the museum directly.
Asked by Kev from USA | Oct. 31, 2014 14:48

Reply
SanXingDui transportation
1. I found on CD917.com that there is a bus running from Panda Base to SXD for 29RMB departing at 12:30pm. Has anyone taken this ride before? Is it legit?
2. Is it easy to get a taxi at SXD (back to Chengdu)? How much is the taxi fare?
Answers (2)
Answered by Sharon from FRANCE | Oct. 31, 2014 21:55

0

1

Reply
It's legit. But there is only one schedule every day. So you are suggested to take bus from Xinnanmen Bus Station to there.

It's not easy for you to take a taxi. But you can rent a private car. The fare is CNY 150 to 200. You should negotiate the price before you get in the car.
Answered by Kev from USA | Oct. 31, 2014 22:14

0

0

Reply
Thanks Sharon! Unfortunately, I won't be able to take the early 8:30 bus from Xinnanmen because I probably will not be done with my panda visit until noon. I'll contact my hotel to see if they can book me a bus ticket fromCD917.
Asked by Kev from USA | Oct. 30, 2014 16:59

Reply
Chengdu to SanXingDui bus
I'm getting some conflicting information and I just want to get a better understanding of the public transportation option between CD and SanXingDui. Questions:

1) Are there only two buses going to SXD from Xinnanmen everyday (8:30 & 15:00)?
2) Are there still buses running from Chengdu North Railway Station to the museum every 15 min as stated above?
Answers (2)
Answered by Penny from HUNGARY | Oct. 30, 2014 21:07

0

0

Reply
(1) There are six bus from Xinnanmen Bus Station. The schedules respectively are 08:30, 09:50, 11:30, 14:00 and 17:40. The ticket fare is CNY 15 per adult.
Recently, I heard these bus may offstream. So you are suggested to confirm the schedules with the bus station at least one day in advance.
(2) The buses to mentioned above is not in service, as I know.
From the north station, you can take the bus to Shifang Station first. After arriving, just take a taxi to the scenic spot directly.
Answered by Kev from USA | Oct. 31, 2014 14:49

1

0

Reply
Thanks Penny for the quick response!