Fenghuangling Nature Park
Fenghuangling Nature Park, also known as Phoenix Mountain, is a national AAAA scenic spot. Covering an area about 4,000 acres (nearly 18 square kilometers), it is located inside the Western Hill Farm of Niegezhuang in Haidian District, 18 miles (over 30 kilometers) away from downtown Beijing. With grotesque peaks and rocks, immense forests, and refreshing springs, Fenghuangling Nature Park is absolutely a good place for leisure and pleasure.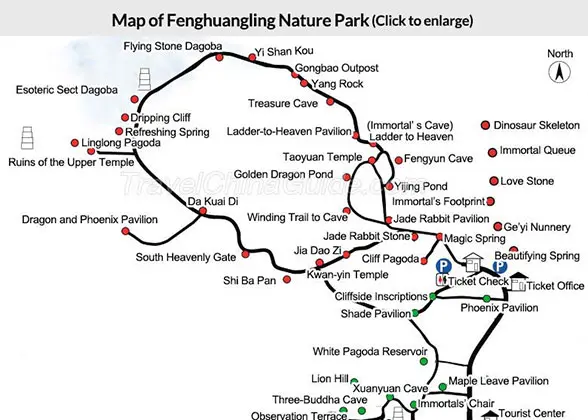 Map of Fenghuangling Nature Park
(Click to enlarge)
The park is a well-conserved ecological area where beautiful natural sceneries and historical relics integrate perfectly. It is fair to say that it is a pure land, a natural jade without any artificial polish. With green hills, limpid water, fresh air and proper air humidity, it is acclaimed as the lung of Beijing City. Meanwhile, the park abounds with colorful cultural sites of Buddhism, Taoism, Confucianism, as well as remains of the health care culture of ancient China, which are very compatible with the natural scenic spots. In total there are more than 40 attractions in the park, which can be seen from the following three touring routes.

North Route
The north route features a high density of scenic spots. Besides mountain and water views, there is seacoast landform Li'er Harbor Coast Cliff Landform that formed thousands of years ago. The main sights along this route are temples and towers including Geyi Nunnery, Shangfang Temple, Linglong Pagoda, Flying Stone Pagoda and Cliff Tower, caves and grottoes such as Kwan-yin Cave, Xiuxian Cave that is near from Tianti, Treasure Cave, and Ancient Ape Cave, as well as springs and streams such as Shenquan Spring, Yijing Pond, Dripping Cliff, and the Jinlong Pond. Visitors circle around the Shenquan Pond to savor the refreshing spring water. The famous Tianti, a ladder that leads to the Heaven, can also be seen on this route. You will also encounter the Immortal's Footprint which is a stone table with a footprint on its top. Legend has it that when a rock rolled down and was about to hit the children playing nearby, an immortal came and kicked at the rock to stop it, leaving his footprint on the rock.
Middle Route
The middle route for touring Fenghuangling Nature Park starts at
Longquan Monastery
, which was built in the Liao Dynasty (907 - 1125). Longquan Monastery deserves to be mentioned especially. It is famous far and near because most of its monks are science geeks from China's distinguished universities such as Peking University and Tsinghua University. One of them even gave up his opportunity to study in MIT to be a monk in the temple. However, to be a monk in Longquan Monastery is not easy. One has to volunteer in the temple for months then checks are needed. Over 100 IT-talented monks spread religious doctrines by using new media such as Weibo and Wechat. Strolling in the temple, you may come across a hi-tech product from time to time. Recently, Longquan Monastery draws attention from the public because of "Xi'an Er", a newly designed cute robot aiming to spread the doctrine.
Walking along the mountain road, visitors can see Immortal's Cave, Three-Buddha Cave, Xuanyuan Cave and Immortals' Chair with Buddhist figures in different postures. These four historic remains combine to form the largest and the most complete cave complex for health care and life nourishing, with each cave representing a level. There are other sites like Baita Reservoir, Shade Pavilion, which is said to be the place for the immortals to play chess, as well as the biggest cliff inscription in Beijing with three red Chinese characters meaning 'Phoenix Mountain'.
South Route
The south route is a natural line with few man-made sites. Huangpu Courtyard, Guandi Temple and Lvzu Cave develop a triangle zone, which has rich religious culture of Buddhism, Taoism, and Confucianism. Besides, there are many unexplained mysteries adding special glamour to Fenghuangling Nature Park; for example, the mysteries of Jingang Stone Pagoda and those of Stone Buddha Sculptures of the Northern Wei Dynasty (386-534).
Transportation:
Take
Subway Line 4
to Beigongmen (the north gate of
Summer Palace
), and then take bus 346 to its terminal Fenghuangling.
Or take
Subway Line 16
to Beianhe station, and then take bus Zhuan 16 to the terminal Fenghuangling.
Beijing Bus/ Subway Search
Admission Fees
CNY 25 for an adult.
* Free for children under 6 years old or 1.2 meters (3.9 feet), and the old over 65
Opening Hours
7:00-17:00

Further Reading: Where to Go in Beijing in Spring - Top 10 Destinations
- Last updated on Jul. 19, 2023 by Gabby Li -
Questions & Answers on Fenghuangling Nature Park
Asked by Hazirah Raushin from MALAYSIA | Apr. 16, 2019 01:46

Reply
Is there public transport to go to Fenghuangling Nature Park from Badaling Wall?
but not sure if there is possible routes to go there by public transports?
Answers (1)
Answered by Owen from FINLAND | Apr. 21, 2019 18:12

0

0

Reply
There is no direct public transportation.
You can take bus no.879 from Badaling Great Wall to Nankou Crossing East and change to bus no.655 to Nankou Farm. Take shuttle bus to Zhoujiaxiang. After arriving, take bus no.346 to Fenghuangling.
Asked by PRINCETON | May. 16, 2017 21:00

Reply
Good day, is camping allowed in the Fenghuangling Nature Park?
Thank you
Daniel
Answers (1)
Answered by Arianna from DENMARK | May. 19, 2017 02:51

0

0

Reply
Yes, as I know, camping is allowed in this nature park. Have fun!
Asked by Mr.RICARDOVERDI from IRELAND | Oct. 06, 2012 06:18

Reply
Phoenix Mountain Fenghuang shan
A year ago I was in Beijing with my wife. We took bus 346 from Beigonmen in NW Beijing to the terminus. I think it was called Phoenix Mountain 凤凰岭 . We spent an enjoyable day there and did a lot of walking. Is this the same as Fenghuangling Nature Park? I was trying to find more information on the mountain to write a review. Thank you
Answers (1)
Answered by Lydia | Oct. 07, 2012 03:04

1

0

Reply
Yes, you are right. They are the same one.