Jewish Refugees' Life in Shanghai
Over fifty years ago when the Nazis crazily persecuted Jews, many people with strong sense of justice stepped forward courageously to help Jewish refugees. Shanghai has wide opened its door to help every Jew who faced the point of death.
| | |
| --- | --- |
| Jews have their haircut | Jewish women are doing housework |
After the middle of the 19th Century, Shanghai became the settlement for a great mass of Jewish refugees. The Sephardi Jews were the first to come here, followed by Russian Jews, and the large number of Jews from the Nazi-dominated Europe. Until the early 1940s, the number of Jews in Shanghai amounted to over 30,000, forming the largest Jewish community in the Far East. Besides, they also established their own religious groups, synagogues, chambers of commerce, political groups, schools, hospitals, clubs and cemetery.

The Sephardi Jews showed their good head for business soon after coming. The big families including Sasson, Kadoorie and Hardoon grew at a high speed. They actively supported the Jewish community to extensively carry out political and cultural activities, and kindly offered help to the Jewish refugees.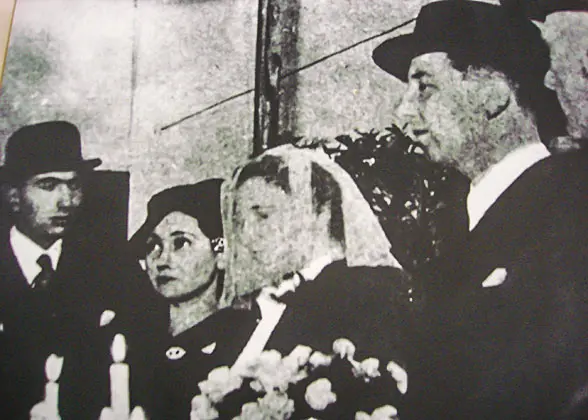 Jewish Wedding in Shanghai
In the early 1900s, the Russian Jews came to Shanghai by way of Siberia and Harbin. They had absolutely no money at first but later, through their own intelligence and industry, they have moved into the middle class and became an active force in the Jewish community. There were many brilliant men among the Jews who came to Shanghai. With great creativity, they held many active and energetic educational, sports and entertainment activities, which enriched the life of Jewish refugees, and made the new comers quickly blended into the local life. They achieved a lot in newspaper and magazines. From 1903 to 1949, about over 50 kinds of newspapers were published in Shanghai in English, Chinese, French, Russian, Polish, Italian, Hebrew and Japanese.

Between 1939 and 1941, about 20,000 Jews came to Shanghai for shelter. Upon landing, they were transferred by Japanese army trucks to Hongkou District and settled down in Huade Lu and Tangshan Lu (present Tilanqiao Area). Though got new home, the life was hard for them.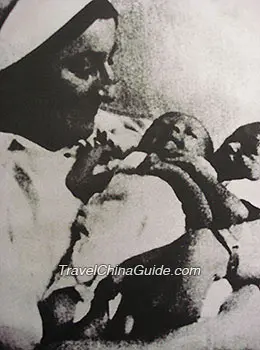 New jewish baby born in Shanghai
According to Peter (one of the Jewish refugees at that time), his family nearly had nothing when just arrived, and had to live on social welfare. Later, the family got a simple room to live in but with only a bed, a stove and a sewer. They had to share the public restrooms with other two families who lived on the same floor. But even though, the Peter's was luckier. In Hongkou District, many Jewish refugees' families had to cram in the narrow lanes and squeezed in the big dormitory which held almost 150 people.
From almost nothing, Peter's father started a removal business. Having a good market potential in the city at that time, the business was quickly thrived. Like Peter's father, other industrious Jewish refugees also earned their living by hard work or started their own business. In Huade Lu (today's Changyang Lu), a lot of cafes in typical western styles were opened, giving the street a nickname "Small Vienna". In 1949 when the war ended, Peter, with his family, moved to Sydney and settled down since then. But the refugee life in Shanghai always remains vivid in his memory.
It is calculated that the 25,000 Jewish refugees who came to Shanghai all miraculously survived except those who died of illness. Besides, 408 babies were born. After 1945, under the help of the Repatriation of the International Jewish Committee, they returned to Europe.

Shanghai Jewish Refugees Museum:

Jewish Refugees' Life in Shanghai

Jewish Refugees' Shanghai Affection
- Last modified on Apr. 10, 2019 -