Beijing Nanyuan Airport
Airport Code: NAY

Location: Around 13 km (8.08 miles) from Tiananmen Square, south of downtown Beijing, Nanyuan Airport is situated in the Fengtai District, and is closer to downtown than the Capital International Airport.



Brief Intro: It is a relatively small when compared with other Chinese airports. First constructed during the Sino-Japanese War, it became an important military airfield upon the founding of the People's Republic of China. In 2007, the first reconstruction of the airport was finished and the airport was put into civil use the same year. On July 6th, 2012, the newly built terminal was open to the public formally, which increases the airport capacity for handling 6 million passengers annually, while there is still capacity for further growth. Currently, China United Airlines is the only commercial airline using Nanyuan Airport. It offers flights to more than 50 domestic cities, such as Guangzhou, Xi'an, Sanya, Hangzhou, Chengdu, Changsha, Chongqing, Wuxi, Dalian, Hohhot, Harbin, Changchun, Lanzhou, Yinchuan, Lianyungang, Zhangjiajie, Shenyang, Foshan, Fuzhou, Jiamusi and Urumqi.

Beijing Flights:

Flights to Guangzhou

Flights to Xi'an



Nanyuan Airport Transfer: pick-up and see-off with responsible drivers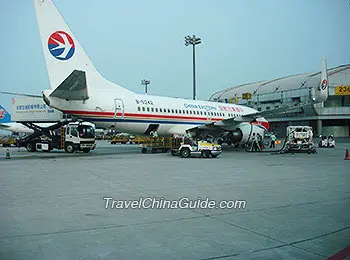 Terminal Buildings
Currently, there are two terminal buildings at Nanyuan Airport, the old terminal, and the newly terminal. In total they cover an area of about 20,000 square meters (4.9 acre). There are 3 baggage turntables and 10 security channels in the airport now, which can fulfill the needs of 4 to 5 flights taking off at the same time. The check-in counters increase to 13, while the self-service check-in counters will be set up in the near future. The area of the waiting zone has been expanded to 600 square meters (0.14 acre), and 12 boarding gates are arranged there. In addition, after the reconstruction of the apron, this airport can accommodate about 25 United Airlines planes (mainly Boeing 737 aircraft). The new car park will have over 600 parking lots.
Transportation

Airport Shuttle Bus
Bus Route
Xidan Crossing
(100 yards southward of Xidan Metro Station, Exit J1) – Airport
Airport – Xidan Crossing (100 yards southward of Xidan Metro Station, Exit J1)
Departure Time
06:00, 07:00, 09:30, 11:20, 12:00, 13:30, 14:30, 15:30
(time adjusted to the arrival of flights)
11:15, 13:00, 14:15, 15:15, 16:00, 17:00, 18:00, 20:30, 22:00, 22:30, 22:50, 24:00
(time adjusted to the arrival of flights)
Stops
Xidan Crossing, Xuanwumen, Kaiyangqiao, South 3rd Ring Road, Muxiyuan, Nanyuan Road, Sanyingmen
Muxiyuan, Liujiaoyao, Chongwenmen Crossing, Qianmen East Avenue, Qianmen, Tiananmen, Chang'an Street, Xidan Crossing
Duration
1.5 hours
1.5 hours
Ticket Fare
CNY16 (free for passengers hold the valid air tickets of the day)
CNY16 (free for passengers hold the valid air tickets of the day)
Bus Route
Beijing Railway Station – Airport
Airport – Beijing Railway Station
Departure Time
07:00 - 19:00 at intervals of around an hour
09:00 - 21:00 (time adjusted to the arrival of flights)
Stops
Puhuangyu, Hongqiao Market, Ciqikou, Chongwenmen
Duration
1 hour
1 hour
Ticket Fare
CNY24
CNY24
| | | |
| --- | --- | --- |
| Bus Route | Gongzhufen Xinxing Hotel – Airport | Airport – Gongzhufen Xinxing Hotel |
| Departure Time | 07:00 - 19:00 at intervals of an hour | 07:00 - 19:00 at intervals of an hour |
| Stops | West Railway Station, South Railway Station, West Gongyi Bridge, Xingong | Xingong, West Gongyi Bridge, Jiaomen West, South Railway Station, Caishikou, Xuanwumen, Changchun Street, West Railway Station, Gongzhufen South |
| Duration | 1 hour | 1 hour |
| Ticket Fare | CNY24 | CNY24 |

City Bus
Bus no.501 runs between Caoqiao and Nanyuan Airport. Passengers can board the bus at the airport terminal for a fare of CNY1. It takes about 10 minutes to get to Sanyingmen where passengers can change to a Speed Line 1 or 729 reaching Qianmen in 25 minutes. It operates from 06:00 to 22:00.

The bus stop at this airport is called Xinhua Lu Nankou (south end of Xinhua Lu). In addition to the bus 501, there are more buses 610, 369, 353, 953, Yuntong 115 and Mini Bus 13, 62 for passenger to choose. The operating hours of these buses is from 5:00 to 21:35.

Sanyingmen Station which is two stops away from the Xinhualu Nankou is a better transfer station, for there are more bus routes, such as buses no. 742, 729, 324, 366, 610, 627, 736, 526, 927, 954, 501, 504, and 997. Among them, buses no. 742 and 729 run straightforward to Qianmen.



Taxi
The following is an indication of taxi fares from this airport to important places in the city center, for your reference.
To Tian'anmen Square: about CNY50
To Wangfujing: about CNY35 for half a hour
To Beijing Railway Station: about CNY40 for 25-30 minutes
To South Railway Station: about CNY50 for half an hour



How to get to Capital International Airport?
1. By bus: Take the shuttle bus to Xidan Aviation Building and transfer to the shuttle bus line 2 of Capital Airport directly. The whole trip takes around 2.5 hours and the total cost is CNY40.
2. By bus + subway: Take the shuttle bus to Xidan. Walk to Xidan subway station to take line 1 to Jianguomen, and then transfer to line 2 and get off at Dongzhimen. There you can transfer to Airport Express Train to Capital Airport directly. For the whole trip, the cost is CNY29 (CNY4 for subway) and the travel time is around 2 hours.
3. By taxi: It takes around an hour and costs CNY120-150.
Services
Airport Inquiries Telephone: 010 – 67992139
Air Ticket Purchase
Passengers can book air tickets at the ticket counter, or on the website of China United Airlines. Apart from the above two ways, passengers can also book their ticket at the air ticket windows in Beijing City.
1. Ticket Office
Address: Inside the Departure Hall
Tel: 010-6797 7657
2. Sales Center
Address: Room 708A, Huateng Mansion, 302 Jingsong Sanjia Area, Chaoyang District
Tel: 010-8773 0353
3. Xidan Ticket Office
Address: Counter 9, 15 Chang'an Street, Xicheng District
Tel: 010-6656 9145
4. Ticket Window at the Capital International Airport:
Address: Counter 21 on the second floor of ticket office.
Discounted tickets: Compared with Capital International Airport, Nanyuan Airport offers passengers more cut-price tickets. However, these discounted tickets are typically for places that are not among the more conventional tourist destinations, so they are most likely to appeal to the more adventurous traveler. As it is not possible to buy discounted tickets in advance, they have to be purchased upon your arrival at the airport.
Boarding: There is no need to arrive at the airport more than an hour prior to your flight departure since the boarding procedure is less complex than at other airports due to there being fewer passengers.
Facilities
The ticketing window, check-in counter and security channel are near to each other in the terminal, which make it convenient for passengers to board their flights. Generally, passengers are taken directly to the terminal building by the airport bus or taxi. However, those using the public bus will have to walk from the bus stop to the terminal building. This will take approximately 15 minutes.

Further Reading:
Beijing Daxing International Airport
Located about 53 kilometers (33 miles) south of Beijing city center, the airport releases the burden of Capital Airport.
- Last updated on Jun. 06, 2022 -
Questions & Answers on Beijing Nanyuan Airport
Asked by Adre from USA | Jul. 09, 2019 12:52

Reply
So we were told they close down Beijing Nanyuan Airport from 5:00am-6:00am?
Why is this so?
Answers (3)
Answered by Mille from UNITED KINGDOM | Jul. 09, 2019 20:06

0

0

Reply
Sorry, I'm not clear about that. But this airport will be permanently closed in September this year.
Answered by Morands from ITALY | Aug. 04, 2019 08:11

0

0

Reply
I've bought a flight ticket from Foshan to NAY on September 5th, should I worry?
Answered by Mille from UNITED KINGDOM | Aug. 05, 2019 01:12

0

0

Reply
Since you can buy the ticket, then it must will provide service for you at that time.
Asked by xemus from UNITED KINGDOM | Jun. 29, 2019 06:27

Reply
can you store your luggage at Beijing Nanyuan airport for 4 days?
how much does it cost per 24hours?
Answers (1)
Answered by Garl from USA | Jul. 01, 2019 01:42

0

0

Reply
Sorry, I haven't found related information yet. But I think they provide this service, maybe you can consult with staff.
Asked by Colin from AUSTRALIA | Apr. 19, 2019 16:43

Reply
What is the nearest metro station to Beijing Nanyuan airport?
Answers (1)
Answered by Shay from CANADA | Apr. 23, 2019 19:00

0

0

Reply
The nearest one is Wufutang Station on subway line 8. The distance is around 2.5km.
Asked by D M patel from INDIA | Dec. 22, 2017 04:03

Reply
Beijing domestic airport to international airport how can go please reply
Answers (1)
Answered by Julie from DENMARK | Dec. 24, 2017 20:10

0

0

Reply
You are asking the way from Nanyuan Airport to Capital Airport?
If so, you can take Shuttle Bus Line 15 directly to the capital airport. BTW, it takes about 1h 50 minutes and CNY100.