Best Hong Kong Tours
Top Hong Kong Attractions
More Things to Do
Top 10 City Tours
Code: HKG23
Travel to Shenzhen from Hong Kong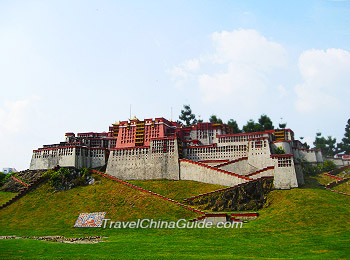 Potala Palace in the park
Route: Hong Kong - Lo Wu Port - Splendid China - Folk Culture Villages
Bordering Hong Kong, Shenzhen is very easy to reach. The most convenient way to make a 1 day Shenzhen tour from Hong Kong is by MTR. You could take MTR East Rail Line from Hung Hom Station to Lo Wu Station. Walk through the check point of Hong Kong side to the Shenzhen side. It takes around 10 to 15 minutes to go through the entry formalities. It may take longer time if you travel during weekends and holidays.
Tips: Passport holders of some countries can easily get a Visa On Arrival in Lo Wu Port of Shenzhen, such as Australia, Canada, New Zealand, UK, Ireland and Spain. For other countries, travelers need to apply for a Chinese Visa beforehand.
Take Subway Line 1 (Luobao Line) from Lo Wu (Luo Hu) Station and get off at OCT Station. Get out from Exit D, and walk east to the entrance of
Splendid China and Folk Cultural Villages
. It takes around one hour for the whole journey.
The Splendid China - Folk Cultural Villages is the world's largest Chinese culture theme Park. It was formerly two attractions and integrated into one in 2003. The admission fee for one day ticket is CNY200 for adults, CNY100 for children between 3.9 and 4.9 feet (1.2 and 1.5 meters) in height and free of charge for children less than 3.9 feet (1.2 meters).
The Splendid China district is a park showcasing nearly 100 miniatures of China's most famous sights. Most of them are scaled down at a ratio of 1:15. They were distributed according to their locations within the country, so this park looks like a huge map of China. The Folk Cultural Villages on the west of Splendid China brings together the customs of China's ethnic groups in 25 full-scale ethnic villages. Over there you will enjoy the architecture, folk activities, snacks and also traditional performances of most 55 ethnic minorities.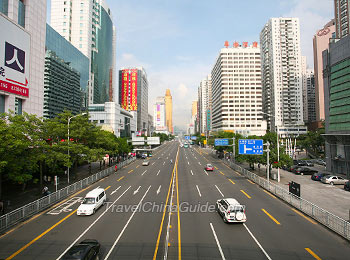 Street scene
One day is needed to fully enjoy the park. It is recommended to visit the miniatures in Splendid China district in the morning before lunch and tour the Folk Cultural Villages in the afternoon. The following is the suggested travel route in this huge park.

Morning time before lunch:
Nine Dragon Screen - Splendid Garden - Mogao Grottoes - Botanical Garden - Mt. Huagnshan - Hanshan Temple - Old Summer Palace - Shanhaiguan Great Wall - Forbidden City - Potala Palace

Afternoon time:
Wei Village - Zang Village (Tibetan Village) - Horseback-Fighting Performing Field (Performace "Dynasty is at War" at 14:00) - Ancient Tea House Road - Wa Village - Hani Village - Mosuo Village - Dong Village - Miao Village - Stone Forest - Yi Village - Shui Village - Dai Village - Huizhou Old Street

Performances in the evening:
17:00 - 17:55 "Oriental Dress Show" at Image of China Theater
19:00 - 20:25 "Grand Evening Party" at Phoenix Square

After finishing this Shenzhen tour package from Hong Kong, reverse your trip back to Lo Wu Port and take MTR East Rail Line back to Kowloon Peninsula.

More Related Trips:
Fisherfolk Life Experience
: One day to the Lamma Island, Hong Kong Maritime Museum and Victoria Cruise.