Best Hong Kong Tours
Top Hong Kong Attractions
More Things to Do
Top 10 City Tours
Code: HKG11
One Day Macau Tour from Hong Kong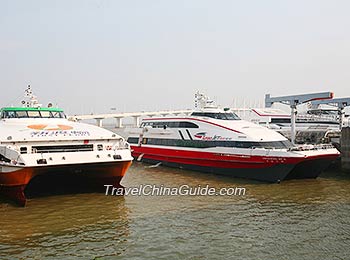 TurboJet ferry boat
Macau is the former Portuguese colony. Due to its long history of European settlements, Macau became a city of unique charm with a blend of Portuguese and Chinese culture. It offers many UNESCO World Heritage sites and historical monuments, world-leading gaming and entertainment, as well as mouth-watering cuisine. Just one-hour ride by ferry enables travelers a whole day round trip to Macau from Hong Kong.
Taking a speed ferry to Macau is the most economic and convenient way. First you would get to Hong Kong - Macau Ferry Terminal, which can be reached by MTR to Sheung Wan Station and get out from Exit D. Take a TurboJet ferry to Macau Outer Harbour Ferry Terminal. The ferry departs every 15 minutes from 07:00 - 23:59 and every one hour during other time. The approximate sailing time is 55 minutes.
Hereunder are the fares of different class on the TurboJet ferry.
Hong Kong to Macau
Macau to Hong Kong
Super class
Economy class
Super class
Economy class
Day Sailing
(Weekdays)
HK$326
HK$164
HK$315
HK$153
Day Sailing
(Weekends & Holidays)
HK$348
HK$177
HK$337
HK$166
Night Sailing
(Weekdays, Weekends & Holidays)
HK$369
HK$200
HK$358
HK$189
Macau is very small and most of the historic sites are located in the downtown area and can be easily accessed by foot. Upon your arrival in Macau, make sure to grab a visitor map in the Visitor Center of the Ferry Terminal. Then take a taxi with several minutes to the Senado Square, the center of Macau. It is the best place to begin the one day tour. Just opposite the square, it is the Leal Senado Building. Walk inside and take a look around Macau's first municipal chamber. There are many dinning opportunities during your walking tour, you may try the typical Macau food, such as Portuguese duck rice, African Chicken or Portuguese Egg Tart.

Around the square, you will find many beautiful buildings, such as the Holy House of Mercy, the old Post Office and St. Dominic's Church. You may stop at the church and take a look inside. There is a museum of paintings and sculptures in the third floor of the church. Walk to north of the church and you will arrive at the Ruins of St. Paul's. This is the most famous landmark in Macau. Be prepared to walk a grand stretch of stairs up to the ruins.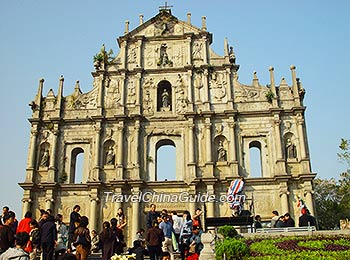 Ruins of St. Paul's
On the street to the right of the Ruins of St. Paul's lies a small Chinese temple, called Na Tcha Temple, which is dedicated to worship Na Tcha, a teenage hero in Chinese traditional legendary. To the east of the Ruins of St. Paul's is the Monte Fort located. Built in 1616, it was used to defend the church from the pirates. If you would like to have a short break, walk a few minutes to the Casa Garden. You will see local seniors hanging out there chatting and playing cards. Just next to the garden, it is the Old Protestant cemetery and the Morrison Chapel.

Afterwards you may turn to one of the casino to try your luck. Kids under 18 years old are not allowed for entering into casinos. If you are not interesting in gambling, you may consider visiting the Macau Tower. Try to walk around the Outdoor Observation Deck on level 61, with a height of 223 meters (about 732 feet). You will see the spectacular night-view of Macau. The admission fee of the Observation Deck is MOP135 for adult, MOP70 for seniors (65 years old and above) and children (3-11 years old). There are also other adventure activities in the Tower, such as Mast Climb, Bungee Jump and Skywalk X on Level 61.

After finishing your one-day independent travel in Macau, take a taxi back to the Macau Outer Harbour Ferry Terminal and board a ferry back to Hong Kong.
Tips: Visa is required for tourists to Macau. However, nationals of 76 countries and regions are exempted from a visa for a certain period stay in Macau. You should check with your local Chinese embassy about the Macau visa in advance. Hong Kong dollars are widely used in Macau, so there is no need to exchange money to the Macau Pataca (MOP).

More Related Trips:
Independent City Tour
: one day to Victoria Peak, Avenue of Stars, A Symphony of Light, Temple Street...
Two Days Exploration
: 2 Days independent tour to visit the most important attractions in Hong Kong
Lantau Island
: One day to traditional fishing village, Po Lin Monastery and Great Buddha