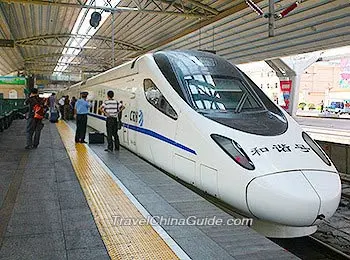 A high speed train is leaving from Beijing
On April 10, 2018, China Railway Corporation will adopt a new train timetable in pursuit of the highest transport capacity. In comparison with the current timetable, the most eye-catching adjustment is the wider use of Fuxinghao, China's most advanced and the world's fastest high speed trains. In addition, extra bullet trains will run on some newly-opened high speed railways, such as the Xian - Chengdu and Shijiazhuang - Jinan high speed railways.

More Fuxinghao Trains Will be Put Into Use
On June 26, 2017, Fuxinghao, with a top speed of 350 km/h (217mph), made its debut on the Beijing - Shanghai High Speed Railway. Owning to its greater space, comfortable environment, convenient facilities, and higher safety rating, it soon gained the favor of passengers. During the 2018 Spring Festival Travel Rush, passengers had a great user experience on Fuxinghao trains by being able to order meals and specialties online, and paying for onboard services with cash, or by WeChat, Alipay, and swiping cards.

The satisfying performance of Fuxinghao trains encouraged their expanded use. After the timetable changes, an additional eight pairs of Fuxinghao will run on the Beijing - Shanghai High Speed Railway, cutting the fatest travel time between Beijing and Shanghai from 4 hours 24 minutes to 4 hours and 18 minutes.

An additional 31 pairs of Fuxinghao will run on the Beijing - Tianjin Intercity High Speed Railway, making this the rail route with the most Fuxinghao in service in the country.

More Bullet Trains to Run on Newly-opened High Speed Railways
After the new timetable is adopted, three extra pairs of bullet trains will run daily on the Shijiazhuang - Jinan High Speed Railway, including D1621/2, D1623/4, and D1625/6. During peak travel season, D4152/1 will also operate. Two extra pairs of bullet trains will also run on the Xian - Chengdu High Speed Railway, between Zhengzhou and Chengdu, and Zhengzhou and Chongqing respectively.

2018 Welcomes More High Speed Railways
As is indicated from the changes, high speed trains lead the trend in future modes of transportation. The high speed railway network is being rapidly developed in a rational way. In 2018, several additional high speed railways will be opened, including the Kunming - Dali, Hangzhou - Huangshan, Guangzhou - Shenzhen - Hong Kong, and Jinan - Qingdao lines. The relatively short distances by rail between these travel destinations make weekend tours feasible and are expected to gain popularity among passengers.

It's worth mentioning that the opening of Guangzhou - Shenzhen - Hong Kong High Speed Railway in the third quarter of 2018 will greatly benefit international travelers wishing to enter mainland China from Hong Kong. It will connect Hong Kong not only with Shenzhen and Guangzhou, but also with other major tourist destinations in Mainland China such as Beijing, Shanghai and Changsha.