China Railway Corporation announced it would adjust the train timetable recently to release the pressure of summer travel rush. A new timetable will be used since July 1, 2017. More trains will be put into use to improve the transporting capacity. Extra high speed trains will run on the peak travel dates.
Key Word of the 2017 Adjustment - Lanzhou
The most significant change is that Lanzhou will be further involved into the high speed railway network thanks to the opening of Baoji-Lanzhou High Speed Railway, which is a section of Xuzhou-Lanzhou High Speed Railway. Together with Lanzhou-Urumqi High Speed Railway opened in 2014 to the west, Lanzhou will be linked with Urumqi in the northwest and Xuzhou in east China. Bullet trains between Lanzhou and major tourist destinations, including Guangzhou, Beijing, Shenzhen, Shanghai, Hangzhou, and Xian will be opened after the adjustment.
598 Million Train Trips Predicted during 2017 Summer Travel Rush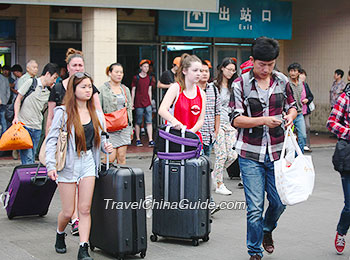 Passengers Arriving at Xian Railway Station
Each year, there is a summer travel rush in China from July to August. Around early July, graduates of middle schools, high schools, and colleges celebrate graduations by travel. At the same time, other students are dismissed from schools to go back home or go traveling accompanied by parents. They together with the tourists lead to a travel rush.

This summer, it's expected 598 million trips will be done by train, 49.7 million more than last year. Daily trips by train may amount to 9.65 million. The busiest days will be early July and late August. Hot train travel destinations include Shanghai, Guangzhou, Xian, Beijing, Wuhan, Chengdu, and Changsha, while Beijing and Wuhan are the most popular.

Most Recommended 2017 Summer Travel Destinations
Due to the high temperature, most people prefer to go to island cities for a cool travel. Hainan, Qingdao and Xiamen with blue seas and golden beaches gain the most popularity. Prairie travel comes in the second place. The grasses flourish most in summer. The coolness and greenness always appeal to tourists. Gannan in Gansu, Ordos in Inner Mongolia, and Ili in Xinjiang all boast vast grasslands. Mountainous regions and water towns are also good summer resorts, such as Tianshan Mountains, Changbai Mountain and Wuzhen Water Town.
| | |
| --- | --- |
| Sanya, Hainan | Vast Prairie in Inner Mongolia |
Travel Tips
1. Confirm the train schedule before departure in case there is any change.
2. Book train and flight tickets, hotels and entrance tickets of some hot scenic areas beforehand, in case they are sold out.
3. Avoid going to crowded destinations.
4. It may rain a lot in July in South China, which may lead to the delay and cancellation of train and flight and closure of scenic spots, so you need to keep an eye on the weather forecast before going there.