Changsha South Railway Station
Changsha South Railway Station is 8 miles (13 km) from Wuyi Square (city center), 6 miles (10 km) from Changsha Railway Station and 11 miles (18 km) from Huanghua International Airport. The South Train Station works closely with the metro, maglev, city buses, taxis, and long distance buses to provide convenient transport for passengers.

Address: Huahou Road, Yuhua District

Schedule and Ticket Booking
The station serves as the transportation hub for
Beijing-Guangzhou
and
Shanghai-Kunming
High Speed Railways. It only operates bullet trains including these to and from Beijing, Xi'an, Shanghai, Hong Kong, Guangzhou, Wuhan, Guilin, and Qingdao etc.

Major Rail Lines from this Station to:
See detailed Changsha Train Schedule
(Last Update on May 23, 2019)
To
Trains
Duration
Ticket Fare (CNY)
First/ Second Class Seat

Beijing West

G534, G502, G84, G72...
16 departures from 07:10 to 23:59
5h40m - 99h59m
CNY 1,038/ 649
USD 157/ 98

Hong Kong

G6113, G99, G79 from 07:38 to 18:59
3h17m - 3h48m
CNY 848/ 529
USD 128/ 80

Guangzhou South

G6011, G6101, G6013, G6103...
101 departures from 07:00 to 20:58
2h20m - 2h58m
CNY 504/ 314
USD 76/ 48

Shanghai Hongqiao

G1778, G1346, G1348, G1350...
28 departures from 07:06 to 18:12
4h26m - 7h22m
CNY 798.5/ 478
USD 121/ 72

Xi'an North

G864, G832, G96, G818...
9 departures from 09:05 to 16:32
5h16m - 6h55m
CNY 940/ 587
USD 142/ 89

Wuhan

G534, G1778, G1290, G1216...
97 departures from 07:10 to 21:28
1h17m - 2h21m
CNY 264.5/ 164.5
USD 40/ 25

Qingdao

G276, G288 at 08:00 and 09:30
10h4m - 10h26m
CNY 1,267/ 785
USD 192/ 119

Guilin

G539, G535, G425, G1545...
16 departures from 06:53 to 17:00
3h10m - 3h33m
CNY 291/ 181.5
USD 44/ 28

Shenzhen North

G6013, G6113, G6015, G6029...
45 departures from 07:00 to 19:30
2h54m - 3h40m
CNY 603.5/ 388.5
USD 91/ 59

The above schedule is for reference only. For real-time schedule and ticket booking, please click the arrival stations.
Station Plan
The station can be divided into three zones: west square, east square and the five-storey terminal building. The roof of the terminal building resembles the ups and downs of mountains and water waves, with the platforms formed like canopies. The unique design makes the station co-exists in synergy with the surrounding landscape.
| Floor | West Square | Station Building | East Square |
| --- | --- | --- | --- |
| 2F | --- | Waiting Hall | --- |
| 1F | Entrance, taxi drop-off area | Entrance hall, platforms, ticket counters | Entrance, taxi drop-off area |
| -1F | Exit, Lituo Long-distance Bus Station | Arrival floor, ticket counters | Exit, City bus stops, taxi stands, metro entrance, maglev entrance |
| -2F | Taxi stands, metro entrance | Metro transfer hall | Parking lots |
| -3F | Metro platform | Metro platform | Parking lots |
Note:
1. Platforms and boarding gates for Beijing-Guangzhou High Speed Railway are in the west of the station and those for Shanghai-Kunming High Speed Railway are in the east of the station. So to save you time, passengers who travel in north-south direction are advised to enter via West Square and passengers who travel in east-west direction should use East Square.
2. Lituo Long-distance Bus Station has buses to well-known scenic spots, such as Zhangjiajie, Phoenix Ancient City and Mt. Shaoshan.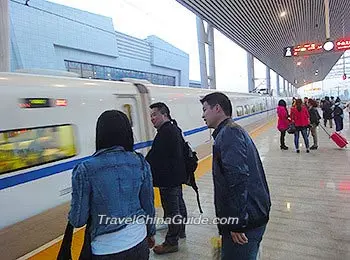 Changsha South Railway Station
How to transfer between Changsha South Railway Station and downtown

By bus:
The city bus stops are set up in the south side on -1F of east square. There are buses including No. 8, 16, 63, 63 (express line), 66, 68, 124, 135, 148, 148 (branch line), 159, 160, 208, 348, 503, 601, Airport Express Line (South Coach Station Line).

By Metro:
The
line 2
has a stop at the Changsha South Train Station. There are bilingual signs showing the way between the railway entrance/exit and metro platforms.

By Maglev:
Maglev is the most convenient and fastest way for transfer between the station and airport. Travelers can go to -1F of East Square to take it.

By Taxi:
Passengers arriving by taxi will be dropped off at the drop-off areas on the 1F right outside to the entrance. For passengers who travel to downtown, the taxi pick-up stands can be found at -2F on West Square and -1F on East Square.
| To/From | Time (minutes) | Cost |
| --- | --- | --- |
| Changsha Railway Station | 25 | CNY35 |
| Huanghua International Airport | 40 | CNY60 |
| Wuyi Square (City Center) | 30 | CNY35 |
How to get to popular places from the station

Changsha Railway Station:
Take metro line 2 to get there directly and get out from exit 3.

Wuyi Square (City Center):
Take metro line 2 to Wuyi Square and get out from exit 7.

Huanghua Airport:
1. Take the Express Line at South Railway Station Bus Stop to Huanghua Airport. The bus departs from 08:25 to 17:25 every 60 minutes and 17:25 to 20:00 every 30 minutes. The travel time is about 40 minutes and the ticket fare is CNY20.5.
2. Take a Maglev Train to the airport. It is available between 09:00 and 18:00 with an interval of 25 minutes. Duration is about 20 minutes and ticket fare is CNY 20.

Fenghuang Ancient Town:
Take a coach at Lituo Express Bus Station on West Square of the station to Fenghuang Ancient Town. The coach is available at 12:20, 15:00 and 16:30. The travel time is about 6 hours and the ticket fare is CNY150.

Wulingyuan Scenic and Historic Interest Area
in Zhangjiajie:
Take a coach at Lituo Bus Station to Zhangjiajie Bus Terminal. The coach is available at 11:40, 13:00, 14:10, 15:20 and 16:50. The travel time is about 5.5 hours and the ticket fare is CNY135. Next, change to buses to Wulingyuan Bus Station, the ticket fare is CNY12 and take no longer than 45 minutes. After getting off, passengers can take bus line 1 or 2 to the ticket office of the scenic spot. From Zhangjiajie Bus Terminal, passengers can also take buses to other scenic sites in the city.
Facilities and Services

Ticket Office:
There are totally 27 ticket counters in the station, 17 in the west side of the station building and 10 in the east. They can be found on the -1F and 1F.

Waiting Hall:
2F is a major waiting hall which consists of normal waiting rooms and VIP rooms. Passengers can find their corresponding waiting room according to the LED screens. In the waiting hall, there are restaurants, cafés, newsstands, toilets, drinking water and convenience shops. There is a customer service center inside the hall.

Left Luggage:
There are luggage storage cabinets available in the waiting hall on 2F. It usually charges CNY10 per bag for every 12 hours (less than 12 hours will be counted as 12 hours).
Print

- Last modified on May. 22, 2019 -
Questions & Answers on Changsha South Railway Station
Asked by tony from PORTUGAL | May. 08, 2019 11:04

Reply
metro time




Hello,
I'm going to stay at the hotel ...
and I have to catch the G6113 train at 07h38 at the southern station. Is the subway already working? I saw that the metro starts at 06H30, but in the mobile phone app says it opens at 07h30! It would be better to go by taxi ??
thank you

Answers (1)
Answered by Bill | May. 09, 2019 03:35

0

0

Reply
Which hotel will you stay at? Which metro station will you depart from to South Station?
Asked by Aaron Robert Emberson from UNITED KINGDOM | Jul. 10, 2018 05:18

Reply
Maglev Express Operational hours?
Hi,

Does anyone know the operating hours of the Maglev Express that runs between South Changsha Railway Station and Changsha Huanghua International Airport?

I've seen conflicting information with some saying it stops running at 18:00 and others saying 21:00..

Thanks in advance,

Aaron
Answers (1)
Answered by Jennifer | Jul. 10, 2018 19:45

0

0

Reply
It should be 7:00am to 21:00pm, but I also heard that the time have been extended to 22:00 earlier this year.
Asked by Casimir from THE NETHERLANDS | Nov. 03, 2017 20:47

Reply
30 minute traintransfer at Changsha South
Hello,
soon we are travelling from Chengdu to Zhangjiajie by train via Changsha South. According to the tickets the time we have for the transfer is about 30 minutes (10.55 arrival from Chengdu, 11.29 depart for Zhangjiajie). Do you think this time will suffice or do we need to prepare for a run?
Thanks
Cas
Answers (3)
Answered by Casimir from THE NETHERLANDS | Nov. 03, 2017 20:56

0

0

Reply
Sorry, not South station, main station!
Answered by Miss Martinez from SPAIN | Nov. 05, 2017 01:43

0

0

Reply
If there is no delay for your trip of Chengdu to Changsha, you could catch it, but you need to hurry up. Get off fast and to transfer to the next one.
Answered by Ram | Nov. 06, 2017 03:30

0

0

Reply
If you are transfer between the main station and south station, 30min is surely not enough. The subway would take at least 20min for this transfer. You still need time for the security check and boarding etc. If they are the same station, it is still possible.
Asked by Wendy from MALAYSIA | Sep. 03, 2017 23:53

Reply
Questions on Maglev train from Wendy , 04 Sept 2017.
I will arrive at the Huanghua airport in Nov 2017 . I wish to take the Maglev to the city centre. Will appreciate answers to the following.
1. Which floor of the airport building is the Maglev station at ? Are there clear signs directing passengers from the luggage collection area or the arrival hall to the Maglev station ?
2. Is there a ticket office at the station or do I buy from a vending machine ?
3. What is the name of the end station ( 终 点 站 )that the Maglev train will arrive to in the city
? Please give the name in both Chinese and in English.
4. From this end station I would like to transfer to the Line 2 metro .
Is the metro station in the same building as the Maglev station ?
Can someone please tell me which building and on which floor ?
5. How far to walk between the 2 stations ?
6. Are there escalators and lifts for the handicapped in both these 2 stations ?

Any other relevant information will be much appreciated.
Answers (1)
Answered by Sadie from SINGAPORE | Sep. 04, 2017 03:28

0

0

Reply
Maglev terminal is between T1 and T2. From the departure floor of T2, passengers can reach Maglev terminal. You can find some signs for direction. You can buy the one way ticket by using vending machine. The final stop is South Railway Station, Chang Sha Nan Zhan. The line 2 is not in the same floor with the Maglev in the south station. But you can reach there in minutes by walking, signs can be found. escalators may not also working.
Asked by Jonathan from INDONESIA | Feb. 01, 2017 05:12

Reply
How to reach Changsha South station from Changsha station?
Answers (1)
Answered by TREJO from SWITZERLAND | Feb. 02, 2017 00:50

0

0

Reply
You could take subway line 2(Guangda direction).