Best Hong Kong Tours
Top Hong Kong Attractions
More Things to Do
Top 10 City Tours
Code: HKG17
Stop-over Time in Hong Kong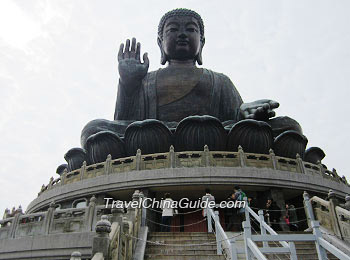 Big Buddha
Hong Kong International Airport is one of the major transport hubs in Asia, which makes it the stop over option of many airline companies. For transit passengers, they may query "Is the stop over time enough to go out of the airport to see Hong Kong and where should go?" However, how to manage the limited time depends on how long is your stop over time and what is your interest.
If you only have less than 5 hours, you do not have sufficient time to travel to downtown. You would better go shopping at the airport or go out to the nearby Maritime Square and the Citygate Outlets. Maritime Square is just one station away from the airport and Citygate Outlets could be reached by bus S1, S52P and S64. It just takes around 10 minutes. Both of them open from 10:00 am to 10:00 pm.
In case you have 5-6 hours stop over time, you may consider visiting the
Ngong Ping 360
and Big Buddha in
Lantau Island
, where the Hong Kong airport is located. Take bus S1 from the airport to Tung Chung Bus Terminus, which is next to the Ngong Ping Tung Chung Cable Car Terminal. The bus journey takes about 10 minutes. Take the Ngong Ping 360 cable car up to the Big Buddha is the most efficient way. It takes about 25 minutes one way. Please keep in mind that you may wait in line for 30 - 60 minutes for the cable car during weekends and holidays. The roundtrip ticket with one way in standard cabin and one way in crystal cabin, is HK$240 for an adult and HK$155 for a kid and HK$190 for a senior. The cable car service time is from 10:00am to 06:00pm on weekdays and 09:00am to 06:30pm on weekends and public holidays. If you do not like a hurry tour, you may consider shopping in the Citygate Outlets.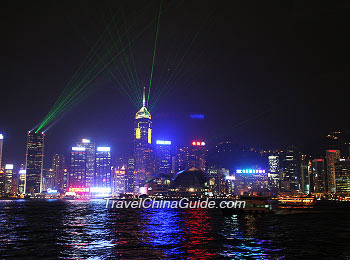 Victoria Harbour at night
If you have 7-8 hours time before your connecting flight, you may go to the downtown area and visit some of the highlights. Although you have 7-8 hours, after clearing the Immigration and Customs (roughly 30-50 minutes), taking the Airport Express to Central or to Kowloon (approximate 30 minutes for a single ride), plus another 30 minutes getting back to the airport and 1-1.5 hours before boarding your connecting flight, there is only 4-5 hours left for your sightseeing. In this case, you can only plan to do maximum two attractions, such as
Victoria Harbor
and
Victoria Peak
. When you arrive in Tsim Sha Tsui by Airport Express, walk along the waterfront Promenade and Avenue of Stars, enjoy the charming Victoria Harbor, take the Star Ferry to the Central and catch bus 15C to the Garden Road Peak Tram Lower Terminus. Then take the Peak Tram up and enjoy the stunning views of Hong Kong from the Sky Terrace 428. The round trip ticket of Peak Tram plus Sky Terrace 428 is HK$90 for an adult and HK$43 for a child (3-11) and a senior.
Sometimes, if you are pressed for time, you may need to depend on taxi which is faster. And please keep in mind that plan some buffer time in case of any potential traffic congestion or long waiting time in Ngong Ping 360 Cable car and Peak Tram station.
If you have more than 8 hours layover time, you may consider looking at our
One Day Hong Kong Tour
or check more tours in
Hong Kong Package
.

More Related Trips:
Independent City Tour
: one day to Victoria Peak, Avenue of Stars, A Symphony of Light, Temple Street...
Lantau Island
: One day to traditional fishing village, Po Lin Monastery and Great Buddha
Disneyland
: One day tour of Magic Hong Kong Disneyland Resort