Giant Pandas Mei Xiang, Tian Tian & Their Cub Xiao Qi Ji Returned to China from USA

Published: Nov. 10, 2023
After living in the USA for 23 years, giant pandas Mei Xiang and Tian Tian left the Smithsonian National Zoo in Washington, D.C. at 13:00 on November 8th, 2023 local time and got onboard the flight to their hometown in Chengdu, China. Their cub, Xiao Qi Ji born in 2020 was together with them.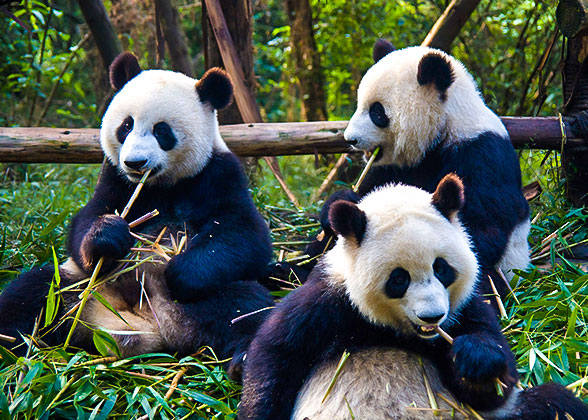 After 19 hours' long flying, they have arrived in Chengdu Shuangliu International Airport at the night of November 9th local time and been carefully transferred to
Wolong National Nature Reserve
. For their health's sake, they will undergo the quarantine for about a month, before being released to meet the visitors.
Popular Stars of US National Zoo
Mei Xiang and Tian Tian went to America as early as in 2000 and had been living in the US National Zoo since then. During their 23 years' life there, they had been popular stars of the zoo and gave birth to 7 cubs. However, according to the original contract, and at the same time to ensure the panda babies to grow up healthily, the panda babies had been sent back to China before 4 years old. That's why only Xiao Qi Ji was together with his parents.
Only 4 Pandas Living in US Presently
By now, US panda fans can only find 4 pandas in the country, specifically in Atlanta Zoo. They are the mom Lun Lun, Dad Yang Yang and two cubs Ya Lun and Xi Lun. But they will also go back to China next year in 2024 before the contract will expire.
It is still unknown if there will be other pandas traveling to and living in the US or not in the future.
Around 60 Pandas Living Abroad
According to an unofficial statistics, there are about 65 pandas living in 19 countries outside China presently. Below is a list of some:
An Incomplete List of Pandas Abroad

Bovalle Zoo, France: Yuan Zi, Huan Huan, Huan Li Li, Yuan Du Du

Berlin Zoo, Germany: Meng Meng, Jiao Qing, Meng Xiang, Meng Yuan

Edinburgh Zoo, UK: Yang Guang, Tian Tian

Adelide Zoo, Australia: Wang Wang, Fu Ni

Paradise Zoo, Brugelette, Belgium: Hao Hao, Xing Hui, Bao Di, Bao Mei

Doha Panda Hall, Qatar: Si Hai, Jing Jing

Everland Amusement Park, Seoul, South Korea: Hua Ni, Yuan Xin, Rui Bao, Hui Bao

Moscow Zoo, Russia: Ru Yi, Ding Ding
World's Best Destination to See Giant Pandas – China Always!
China, the hometown of these adorable pandas, no doubt has the most pandas all over the world and is the best place to have a close interaction with them. The latest survey shows that by March of 2023, there are all together 2,286 pandas living in China, including 1,864 living in the wild.

Click to know more about
Giant Pandas
For tourists, the best place to see them is Chengdu Research Base of Giant Panda Breeding, which is home to over 230 pandas. It is really a pandas' paradise!
Other Places to See Pandas in China
Tourists also have chances to see them in other cities in China:

Beijing:
Beijing Zoo

Shanghai:
Shanghai Wild Animal Park

Xi'an:
Qinling Wildlife Park

Hong Kong:
Hong Kong Ocean Park

Guangzhou:
Guangzhou Zoo
,
Chimelong Safari Park

Shenzhen:
Shenzhen Safari Park

Hangzhou:
Hangzhou Zoo
Recommended Tours including Visit to Giant Pandas

Chengdu Panda Tour: 2 Days Private Itinerary


10 Days Private Tour of Beijing - Xi'an - Chengdu - Shanghai: In Pursuit of Treasures


See more Chengdu Tours