Temple of Ancient Monarchs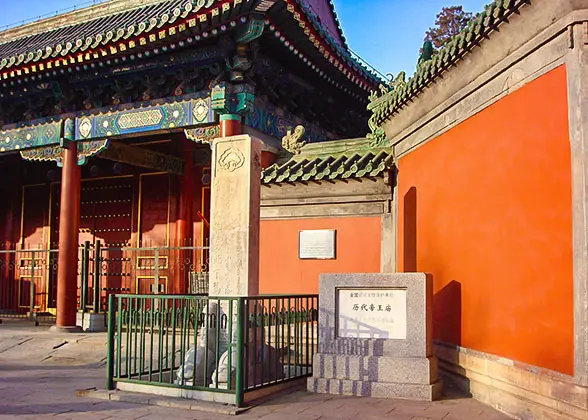 Temple of Ancient Monarchs
Located at No. 131 Fuchengmennei Street, Xicheng District, Beijing, the Temple of Ancient Monarchs is not only an exquisite masterpiece of ancient Chinese architecture, but also a critical cultural heritage which gives visitors a chance to learn about
Chinese history
. The temple, aka Emperors Temple of Past Dynasties, was originally built in 1530, the ninth year of Emperor Jiajing's reign in the
Ming Dynasty
(1368-1644). It functioned as a place to worship wise emperors and brilliant government officials and military officers in feudal times. Temple of Ancient Monarchs enjoys a comparable political status with the
Royal Ancestral Temple
and the
Temple of Confucious
, and they in combination are called the Top Three Imperial Temples in Beijing of the Ming and Qing Dynasties (1368-1911).
Since ancient times, it has been a tradition for feudal rulers to offer sacrifices to their ancestors. The Three Sage Kings are believed to be ancestors of all Chinese, so emperors of later generations worshiped them. In addition, showing esteem to the outstanding monarchs of history serves the purpose of learning from them. That is why the Temple of Ancient Monarchs was constructed. During the 380 years from 1532 to 1911, 662 ritual ceremonies were held here.
In front of the temple gate, a stone tablet lies on each side, carved with characters saying that all shall get down from their horses to pay respect to sages of the past. Six languages are used, including the languages of the Han, Manchu, Mongolian, Hui, and Tibetan Peoples. The position of the languages changes on the two tablets, symbolizing the equality of all ethnic groups.
As you step in the Jingde Gate and walk to the north, you see the main building of the temple, the Jingde Chongsheng Palace. Its name literally means admiring benevolent governing rules and venerating men of virtue. Standing in the center of the Temple of Ancient Monarchs, this palace exhibits the same grand imperial architectural style as the
Palace of Heavenly Purity
(Qianqing Palace) in the
Forbidden City
. It is about 21 meters (69 feet) high and the floor is covered with tiles dedicated for imperial constructions. There are altogether seven shrines in the palace, with 188 emperors being worshipped. The memorial tablets of the Three Sage Kings, that is, Fuxi, Yellow Emperor, and Yan Emperor, are set up in the middle shrine. In the six other shrines are the memorial tablets of 185 emperors in history, including the famous Five Virtuous Emperors.
On the left and right sides of the Jingde Chongsheng Palace, there are two side halls. The memorial tablets of 79 prominent officials and generals are displayed there, such as Wen Tianxiang, Yue Fei, and Zhuge Liang, who are all well-known loyal civil officers. One very unusual thing exists within this temple: a separate temple for Guan Yu, a famous military officer of the
Three Kingdoms Period
(220-280). It is rare to see a temple within another temple.
As the only temple for worshipping ancient emperors in various dynasties, the Temple of Ancient Monarchs has been well preserved and basically maintains its appearance and layout from the
Qing Dynasty
, thus having significant architectural and cultural value.
How to get to Temple of Ancient Monarchs
1. Take bus line 3, 7, 13, 42, 47, 101, 102, 103, 409, or 612, and get off at the Baitasi Station.
2. Take
Subway Line 4
to Xisi and leave from Exit A. Then walk west for about 5 minutes to Temple of Ancient Monarchs.
Beijing Bus / Subway Search
| | |
| --- | --- |
| Admission Fee | CNY 20 |
| Opening Hours | 9:00 to 16:00 on Wednesday to Sunday; closed on Monday and Tuesday. |
| Recommended Visiting Hours | An hour |

Recommended Nearby Attractions:

The Geological Museum of China

Guangji Temple

Miaoying Temple

Church of the Savior
(Xishiku Church)

Lu Xun Museum

National Political Consultative Hall
- Last updated on Jul. 16, 2019 -