Shijingshan Amusement Park
Located out of the West Fifth Ring Road in Beijing, Shijingshan Amusement Park is 9 miles (15 kilometers) away from Tiananmen Square in the city center. It is the oldest amusement park in Beijing, covering an area of 86 acres (350,000 square meters). The whole park is divided into four themed districts: East District, West District, Adventure World, and Fantasy World. There are more than 50 thrilling entertainment facilities, including Canyon Rafting, Monster House, Hurricane, and Jones Adventure. Moreover, the park holds different distinctive themed activities in the four seasons, including Western Temple Fair, Charm of Spring Garden Party, Summer Carnival, and Joy of Autumn.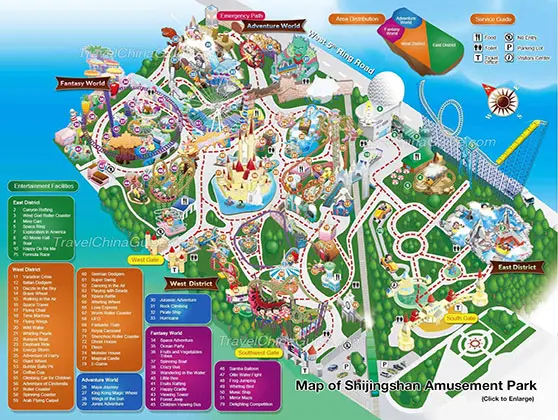 Map of Shijingshan Amusement Park
East District
Entering from the south gate you will find the East District, the largest area in Shijingshan Amusement Park. It is designed to show visitors graceful scenery of pastoral landscape. Trees are lush and flowers are blooming. There are exciting entertainment facilities interspersed among the natural scenes, such as Wind God Roller Coaster, 4D Movie Hall, Canyon Rafting, and Mine Cart. The most thrilled one is Canyon Rafting. A man-made river and mountains give visitors a realistic experience of rafting in the valley.
West District
Differing from the natural landscape of the East District, West District is more like a romantic European manor. In the center, there is an elegant castle by a lake, and a tall Ferris Wheel is standing next to it. The scenery is very beautiful making this district the best place for lovers to take pictures. West District has over 30 entertainment facilities for visitors to choose from, such as Monster House, Dodgem, Coffee Cup, and Shenzhou Roller Coaster. When a holiday comes, themed performances like float parade are held in this district.
Fantasy World
Fantasy World is a paradise for children for there are various cartoon models decorating this place as a world of fairytale. Fruits and Vegetables Tribes, Fruits Rafting, and Happy Cradle, many entertainment facilities suitable for kids to play are all set in this district. Visitors who are bringing children may spend more time in this district.
Adventure World
To the east of Fantasy World is Adventure World. It is a place for the brave. There are more than 10 games distributed in this area. The facilities are all made to challenge players' courage and willpower. Among them, the most exciting games are Hurricane and Jones Adventure. Hurricane takes visitors to the sky of 118 feet (36 meters) high, giving them a thrilling sense brought by the huge swing. The Jones Adventure has the longest waterway around the world. Sitting on the raft, it will take you to climb over the steep slopes and shuttle through a narrow channel.
Themed Activities
Four themed activities are held in Shijingshan Amusement Park in four seasons, namely Charm of Spring Garden Party (April. 4 to May. 2), Summer Carnival (July to August), Joy of Autumn (October. 1 to October. 7), and Western Temple Fair (from the first day to the seventh day of the
lunar calendar
). During these times, several splendid performances will be put on the stage, such as float parade, hula shows, and samba. You will have a taste of the delicious cuisines around the world while wandering around. Some of the facilities can be enjoyed at a discount price. Among the four themed activities, Western Temple Fair is the most interesting one and attracts numerous visitors from both home and abroad.
Western Temple Fair
The Western Temple Fair, a highlight of Shijingshan Amusement Park, is a combination of western customs and
Chinese culture
. It mixes western artistic performances, cultural custom, and fast food with Chinese
temple fair
, which gives Chinese people a chance to enjoy the exotic landscape, folk custom, and taste without going abroad. On the other hand, Western Temple Fair is also an approach bringing foreign friends, who spend the
Chinese New Year
in Beijing, a feeling of home. At the fair, there will be many folk activities, and the float parade is a traditional and classic performance. The parade focuses on showing different forms of performance around the world by organizing different squads, like European royal band, samba squad, and belly dance squad. The traditional Chinese folk activities, such as lion dance and dragon dance, are also performed in Western Temple Fair.
Transportation
By subway
Take
subway line 1
, and get off at Bajiao Amusement Park (Bajiao Youleyuan) Station. Get out from Exit A and walk west. Then, enter from the South Gate.
By bus
1. Take bus 318, or 527, and get off at Bajiao Beilu Dongkou Station. Enter from the North Gate or the Third West Gate.
2. Take bus 663, and get off at Shijingshan Amusement Park West Gate (Shijingshan Youleyuan Ximen) Station.
3. Take bus 325, 327, 527, 941, 958, or 959, and get off at Jingyuan Lukou Xi Station. Enter from the South Gate.
4. Take bus 961, and get off at Jianxiyuan Nanli Station. Enter from the North Gate.

Beijing Bus / Subway Search
Admission Fee:
CNY 10

Children less than (include) 3.9 feet (1.2 meters) are free to enter.

Note: The entrance ticket doesn't include entertainment facilities in the park. They should be paid separately.
Prices of Partial Entertainment Facilities
| | | | |
| --- | --- | --- | --- |
| Entertainment Facility | Price (CNY) | Entertainment Facility | Price (CNY) |
| Wind God Roller Coaster | 25 | 4D Movie Hall | 20 |
| Canyon Rafting | 30 | Mine Cart | 20 |
| Shenzhou Roller Coaster | 50 | Soar | 50 |
| Dazzle in the Sky | 25 | Flying Wings | 20 |
| Wild Water | 25 | King Kong Magic Wheel | 20 |
| Jones Adventure | 40 | Jurassic Adventure | 20 |
| Ollie Water Fight | 25 | Giant Wheel | 20 |
| Roller Coaster | 30 | Arab Flying Carpet | 20 |
| Dancing in the Air | 25 | Ghost House | 20 |
* Late Night Pass: CNY 60 (Visitors can play some night entertainment facilities without limit.)
Opening Hours
April 1 to October 7
Monday – Friday
9:00 – 17:30
Saturday – Sunday
9:00 – 18:00
October 8 to March 31
Monday – Friday
9:00 – 16:30
Saturday – Sunday
9:00 – 17:00