Where are the Terracotta Warriors Located?
Geographically, Terracotta Warriors are located in central part of China. Administratively, what city is the Terracotta Army in? They are in Xi'an City of Shaanxi Province, which used to be the capital city of the
Qin Dynasty
(221 - 207 BC) when the Terracotta Warriors were made. To be specific, they are 40 km (25 mi) northeast from downtown Xi'an, about one hour's driving distance.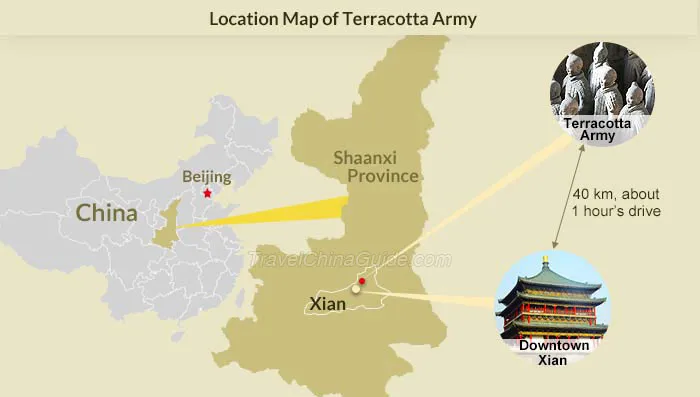 Terracotta Army Location Map
From downtown Xi'an, you can take metro line 1 + line 9 + Lintong Bus 602, tourism bus 5 (306) or a taxi to the site, or choose to join our hassle-free tours to visit the Terracotta Army.

Distance & Driving Hours from major sites in Xi'an to Terracotta Army:
Nowadays, many international direct flights arrive in Xi'an from the US, Canada, Hong Kong, Japan, Singapore, France, Australia, etc. If you travel to other Chinese tourist destinations like Beijing and Shanghai first, you can also take a connecting flight or train to Xi'an conveniently.
Where is the Terracotta Army in Emperor Qinshihuang's Mausoleum Site Museum?
The Emperor Qinshihuang's Mausoleum Site Museum actually consists of two parts: the Terracotta Army and the Qin Shi Huang's Mausoleum Site Park, which is also known as the Lishan Garden. In Lishan Garden, there is the burial mound of Qin Shi Huang and some accessory pits housing the terracotta figures of civil officials and acrobats. The Terracotta Army is at the east side of the whole museum, about 1.5 km (1 mi) from the Lishan Garden. Tourists can take the free shuttle bus to travel between the two sites. Though Lishan Garden is always overlooked by tourists, it's worth a visit if time permits.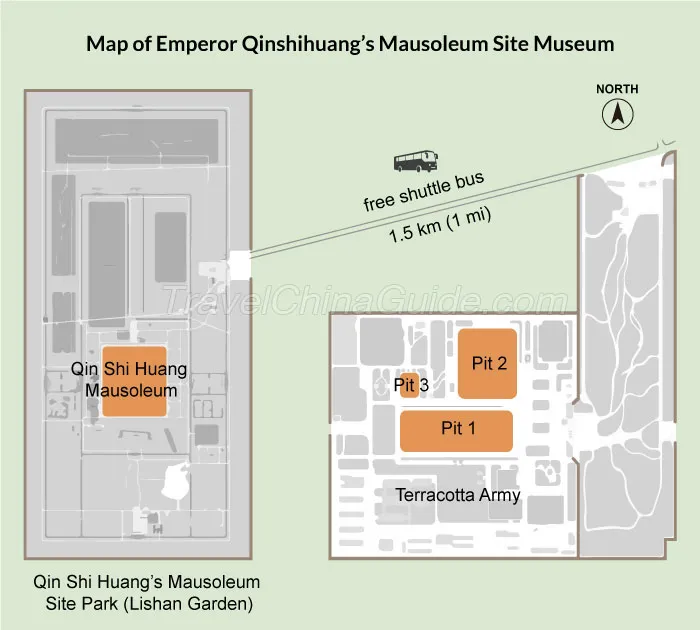 Terracotta Warriors Location in Emperor Qinshihuang's Mausoleum Site Museum
Why did Qin Shi Huang select this location to build his mausoleum?
Geographically speaking, Qin Shi Huang Mausoleum lies at south foot of Mount Li and neighbors the Weihe River to its north. This complies with the traditional Chinese Feng Shui in selecting a burial site, that is, an ideal site should be nestling under a mountain and near a river to bless offspring.

Besides, according to historical records, the Lantian County to the south of Mount Li abounded in jade while the Tongguan County to the north of Mount Li owned a gold mine. As a theist, Qin Shi Huang thought it was auspicious to be surrounded by jade and gold in the afterlife, so he determined to build his mausoleum near Mount Li.

Further Reading:
Where can I see the Terracotta Warriors?
You can see them in the Pit 1, Pit 2, and Pit 3 of the Terracotta Army about 40 km away from downtown Xi'an. Pit 1 has the most Terracotta Warriors including infantry, cavalry and chariot warriors. Pit 2 mainly exhibits cavalry, infantry, archers, and chariots. Pit 3 houses 68 Terracotta Warriors, four horses, and one chariot.

If you don't want to go that far, there are some Terracotta Warriors being exhibited in Shaanxi History Museum in downtown Xi'an.

Since 1980s, overseas exhibitions of Terracotta Army have been held for many times in USA, UK, Canada, France, Australia, and New Zealand, etc., and more overseas exhibitions will be held in the future. Keep an eye on your local news, maybe one day you can see Terracotta Warriors at your home door.

Where are the Terracotta Warriors found?
The Terracotta Warriors were found in 1974 at the Xiyang Village, Lintong District of Xi'an City. The local farmers were digging a well when they discovered some clay figures by accident. The mouth of the well is at the southeast side of Pit 1 of Terracotta Army.

See also:
Discovery of Terracotta Army in 1974
Who found the Terracotta Warriors?
Why was the Terracotta Army built?
When was the Terracotta Army Built?
- Last updated on Apr. 13, 2021 -