Sanya Travel Guide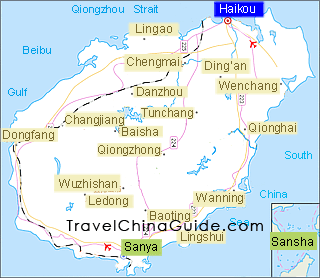 Sanya is situated on the southernmost tip of Hainan Province. The location between 180°9′ and 18°37′ latitude gives it the tropical monsoon climate. Covering an area of 1919.58 square kilometers (about 741 square miles) with 209.1 kilometers (about 130 miles) long coastline, this coastal city has many natural advantages. Possessing a number of excellent harbors, Sanya is an important port for import and export of trade with foreign countries. Therefore, it is also named the 'South Gate of China' to stress its importance while it plays a vital role in the life of the southern part of China in areas of the economy and politics to transportation.

Citizen from 59 qualifying nations is exempted from Chinese visa if he or she is received by a travel agencies in Hainan Province and has 30 days visa-free entry to Hainan.

For most travelers, Sanya is a noted tourist resort with mountains, rivers and the best seaview. The favorable climate is hot in summer but warm in the three other seasons so attracting large numbers of followers from both home and abroad every year. The whole city is related to the sea. Here you can enjoy a unique tropical oceanic landscape that is totally different from the other provinces of China. Sanya Bay, Dadonghai and Yalong Bay all golden seaboards of Sanya, are some of the first choices for visitors to spend their holidays. Instead of a busy and exhausting journey, you can relax totally here by strolling along the beaches and breathing the fresh air. If you are an enthusiast of exciting water activities, Wuzhizhou Island is your place to challenge the mysterious and changing sea. Additionally more than 20 ethnic groups including Han, Li, Miao, Hui inhabit there becoming a wonderful place to appreciate the various cultures of China. In Binglanggu Li & Miao Cultural Heritage Park and Yanoda Rainforest Cultural Tourism Zone, you can fully experience local ethnic customs.
| | |
| --- | --- |
| | Tianya Haijiao |
Recommended Tours
Beach Travel in Haikou & Sanya: 5 days to the beautiful beach resorts



More China Tour Packages

Sanya Phoenix International Airport
Sanya Travel Tips

Further Reading: