Sanya Travel Guide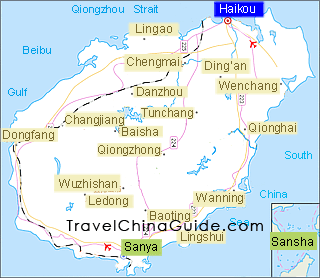 Sanya is situated on the southernmost tip of Hainan Province. The location between 180°9′ and 18°37′ latitude gives it the tropical monsoon climate. Covering an area of 1919.58 square kilometers (about 741 square miles) with 209.1 kilometers (about 130 miles) long coastline, this coastal city has many natural advantages. Possessing a number of excellent harbors, Sanya is an important port for import and export of trade with foreign countries. Therefore, it is also named the 'South Gate of China' to stress its importance while it plays a vital role in the life of the southern part of China in areas of the economy and politics to transportation.

Citizen from 59 qualifying nations is exempted from Chinese visa if he or she is received by a travel agencies in Hainan Province and has 30 days visa-free entry to Hainan.

For most travelers, Sanya is a noted tourist resort with mountains, rivers and the best seaview. The favorable climate is hot in summer but warm in the three other seasons so attracting large numbers of followers from both home and abroad every year. The whole city is related to the sea. Here you can enjoy a unique tropical oceanic landscape that is totally different from the other provinces of China. Sanya Bay, Dadonghai and Yalong Bay all golden seaboards of Sanya, are some of the first choices for visitors to spend their holidays. Instead of a busy and exhausting journey, you can relax totally here by strolling along the beaches and breathing the fresh air. If you are an enthusiast of exciting water activities, Wuzhizhou Island is your place to challenge the mysterious and changing sea. Additionally more than 20 ethnic groups including Han, Li, Miao, Hui inhabit there becoming a wonderful place to appreciate the various cultures of China. In Binglanggu Li & Miao Cultural Heritage Park and Yanoda Rainforest Cultural Tourism Zone, you can fully experience local ethnic customs.
| | |
| --- | --- |
| | Tianya Haijiao |
Recommended Tours
Beach Travel in Haikou & Sanya: 5 days to the beautiful beach resorts



More China Tour Packages

Sanya Phoenix International Airport
Sanya Travel Tips

Further Reading:
- Last modified on Apr. 22, 2019 -
Questions & Answers on Sanya Travel
Asked by neil hart from UNITED KINGDOM | Apr. 21, 2019 12:44

Reply
London to Bangkok via Guangzhou with stop in sanya
i have a flight from London to Bangkok via Guangzhou but the flight from London to Guangzhou lands in SY for 1hr 30 mins and i will only be in China for a total of 7 hours. Can i get a 24 hour transit visa on arrival.
Answers (1)
Answered by Sofia from DENMARK | Apr. 24, 2019 19:54

0

0

Reply
Yes, you can enjoy the 24 hours visa free policy. Don't worry.
Asked by MARGIN45 | Apr. 17, 2019 03:25

Reply
Hi, I would like to know how to go most efficiently from Guangxi province to Sanya.
I heart that taking a ferry from Beihai to Haikou city (on Hainan island) and then a train to there, the city. is that right? what is the schedule of the ferry? Is there another better way? Thanks!
Answers (3)
Answered by Jesse from USA | Apr. 17, 2019 20:39

0

0

Reply
You can take a flight from Guangxi to Haikou and then take high speed train to Sanya. It takes about 2 hours by high speed train.
Answered by MARGIN45 | Apr. 19, 2019 04:40

0

0

Reply
Thank you! So not possible with a ferry?
Answered by Jesse from USA | Apr. 22, 2019 18:43

0

0

Reply
Yes, you can take a ferry. The ferry operates at 18:00 every day in Beihai international passenger port. It takes about 12 hours and the fare is around CNY250.
Asked by Anant from INDIA | Dec. 27, 2018 17:36

Reply
Am planning to visit Sanya this new year?
Wanted to go around a couple of places and see the culture of Sanya and look for veg food preference. Also what are the budgeted places to stay around.
Answers (1)
Answered by Brayden from CANADA | Dec. 28, 2018 18:28

0

0

Reply
You are advised to stay at Dadonghai Area and Sanya Bay. The surrounding transportation is convenient. And you can also find some homestay instead of hotel.
Asked by Shalini from INDIA | Sep. 30, 2018 23:54

Reply
Are there vegetarian option in Sanya?
Answers (1)
Answered by Aaron from USA | Oct. 08, 2018 01:25

0

0

Reply
Yes, there are delicious vegetarian restaurants, such as vegetarian food in Nanshan Temple, which lies in Nanshan Buddhist Culture Garden, 40 kms west of Sanya City, Hainan Province; and Pure Lotus Vegetarian Restaurant at no.53, Xinjian Street, Shengli Road, Jiyang District.
Asked by Kathy from USA | Sep. 24, 2018 17:31

Reply
Arrive Sanya on ship Jan. 31, 2019. Weather?
Only there for several hours. 10am-6pm. What best to see, do

eat!
Take tour or walk around on our own? If tour, please recommend.
Answers (3)
Answered by Ray from GERMANY | Sep. 24, 2018 19:45

0

0

Reply
According to the former weather condition, the temperature may be around 20C. You need to take a thin coat.
As for places to go, you may go to Nanshan Tourism Area. You can also find many local dishes and snacks in the scenic area.
Enjoy your time!
Answered by Johnny from CHINA | Sep. 27, 2018 18:57

0

0

Reply
Seafood is good in this place. Best restaurants in my opinion are near Mingzhu square on Hexi road (West road). Go to one of those which are opposite the Chunyuan Seafood square. All these places have been there ages. Yes simple restaurants, but taste is good & price value is good.

All fishes, crabs and mussels are alive in tanks. Pick what you like and check when they measure the weight. Be careful to understand how much the cost is (they can show you cost with calculator or use piece of paper as English skills are non existing of course). They often may use price per 500 grams. If you prefer your food not steamed then you need to have that instruction in Chinese (in piece of paper) to make them to get this point (e.g. fried grouper).
Answered by Pam from USA | Oct. 20, 2018 10:26

0

0

Reply
We will be there the same day, traveling on the Westerdam