Code: LIJIANG01
Romantic Lugu Lake
5 Days of Lijiang - Ninglang County - Lugu Lake - Lijiang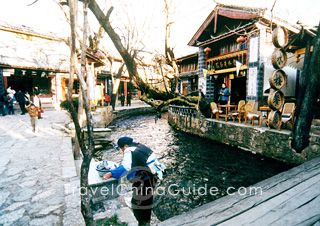 Lijiang Old Town
Your day one in Lijiang: Take in a feel of this old town with a stroll to the Black Dragon Pool Park, also known as Jade Spring Park, at 500 meters northeast of the old town. Admissions charge is CNY20 per person. Weather permitting; you can get there early enough to see the sun rising above the distant snow mountain. At a Pearl Spring you can stir up pearl-like bubbles with your shouts Try ascent the Elephant Hill with an elevation of 2,704 meters (8,871 feet). And along 'Longevity Road' you get a panoramic view of the Jade Dragon Snow Mountain. Visit Mu's Palace, which is regarded as "the Forbidden City" of Naxi race about 3 kilometers (1.9 miles) south of Black Dragon Pool Park. The entry costs CNY35. We recommend visitors to stay at Anna's Tavern, a nearby hostel (Address: No. 26 Wenhua Lane, Qiyi Road, Lijiang; Tel: 0888-5116312).
Your day two: Board for a 4.5 hours' coach ride at the Central Passenger Station to Ninglang County. Have lunch, changeover to a minibus and two hours later to Lugu Lake, which is located another 76 kilometers (47 miles) away. Please remember to take a panoramic picture of the lake at the viewing platform. The admission fee of this scenic area is CNY82. Pull up at Luoshui Village and stay at a guesthouse here. In the evening, you may join in a local campfire party if you are up to it. It costs you CNY20.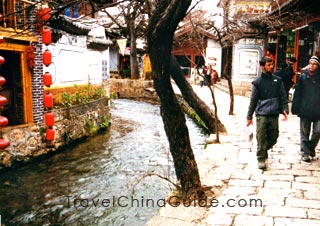 Street of Lijiang Old Town
Your day three: First, visit the Lugu Lake Museum nearby, and then walk to Lige Village, a quiet part of the lake. It is a well preserved place some 10 kilometers (6.2 miles) away from Luoshui Village and takes a 2.5-hour hike. The water is reachable from the doorstep of every house. Have lunch here and then hike 3-4 hours to Dazui Village in the afternoon. You will pass by the little Luoshui Village and there is a chance to see three rainbows hanging above the lake at the same time. Stay overnight here.

Your day four: Get up before 7:00 o'clock to ascend the back hill of Dazui Village in time for the sunrise. After taking breakfast, walk to the Ocean of Grass. You may stopover for lunch and supplemental shopping at Zuosuo Town. Do not miss the famous Walking Marriage Bridge. Take a cockleshell back to Luoshui Village. The boat ride takes about 2.5 hours. Stay overnight there.

Your day five: Take a minibus back to Nilang and change to a coach back to Lijiang. Tour ends.

More Lijiang Hiking Tours:
Classic Hiking Route: 6 Days of Lijiang, Wenhai, Lashi Lake, Tiger Leaping Gorge, Walnut Grove, Jingsha River, Daju
Jade Dragon Snow Mountain: 3 days hiking from Lijiang to Jade Dragon Snow Mountain
Historical Change En Route: 5 days, Lijiang, Jin'an Bridge, Zili, Yong'an, Yonghua, Xiumei, etc

Recommended Cheap Lijiang Tour:
Lijiang Tour Package: 4 Days to visit highlight attractions in Lijiang including Tiger Leaping Gorge, Lijiang Old Town and more