How to Apply for a China Tourist Visa
Before embarking on your China trip, it's necessary to obtain a Chinese tourist visa, aka L visa or travel visa, unless that you are eligible for China's visa exemption policies. No matter you will join a group tour or travel independently, you need to apply for the visa on your own in most cases, but there is a slight difference in the two scenarios.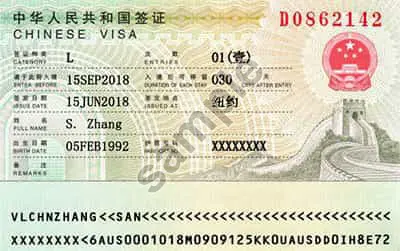 Sample of China Tourist Visa
Join a group tour
If you book a tour from a China agency like TravelChinaGuide, the process might be easier. You can ask for an invitation letter from the agency, which is of great help in visa application and can improve the chance for visa approval to some degree.

Travel independently
Round-trip tickets and hotel reservations are required for tourist visa application for independent travelers. Submit as detailed supporting documents as you can to justify your travel itinerary. Usually the hotel bookings should cover your whole stay length in China and be consistent with the dates of arrival and departure shown on your tickets, otherwise your visa may get rejected.

What Are the Requirements for China Tourist Visa?
Generally the required documents include:
1. Your passport, which should be valid for at least six months
2. A complete Chinese Visa Application Form
3. Round-trip tickets and hotel reservations or an invitation letter from from a travel agency in China
4. For some first-time applicants or citizens from certain countries, they may need to provide extra documents such as bank statement, employee certificate and tax return form to prove their financial status.

China Tourist Visa Requirements
5 Steps to Apply for a Tourist Visa for China
1. Prepare your passport and ensure its validity is no less than six months.
2. Book round-trip tickets and hotels, and print the booking records. Alternatively, book a tour from a travel agency and get the invitation letter.
3. Complete the application form online. (See 8 Tips for Filling out Chinese Visa Application Form)
4. Book an appoinment with Chinese embassy / consulate or CVASC which has jurisdiction in your residence area and submit the above documents at the appointed time
5. Collect your passport and visa on the appointed date and pay the fee.

How Much Does a China Tourist Visa Cost?
| US Citizens | Canadian Citizens | UK Citizens | Australian Citizens |
| --- | --- | --- | --- |
| USD 185 | CAD 142 | GBP 151 | AUD 109.5 |
Here we only list single entry tourist visa fees for some major countries. Click on
China Visa Fees
for more information.
How Long Does It Take for the Application?
It normally takes only four working days. In case you are in a hurry, you may apply for the expedited services like same day collection service or 2-3 day collection service. Of course, such services require an additional fee.

How Far in Advance Do I Apply for a Tourist Visa for China?
It's recommended to apply six weeks ahead of your planned visit, which is neither too early nor too late.

How Long Is a China Tourist Visa Valid?
A China tourist visa is normally valid for three months from the date of issue. For US citizens, they may get a multiple-entry tourist visa valid for 10 years. The allowed stay duration ranges from 30 days to 90 days decided by consular officers on the basis of your travel itinerary.

See some of our best tour packages:
You may also be interested in:
China Travel Tips
China Tour Planning
Top 10 China Destinations for First Time Travelers
- Last updated on Aug. 24, 2023 by Kate Liu -
Questions & Answers on How to Apply for a China Tourist Visa
Asked by Steve from CANADA | Sep. 16, 2023 13:37

Reply
Same sex spouse
Hello, I am married to a Chinese citizen who is male. Will they let me apply for a family visit visa or do I need to apply for a tourist visa? My spouse and his family will send me an invitation letter. Will this work ok?
Answers (1)
Answered by Rita | Sep. 18, 2023 01:42

0

0

Reply
You may try to apply for an S visa, but they probably will still give you an L.
Asked by Tata from INDONESIA | Aug. 24, 2023 05:50

Reply
L visa but staying in family's house
Hi, I got L visa instead of Q visa to visit my family who currently lives in China. I'll be staying in their house. Should I register to the police station once I arrive? Thank you.
Answers (1)
Answered by Emily | Aug. 24, 2023 20:17

0

0

Reply
Yes, you need to register it.
Asked by Edvinas from UNITED KINGDOM | May. 28, 2023 22:47

Reply
Bookings
Hi, do I need to book a hotel or a flight for a tourist visa if I have an invitation letter? If not, should I just press "not applicable" when applying for a visa?
Answers (1)
Answered by Mia | May. 29, 2023 23:05

0

0

Reply
Since you have an invitation letter, you do not need to book a hotel or flight. Just press "not applicable".
Asked by Andrew from UK | Apr. 29, 2023 06:38

Reply
Return to China
Hi, I lived in China for 15 years, and had residence status but unfortunately the pandemic circumstances led to a repatriation to the UK in 2020. My residence visa status expired in 2021. I want to return to China on a tourist visa, but not on any official tour, since I will stay with friends in my old home town. How would I get around the issue of requiring an Invitation Letter from a tour company for a tourist visa ? What's your suggestion ? Also, can I book and pay flights AFTER my visa application is approved as long as I provide an itinerary for my trip.
Answers (1)
Answered by Emily | May. 03, 2023 23:54

0

0

Reply
Hi, you can get an invitation letter from your friends in China to replace the one from a tour company. If you submit invitation letter, flight ticket is no more a must, so you can buy it after obtaining the visa.
Asked by Rehmat from UNITED KINGDOM | Apr. 27, 2023 17:40

Reply
Hi I'm British passport holder my two years visit visa expired in 2020 can I apply now for 5 years v
Answers (1)
Answered by Jenny | Apr. 28, 2023 00:56

0

0

Reply
According to the rules, if you have once held a 2-year multiple-entry visa issued by the Chinese Embassy or Consulate in the UK and have visited China at least 3 times in the past 2 years, you can apply for a 5-year multiple-entry visa.

But I don't think you can enter China during the pandemic and it's not your problem, so it's possible for you to get the 5-year one. Good luck~