Major Categories of China Attractions
Time-honored history and brilliant Chinese civilization endow the country with numerous historical and cultural relics so that you can have a lot of choices among the attractions in China. Vast field gives birth to many beautiful mountains and rivers. This was an old and rich country sending an air of mystery. Nowadays, great treasures are greatly appreciated by tourist from all over the globe to explore.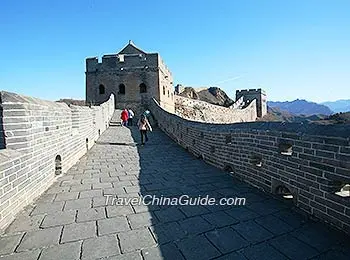 Great Wall in Beijing
Numerous historic relics from China's long history have been preserved. Among them, the Great Wall is the icon of the Chinese nation and the most popular attraction. The excavation of Yin Xu (Yin Ruins) in Anyang City of Henan let the world know Oracles which have been proved to be the earliest written character of human beings. Potala Palace in holy Lhasa is a splendid and complicated building complex on the Red Hill, being the political center of Tibet.
Another place gathering multitudes of historical and culture relics should be the Silk Road, a vital trading route that traversed Asia and Europe. The prosperity of the past has gone. But communications in commodity, religion and ideology between the west and the east have been vividly engraved in places along the road and continue to inspire vigor in new era.
Beijing and Xi'an will occur to one's mind at the mention of ancient cities with profound cultural accumulations. Undoubtedly, Museum of Terra Cotta Warriors can best represent the city which was the capital of the first feudal dynasty, Qin (221BC-206BC). While Beijing is most highlighted by the Forbidden City, the imperial palace of the Qing dynasty which symbolized the peak hours of Chinese feudal society and where the imperial power completely faded out of the country.
Mountains and waters often occur in literary works to express great breadth of mind or yearning for nature. They usually hold more than what their facial beauty can convey.

Mountains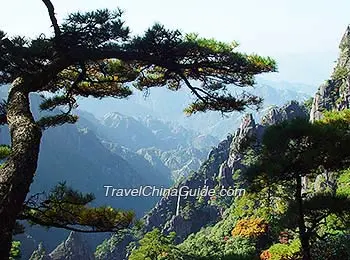 Mt.Huangshan (Yellow Mountain) in Anhui
A mountain has its unique character - magnificent, imposing or elegant. The Five Most Famous Mountains can be the representative of all Chinese mountains. Mount Taishan in Shandong is the most revered; Shaolin Temple brought worldwide fame to the Song Mountain in Henan; Mt Huashan in Shaanxi is precipitous; Hengshan in Shanxi has jagged ranges and Mt. Hengshan in Hunan is elegant in appearance.
Many mountains epitomize different religions and cultures. Mt. Jiuhua in Anhui, Mt. Emei in Sichuan, Mt. Putuoshan in Zhejiang and Mt. Wutai in Shanxi are the most noted Buddhist holy mountains. While Mt. Huangshan in Anhui, Mt. Laoshan in Shandong, Wudang Mountain in Hubei, Mount Wuyi in Fujian, Mt. Qingcheng in Sichuan and Dragon and Tiger Mountain in Jiangxi are well-known Taoist holy mountains. Mt. Huangshan seems to enjoy exceptionally high reputation. It is said to boast of combining the masculine grandeur of Mount Taishan, the mist and clouds of Hengshan in Hunan, and the grotesque splendor of Mt. Huashan. That's why the old saying goes as having no wish to see any of the five most famous mountains if having seen Mt. Huangshan.

Waters
Mighty Yangtze River
If joined together, the Chinese natural rivers reach a total length 10.5 times greater than the length of the Earth's equator. Among all the rivers, the Yellow River is affectionately known as the mother river of Chinese nation. The Yangtze River, the world third longest, enjoys great fame because of the numerous historic relics found along its banks and the beautiful legends about this vital waterway. Holding enchanting riverside scenery, Li River gathers the most astonishing natural beauty of northeast Guangxi by connecting Guilin and Yangshuo.
Poyang, Dongting and Taihu Lakes are the top three freshwater lakes in China, which fertilize the fields around and make them towns of rice and fish. West Lake, the golden name card of Hangzhou and Thousand Islets Lake (Qian Dao Hu), the resplendent pearl of the city are hot scenic spots. Qinghai Lake, the largest inland salt lake in China, has the Bird Island as its most charming part, attracting lots of tourists.
In addition, Beidaihe Scenic Spot, Qingdao Seashore Scenic Area, Beihai Silver Beach and Asian Dragon Bay (Yalong Wan) have top beaches for summer holiday.

Scenic Areas and Natural Reserves
Ethnic Group Flavors
If you are interested in the culture and life styles of Chinese 56 ethnic groups, especially the 55 ethnic minorities, villages and buildings introduced here best show you their distinctive flavors. Guangxi, Yunnan and Guizhou have the richest resource of this kind. Baimian Yao Village, Yinshui Dong Village and Ethnic Relics Center in Guangxi are all worth visiting. China Folk Culture Villages in Guangdong and Xishuangbanna Nationality Culture Park in Yunnan are comprehensive scenic areas to gather flavors of many ethnic groups together in one place.
Ancient Towns and Local Resident Houses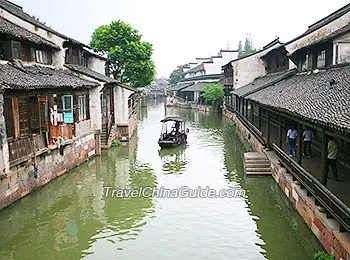 Wuzhen Water Town, Zhejiang
Ancient cities, towns and villages are treasures for visitors to understand China. Zhouzhuang in Suzhou is known as the number one water town. In the same city, Tongli is regarded as the oriental Venice. In Zhejiang Wuzhen, you will find waterside pavilions which are seldom seen in ancient water towns in southern China. Now the town is a fine base for movies and televisions.
Ancient City of Pingyao in Shanxi is characterized by the city wall and the ancient compounds of rich families. Xidi and Hongcun Ancient Villages have typical local residences in southern Anhui Province. Lijiang Old Town and Dali Ancient City in Yunnan have delicate residential houses, lanes and streams. In addition, Beijing's courtyards, earth towers of the Hakkas in Fuzhou, Huizhou local residences in Anhui and the farmers' caves in Shaanxi are outstanding representatives of local residences.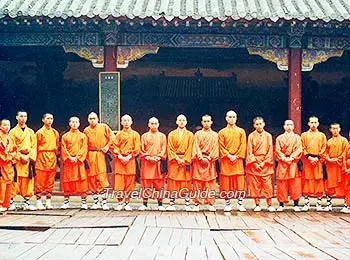 Shaolin Temple, Henan
The history of gardens extends for over 3,000 years. Those in northern China are mainly imperial gardens such as Summer Palace and Mountain Resort of Chengde; while those in southern China are mainly private ones such as the classical gardens of Suzhou.
Temples and monasteries are emblems of China's long history.
Shaolin Temple is the number one temple under heaven. White Horse Temple is the oldest temple and the cradle of Buddhism in China. Jokhang Temple, Labrang Monastery and Ta'er Monastery are famous Tibetan Buddhist shrines. As to Confucianism, there are several Temples of Confucius (Kong Miao) in many cities.
Mausoleums
Towers and Pagodas
Towers and pagodas are regarded as the outstanding high architecture of ancient China, adding luster to mountains and temples. Yellow Crane Tower, Tengwang Pavilion and Yueyang Pavilion are the three famous towers in South China. Additionally, Big Wild Goose Pagoda in Xi'an, Six Harmonies Pagoda in Hangzhou, Wooden Pagoda in Yingxian County and the Three Pagodas in Dali are very famous Buddhist towers.
Grottoes

Mogao Caves, Dunhuang

Longmen Grottoes, Luoyang

Yungang Grottoes, Datong
Grottoes and caves fully reflect the Buddhist art of the Wei, Jin, Northern and Southern, Sui, and Tang dynasties. The most distinguished are the greatest three grottoes: Mogao Caves in Gansu, Yungang Grottoes in Shanxi and Longmen Grottoes in Henan. Leshan Giant Buddha and Dazu Rock Carvings in Sichuan are also treasure of stone carving art. Gansu Province is famed for grotto art. Maiji Caves and Binglingsi Thousand Buddha Caves are major ones along the ancient Silk Road in Gansu. As the road extends westward, Kizil Thousand-Buddha Caves found in Aksu Region of Xinjiang also retains fine carving art.

Recommended Tours:
Best Group Tour
: 9 Days of Beijing - Xi'an - Shanghai
Essence of China Tour
: 10 Days of Beijing - Xi'an - Guilin - Yangshuo - Guilin – Shanghai

More
China tours
; Read our customers
Tour Reviews
- Last modified on Apr. 15, 2021 -
Questions & Answers on Major Categories of China Attractions
Asked by Roger Gilstrap from USA | Apr. 13, 2016 11:16

Reply
Planning to visit Beijing next year, coming from USA, do we need a visa?
Answers (1)
Answered by Green from USA | Apr. 13, 2016 20:40

0

0

Reply
Yes, you need to apply for Mainland visa in USA in advance.
Asked by Abid from PAKISTAN | Nov. 05, 2013 11:24

Reply
Where to visit in Changsha around 10 to 15 November
Sir, I am visiting CS and Beijing between 10 o 15 November this year. Which locations of history and scenic value should I plan to visit in the two area. Thanks.
Answers (1)
Answered by Edson | Nov. 06, 2013 03:04

2

0

Reply
In Beijing, it is suggested to visit Forbidden City, Great Wall, Temple of Heaven, Summer Palace and National Museum.

In Changsha, you can visit Mt. Shaoshan Scenic Area, Mawangdui Han Tombs and Hunan Provincial Museum. And Yuelu Academy is also worth while.
Asked by Ms.foxrider from CANADA | Feb. 05, 2009 22:02

Reply
i don't know about you guys but what about the religion? the budhism temples? ever think about that? sure seeing the great wall would be amazing and the mountains but the culture is what matters the most
Answers (2)
Answered by Mr.Fashionista from AUSTRALIA | Jul. 30, 2010 04:05

2

1

Reply
I totally agree Ms. foxrider! It would be lovely to see all the temples and to learn about the culture. But I would also love to go see the Great Wall, The Forbidden City, The Temple of Heaven and the list goes on... Culture is just as important as Scenery!
Answered by xXx from USA | Mar. 06, 2012 18:47

0

0

Reply
IKR! scenerey is awsome but culture is most importent
Asked by Ms.KINY from EUROPE | Dec. 04, 2008 16:04

Reply
I LIKE TO SEE EVERY THING IN THE CHINA PLACE
Answers (2)
Answered by Ms.traveler | Dec. 12, 2008 16:13

0

0

Reply
hi ms.KINY!! I would also like to see that too!!!
Answered by Ms.capistran from MEXICO | Jan. 07, 2009 21:23

0

0

Reply
umm in the others i put tx please ignore..

I WANNA SEE CHINA AS WELL!!! =00000000