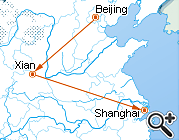 Best of China
2021-SG01:
8 Days Small Group Tour of Beijing

Xi'an

Shanghai
Departure dates and prices upon request
Free Inquiry

After your flight landing in Beijing, it takes you about one hour to clear the customs and pick up your luggage. When you doing these things, our experienced guide is waiting for you at the exit of the airport by holding a welcome sign with your name on it and will take you to the Avenue Xuan Wu Men Nei and check in at the 4-star Grand Mercure Hotel afterwards. The rest of the day is free for your own arrangements.
Our group at Badaling Great Wall
Photo by our clients Ms. Marnie Elizabeth Light and Ms. Alka Ramnath
A brief introduction about the trip and the group members will be given by your guide before the tour starts. And then a whole morning excursion takes to the most famous sites, the
Tiananmen Square
and the
Forbidden City
. For this trip, one of the highlights is to taste the real Chinese food as per your preference. Today you will try the first delicious lunch at a well-chosen restaurant. An ease afternoon excursion will take you to the
Jingshan Park
, which used to be the imperial garden in Yuan, Ming and Qing dynasties and now it is another important historical site standing at the central axis with the highest altitude in the city, from where you can see the panorama of the grand Forbidden City. The landscape and the pavilions make the garden not only a place to know the ancient history, but also an ideal place to wander around in spare time. Tonight, a funny and skilled Acrobatic Show will leave you an exciting and happy evening. (B+L)
Our group at the Forbidden City
Photo by our clients Mr. Hrishikesan Dinesh Thampi and Ms. Priyanka Anjana Thampi
The Great Wall is a must-see site and who will not be considered to be here without climbing it. This morning, we will drive you to the
Mutianyu Great Wall
, which is a little bit further from the city center but more beautiful and less crowded. Climbing all the way up, you will find the wall is just like a silvery dragon winding through the mountains and stretching to the far distance endlessly. You can also choose the cable car and then climb up to the top. To replenish your strength, we will arrange lunch at a famous local restaurant. Then a visit to
Chang Ling
will be arranged in the afternoon, which is listed first among the Ming Tombs and is the earliest, the largest and the most complete cemetery of Ming Tombs. Chang Ling is also the most representative ancient building constructed with the Golden Silk nanmu. After the visit, we will drive you back to the hotel and you may get some advice for dinner from your guide. (B+L)
Local villagers sitting outside their house
Check out from the hotel after breakfast, the first stop in the morning should be the
Summer Palace
, a famous and fancy royal garden. In the afternoon, visit the
Beijing Zoo
, where you can see the lovely pandas playing with the stumps, eating the bamboos or doing some climbing outside their home. Before catching your flight to Xi'an, you will visit the
Lama Temple
. It used to be the residence of the famous emperor of Yongzheng in Qing Dynasty, and later on after his death, his son, the emperor Qianlong had it become a Tibetan Lama Temple. The flight to Xi'an will take two hours or so, and our professional guide will pick you up and transfer you to the 4-star Ramada Xi'an Bell Tower with the driver. This hotel is located in the Northern Avenue in the city center. (B+L)
Terracotta army, Xian
Visit the
Terracotta Warriors and Horses Museum
in the morning. At noon, an
a la carte lunch
will be offered for you at a fancy local restaurant. Then continue to visit the
Mausoleum of Qinshihuang
. The emperor Qinshihuang united 6 countries in his times and was the first emperor in Chinese history. He began to build his mausoleum at the age of thirteen and the project lasted 38 years, this huge and intimidating operation started the precedent of the extravagant burial. The following visit takes you to the famous
Huaqing Hot Spring
, the birthplace of the love story of a famous Emperor with his favorite concubine Yang Guifei. And also it is the site of the famous Xi'an Incident where a military action was launched to detain Chiang, and that made a very important turning point to China's modern history. In the evening, you will appreciate the Tang Music and Dance show named A Song of Everlasting Sorrow, which visually tells you the love story of the emperor Tang Xuanzong and Yang Guifei. The show is performed at the site of Huaqing Hot Spring with the background of the real mountain and water, makes it authentic and impressive. (B+L)
Our group visiting a local family home in Xian
The last stop in Xi'an is the
Han Yang Ling Mausoleum
. It was built at the base of the joint tomb of Emperor Liuqi and his Empress, combines the modern technology, ancient civilization, historical culture and the garden scenery. It is the largest museum in China. Here you can not only explore the site itself but also witness the archeologists are renovating the precious artifacts. After visiting, you will take a flight to Shanghai, one of the most developed cities in China. After checking in at the 4-star Ramada Plaza Gateway hotel (Addr: 327 Tian Yao Qiao Road), you are free for the rest of the day to explore the city by yourself. (B)
Huangpu River scenery
In the morning, we will show you around
the Bund
and
Nanjing Road
which can tell you the best of the development of Shanghai. The Bund is on the side of the Huangpu River, where you can see the old buildings of different styles, like the Gothic, Romanesque and Baroque, so the Bund is also called the world Expo of architectures. Then have a look at the prosperous Nanjing Road. For today's
a la carte lunch
, we specially arrange it at a famous local restaurant that is good at serving Shanghai cuisine. In the afternoon, you will visit the
Jade Buddha Temple
and the
World Financial Center
. The Jade Buddha Temple is an ancient building complex with a history of 120 years, and now it has been the most famous Buddha temple in Shanghai. The World Financial Center is the third highest building in the world. Standing at the view floor, you can have a panoramic view of the Shanghai city and feel the thrill of the city. After finishing the entire visit, your memorable trip will come to an end. Our guide will transfer you back to the hotel and speed the parting guests. (B+L)
Day 8
Departure from Shanghai
No escorted tour is offered today, you will need to check out from the hotel before 12:00 and take the departure flight by yourself. For a later flight, you may deposit your luggages at the front desk and then take them back when you are ready to leave. If you are interested in extending your stay in China, any extra service, like hotel reservation, journey to other cities and the air tickets booking can be arranged upon additional requests. Hope you have enjoyed the whole trip with us and we are all expecting your next visit. (B)