Year of the Sheep / Goat / Ram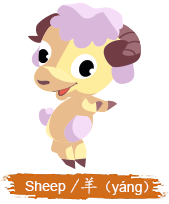 Sheep / Goat is the eighth in the 12-year cycle of Chinese zodiac. The Years of the Sheep include 1919, 1931, 1943, 1955, 1967, 1979, 1991, 2003, 2015, 2027, 2039, 2051...

Sheep (goat, or ram) is among the animals that people like most. It is gentle and calm. Since ancient times, people have learned to use its fleece to make writing brushes and fur to keep warm. The white cute creature often reminds people of beautiful things.

Earthly Branch of Birth Year: Wei
Wu Xing (The Five Elements): Tu (Earth)
Yin Yang: Yin
| Sheep Year | Start | End |
| --- | --- | --- |
| 1919 | Feb.1,1919 | Feb.19,1920 |
| 1931 | Feb.17,1931 | Feb.5,1932 |
| 1943 | Feb.5,1943 | Jan.24,1944 |
| 1955 | Jan.24,1955 | Feb.11,1956 |
| 1967 | Feb.9,1967 | Jan.29,1968 |
| 1979 | Jan.28,1979 | Feb.15,1980 |
| 1991 | Feb.15,1991 | Feb.3,1992 |
| 2003 | Feb.1,2003 | Jan.21,2004 |
| 2015 | Feb.19,2015 | Feb.7,2016 |
| 2027 | Feb.6,2027 | Jan.25,2028 |
Lucky Signs for People Born in Sheep Year:
Lucky Numbers: 3, 4, 9
Lucky Colors: green, red, purple
Lucky Flowers: carnation, primrose, Alice flower
Lucky Directions: east, southeast, south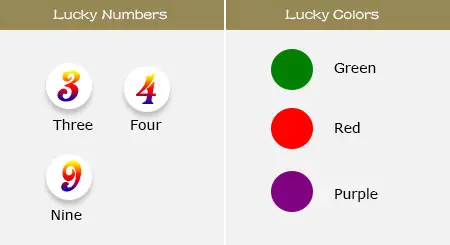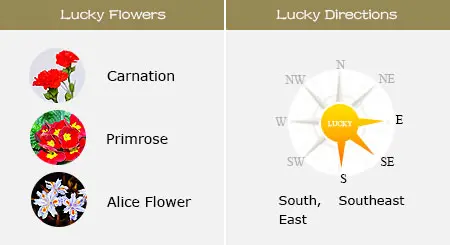 Things Should be Avoided:
Unlucky Numbers: 6, 7, 8

Unlucky Colors: gold, brown, black

Unlucky Direction: west
People born in the Year of the Sheep are tender, polite, filial, clever, and kind-hearted. They have special sensitivity to art and beauty and a special fondness for quiet living. They are wise, gentle and compassionate and can cope with business cautiously and circumspectly. In their daily life, they try to be economical. They are willing to take good care of others, but they should avoid pessimism and hesitation.
Strengths
gentle, softhearted, considerate, attractive, hardworking, persistent, thrift
Weaknesses
indecisive, timid, vain, pessimistic, moody, weak-willed
See more about Destiny by Birth Month, Destiny by Birth Date
Best Matches: Horse, Rabbit, Pig
Sheep could make a perfect couple with Horse, Rabbit or Pig. The harmonious bond between them would bring prosperity to both their career and families. The couple will win respect from others.
Bad Matches: Ox, Tiger, Dog
If Goat people get married with Ox, Tiger or Dog people, they may hardly live a happy life. Throughout their life, they might encounter considerable difficulties and setbacks. They might spend life in tough work or even experience the pain of losing family members.
See more about Chinese Zodiac Sign Compatibility
Is it the Year of Ram, Sheep, or Goat?
The ambiguity has whipped up discussion in the English world. Actually, when used without attributes, the Chinese character Yang can refer to all of the forgoing ruminants. However, in terms of traditional culture, the zodiac symbol is more likely a Goat, as it is commonly seen among Han People. The images of goats often appear on Chinese New Year stamps and paper-cuts. To ordinary Chinese, it seems the confusion never bothers them. They may take goat as the zodiac animal, but prefer to buy a sheep mascot, because it is more lovely and fluffy.
Chinese zodiac prediction ranks sheep No.2 among all twelve zodiac signs. The year of Pig will be a great year for sheep people to make money. Thanks to their outgoing and active personalities, they can grasp the opportunities to develop their careers. At the same time, they may be exhausted and upset due to too much working pressure. As for love life, males seem luckier than females this year, so females need to behave more active when meet the one they like. No big problem will appear in their health condition this year. If possible, try to have enough exercises to maintain the body condition.

Sheep people with different western zodiacal signs present distinctive characteristics, such as optimistic Aires, talented Taurus, social Gemini, optimistic Cancer, ambitious Leo, obsessive Virgo, aggressive Libra, hardworking Scorpio, energetic Sagittarius, diligent Capricorn, broadminded Aquarius and sensible Pisces.
Classified by blood types, people with Chinese zodiac Sheep can be divided into four groups. People with blood type A love peace and never do things detrimental to others' interests. Being honest and kindhearted, people under blood type B hate to speak ill of others. As people with blood AB are tidy and organized, they will often be entrusted with trivial but important tasks by their leaders. Lastly, people with blood O have a stable character and always play on the safe side. They do not like to break rules or make decisions.
The cycle of Chinese Five Elements count for much in analyzing people's personality traits. Here are Sheep sorted into five types:
| Types | Years of Birth | Personality Traits |
| --- | --- | --- |
| Wood Sheep | 1955, 2015 | Gentle and affable, polite, sympathetic, keeping good interpersonal relations. |
| Fire Sheep | 1907, 1967 | Gentle, neat, honest and frank, some sentimental and changeable. |
| Earth Sheep | 1919, 1979 | Upright and impartial, straightforward and outspoken. |
| Metal Sheep | 1931, 1991 | Kindhearted, sticking to prescribed order and sometimes lacking flexibility. |
| Water Sheep | 1943, 2003 | Responsible, laying emphasis on friendship; talented in music and painting. |
Sheep Zodiac Eminent Personalities
Michelangelo, Mark Twain, Thomas Alva Edison, Rudolph Valentino, Rachel Carson, Pierre Trudeau, Barbara Walters, Orville Wright, Nicole Kidman, Julia Roberts, Amy Lee, Bruce Willis, Benicio Del Toro, Claire Danes, Jamie Lynn Spears, Matt LeBlanc, Chow Yun-Fat, Zhang Ziyi, Li Shimin (Emperor Taizong of the Tang Dynasty 618 – 907), Cao Cao (King of Wei in China's Three Kingdoms Period 220 - 280), Yue Fei (a patriotic general in China's South Song Dynasty 1127 - 1279), Empress Dowager Cixi
- Last modified on Mar. 03, 2019 -
Questions & Answers on Year of the Sheep / Goat / Ram
Asked by Hajaratu abdullhi from GHANA | Mar. 03, 2019 09:24

Reply
Am 1991 and my element is metal can I be with someone born in 1979 earth element?
Answers (1)
Answered by Anna from CANADA | Mar. 03, 2019 18:38

0

0

Reply
Yes, of course and there is no problem. The zodiac compatibility is more important than the elements and you are highly complementary in the love compatibility. Best wishes!
Asked by Jennifer from BOSTON | Feb. 25, 2019 18:31

Reply
march 20,1991 n boyfriend april 5, 1986. Everlasting love?
Answers (1)
Answered by Fanny from MALAYSIA | Feb. 25, 2019 22:31

0

0

Reply
Hi, the compatibility is good and you can work it out. If it can be everlasting depends on many elements but you can make more efforts to maintain the relationship. Communication and better understanding is very important. Best wishes!
Asked by Sai from INDIA | Feb. 04, 2019 07:17

Reply
Born Aug 2 , 1967
wanted to buy a house. Is there any possibility in the year 2019?
Answers (1)
Answered by Dylan from MALAYSIA | Feb. 11, 2019 23:37

0

0

Reply
This is a luck year for you, especially in career and wealth aspects. If you can work hard and earn enough money, it is possible for you to buy a house. Good luck!
Asked by KB from USA | Jan. 31, 2019 12:04

Reply
June 8, 1991. What kind of year will i be looking forward to?
Answers (1)
Answered by Mia from SINGAPORE | Jan. 31, 2019 22:58

0

0

Reply
The fortune for sheep people is pleasant this year and it is a lucky year for them to develop love life. Also, the fortune in career and wealth is great and you may make a great progress at work. Good luck!