Year of the Sheep / Goat / Ram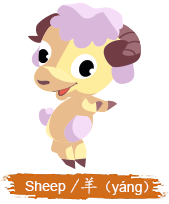 Sheep / Goat is the eighth in the 12-year cycle of the Chinese zodiac. The Years of the Sheep include 1919, 1931, 1943, 1955, 1967, 1979, 1991, 2003, 2015, 2027, 2039, 2051...

Sheep (goat, or ram) is among the animals that people like most. It is docile, mellow, and timid. The white cute creature often reminds people of beautiful things. In Chinese culture, the sheep is considered auspicious since long time ago and it was often used to offer sacrifices and pray for good fortune. It was also once served as currency in ancient times, and thus the sheep represents rich and lucky.

People born in the Year of the Sheep are gentle, calm, and decent, while sometimes they can be naive and emotional.

Earthly Branch of Birth Year: Wei
Wu Xing (The Five Elements): Tu (Earth)
Yin Yang: Yin

Years of the Sheep
The Chinese zodiac sign is decided by the birth years which are calculated by the Chinese lunar calendar. Here is a chart for you to find the right zodiac sign of yours, which is the best way to check if you are a Sheep and see your element by the way.

Also, you can input your birthdays to the "Find Your Chinese Zodiac" tool.
| Sheep Year | Start | End | Element |
| --- | --- | --- | --- |
| 1919 | Feb.1,1919 | Feb.19,1920 | Earth |
| 1931 | Feb.17,1931 | Feb.5,1932 | Metal |
| 1943 | Feb.5,1943 | Jan.24,1944 | Water |
| 1955 | Jan.24,1955 | Feb.11,1956 | Wood |
| 1967 | Feb.9,1967 | Jan.29,1968 | Fire |
| 1979 | Jan.28,1979 | Feb.15,1980 | Earth |
| 1991 | Feb.15,1991 | Feb.3,1992 | Metal |
| 2003 | Feb.1,2003 | Jan.21,2004 | Water |
| 2015 | Feb.19,2015 | Feb.7,2016 | Wood |
| 2027 | Feb.6,2027 | Jan.25,2028 | Fire |
Lucky Signs for People Born in Sheep Year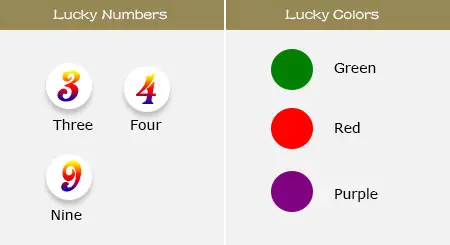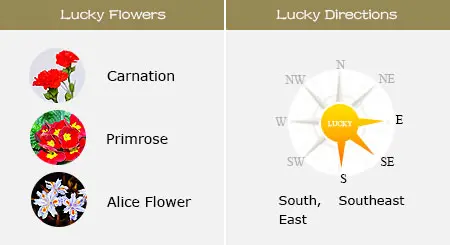 Lucky Things for Dogs:
Lucky Numbers: 3, 4, 9
Lucky Colors: green, red, purple
Lucky Flowers: carnation, primrose, Alice Flower

Lucky Directions: east, southeast, south
Things Should be Avoided:
Unlucky Numbers: 6, 7, 8
Unlucky Colors: gold, brown, black

Unlucky Direction: west
Personality: Sheep are gentle, calm, upright, and sympathetic
Among all the 12 Chinese zodiacs, the Sheep is the most gentle and soft one. The mild sheep seldom lose their temper to others or become very aggressive. They care about others' feelings and never intend to hurt people. Their upright personality also makes them sympathetic enough to understand other people's problems from various perspectives, especially for their friends and loved ones.
However, sometimes they can be very passive and tend to be a pessimist to see bad aspects of things, which means that they need strong support and enough understanding from their friends. Also, they keep alert when strangers step into their domains.
Strengths: gentle, sympathetic, calm, creative, imaginative, sociable, and considerate
Weaknesses: negative, hesitating, impractical, and sometimes stubborn
Sheep Men: Men with Chinese zodiac Sheep sign always look gentle and very considerate when getting along with people, which helps them gain social skills and manage a good relationship in the friend circle. They love arts, full of imagination and innovation, which sometimes however makes them become sentimental and emotional and give up rational thinking in life. Sheep men do value the family, but they don't like pressure because that will make them anxious.
Sheep Women: Women born in the Year of the Sheep are always courteous and have good manners. They are patient and sympathetic no matter in work or life. However, when facing challenges, they will show another aspect. They can be very solid and strong, full of courage, and stick to their own paths. The distinct personality helps them win support from higher-ups. Though Sheep women are ambitious in career, sometimes they may be indecisive.
Personality by Five Elements: Which Type of 'Sheep' Are You?
The Sheep have been classified to five types according to the Five Elements: Wood, Fire, Earth, Metal, and Water. And that is decided by different birth years of the Sheep. See the chart below to check your type and the characteristics it represents.
| Types | Years of Birth | Personality Traits |
| --- | --- | --- |
| Wood Sheep | 1955, 2015 | Gentle, affable, courteous, easygoing, sympathetic, emotional. |
| Fire Sheep | 1907, 1967 | Honest, frank, helpful, sentimental. |
| Earth Sheep | 1919, 1979 | Upright, just, straightforward, outspoken, impatient. |
| Metal Sheep | 1931, 1991 | Kindhearted, responsible, principled, traditional. |
| Water Sheep | 1943, 2003 | Mild, low-profile, trusted, but maybe unappreciated. |
Sheep's Personality by Blood Types
• Blood Type O: These Sheep are honest, prudent, and have broad interests and hobbies. They are glad to follow the rules rather than decide for themselves. However, it often makes them compromise and lead a depression in the inner heart.
• Blood Type A: The Sheep with blood type A are full of peaceful spirits, considerate and seldom injure others' benefits. They are not interested in any adventure. Although safe enough, they may also lose some opportunities.
• Blood Type B: They are mature and never fond of showing off. The low key personality makes them meditative in most times, but they will be active in front of friends. They are also very forthright to express their feelings and emotions.
• Blood Type AB: They are kind-hearted, placid, and hardly quarrel with people. They often have clear plans about their lives and are experts in financial aspects. What's more, this type of Sheep are typical family-oriented people.
Love Compatibility of the Sheep
Input the names and birthdays of you and your partner, you can easily calculate your love compatibility according to the "Chinese Zodiac Compatibility Test" tool. It is also feasible to find your best zodiac matches in the following directions, and remember trying to avoid those bad matches.
Best Matches: Rabbit, Horse, Pig
Both of the Sheep and the Rabbit are unselfish so that they can think of each other, even when meeting disagreements, which helps them become a good couple. Most Sheep people have clear plans when doing things and the Horses happen to have the same view. For the Sheep and the Pig, they have common interests in food and it is easy for them to lead a harmonious life.
Bad Matches: Ox, Tiger, Dog
People born in the Year of the Sheep have less common language with the three zodiac signs and therefore they may not form a good bond with each other. As the Ox is always busy at work, the Sheep's feelings may be ignored while the Tiger cannot give support to the Sheep at the appropriate time. It is also a little difficult for the Sheep to communicate effectively with the Dog.

How to Build Relationships with the Sheep
People born in the Sheep years don't like loneliness and they need accompanies from their partners. They will feel very left out when the partners are not by their side. So don't make your Sheep partner feel lonely and neglected. Another thing that should be paid attention to is that the Sheep care more about the present than the past. They don't like looking at the past and quibbling over small details in a relationship. So when getting along with the Sheep, don't rake up the past if you have disagreements, or they will feel very frustrated and lose faith in the relationship.
Is it the Year of Ram, Sheep, or Goat?
The distinction of Sheep, Goat, or Ram about the Chinese zodiac year of "Yang" has caused confusion to the English speaking world, as in the Chinese language, the character Yang can refer to all the ruminants. In fact, according to some professional studies, it is more likely to be the Year of the Goat as the goat is more common in Chinese ancient society. However, Chinese people don't care too much about the choices of words. The images of Ram, Sheep, or Goat can all be found on the Chinese New Year stamps, paintings, and paper-cuts. Thus it has become a personal preference. The lovely and fluffy Sheep is favored by most people while Ram and Goat are choices for those who like strong and tough characteristics.
Jobs & Careers for Sheep
Best Jobs: Painters, musicians, beauticians, doctors, teachers, editors, writers…
Most of the Sheep have strong will power and are good at critical thinking. They are steady and hardworking at work; however, in some way, they lack the entrepreneurial spirit. More efforts should be made to learn to deal with challenges and failures if they want to make progress in career. The born talent in art and creativity make some Sheep people to be painters, musicians, beauticians, or writers. They are not suited to do pioneering or competitive work due to the lack of entrepreneurial spirit. Thus regular occupations like doctors, teachers, and editors are fine choices for them.
Health & Fitness Advice
Compared to other zodiac signs, people with the Chinese zodiac Sheep sign may not be so strong. Though sometimes suffered small diseases, they don't need to worry too much about the physical health condition. They should care more about mental health as they often feel sad and frustrated, influenced by negative characteristics. The horrible mood may also affect body health. It is necessary for the Sheep to improve the mood when feeling down and a positive attitude will help to keep healthy. Regular exercise is also recommended to resist small diseases like throat inflammation, headache, and runny nose.
Sheep's Fortune in 2021
Generally speaking, 2021 will be a fairly good year for people of Chinese Zodiac Sheep. As per Sheep fortune prediction in 2021, they love to experience all kinds of activities to fully enjoy life. Therefore, they may not save some money this year of 2021. However, they will be lucky in career and love relationships. Since they refuse to play a passive role, no matter as an officer worker or a lover, their energy and perseverance will affect others and help them to overcome various problems. As for health, if they want to obtain good condition, they need to take regular exercises and have a balanced diet.

Career: Many Sheep people will find it difficult to follow and finish the working plans. However, they are not advised to be influenced by other people or get lost. Don't be timid when in need for others' help because they're willing to provide some help.
Wealth: They would have a large chance to miss the chance to earn more money because they have difficulties in changing good ideas into real projects. In 2021, they'd better live a frugal life and don't purchase high-end products carelessly.
Relationships: People born in the Sheep year may feel worried about their love relationships due to the long distance with their boyfriend/girlfriend. Take it easy, their partners can be very considerate and always stand by them.
Education: This year, Sheep children will be curious about everything around them and show great interests in knowledge. Thus, they will concentrate on class without their mind wandering. For high school sheep students, they are likely to receive the offer from their desired universities this year.
Health: Students and workers may devote themselves to achieve success at the cost of health, which should be avoided. Remember that regular exercises and enough sleep are always of vital importance.
Famous People: Sheep Zodiac Eminent Personalities
Steve Jobs (Apple Co-founder): February 24, 1955, Wood Sheep
Bill Gates (Microsoft Founder): October 28, 1955, Wood Sheep
Jason Statham (Actor): July 26, 1967, Fire Sheep
Julia Roberts (Actress): October 28, 1967, Fire Sheep
Ed Sheeran (Singer-Songwriter): February 17, 1991, Metal Sheep
- Last modified on Feb. 16, 2021 -
Questions & Answers on Year of the Sheep / Goat / Ram
Asked by Aparna from USA | Jun. 30, 2021 08:01

Reply
Successful Career Track
Hello I am asking for my daughter who is born December 19, 2003 at 1.07 AM in USA.
She is finishing high school and will go to college next year 2022.
She is still undecided on what higher studies she will pursue where she can be successful and happy. she is in general good in studies and works well but does not have great interest/liking in any particular subject.
i want to make sure she chooses correct career path where she will be happy and successful and i want to guide her accordingly.
Can you please suggest what you think will be good career path for her? Thanks
Answers (1)
Answered by Damian | Jul. 05, 2021 00:49

0

0

Reply
Oh, the most important is that she need to choose a career that she really interested in. In this way, she can make full use of her intelligence to make some successes.
Asked by Paula B from IRELAND | Jan. 08, 2021 16:26

Reply
I am a wood sheep. I have been single for many years. Will I find a partner this year. Thanks
Answers (2)
Answered by Charlotte | Jan. 12, 2021 23:07

0

0

Reply
Yes, February, June and July are lucky months for you to find a partner.
Answered by Catherine | Feb. 16, 2021 08:42

0

0

Reply
Yes boy sure how long Meeting at Markel or at hardware store
Asked by Nevaeh from ASIA | Oct. 29, 2020 23:26

Reply
Is Sheep born in Gua Su period unlucky in relationship A?
I am a metal sheep born in Gua Su period (3 PM to 5 PM). Is it true that I will not be able to find a congenial life partner?

Thanks for your answer.
Answers (1)
Answered by Connor | Nov. 06, 2020 01:24

0

0

Reply
Of course not. You are a kind person. You would have a high possibility to meet your soul mate next year. It is advised to join in more social activities on weekends.
Asked by Jennifer from AUSTRALIA | May. 13, 2020 17:01

Reply
Sheep and Dog compatibility
Hello. I have met a man who was born 18 December 1955 (Sagittarius Sheep).
I was born 20 February 1958 (Piscean Dog) with I believe some traits of a Wood Snake. I understand that a sheep and dog is not a good match, however, something tells me that he is a good person? I just feel confused because another part of me holds back as he is too quiet and timid for me? I would be grateful for your honest advice, even if not favourable. Thank you very much. Jennifer
Answers (2)
Answered by Hannah from FINLAND | May. 17, 2020 23:19

0

0

Reply
Well, according to the current situation, you two should have more time to know each other. And you can also find more his good qualities. Then follow your heart.
Answered by Buddha &Jesus from HEAVEN | Jul. 08, 2020 19:57

0

0

Reply
if you not confident in him, drop him. the streets will always welcome you -jesus
if you added a question mark, he aint it :) - buddha
Asked by Mr Lee from SINGAPORE | Mar. 26, 2020 07:07

Reply
Ox Man and Sheep Woman
Can an ox man and sheep woman enter a love relationship? I know that ox and sheep are opposites but I just want to know whether this love compatibility can be inaccurate or is it just a prediction?
Answers (5)
Answered by Diana from AUSTRALIA | Mar. 27, 2020 19:09

0

0

Reply
Don't worry. It is just a prediction. Sometimes, it is just a reference. You should follow your heart and pursue love bravely.
Answered by Mr Lee from SINGAPORE | Mar. 28, 2020 07:03

0

0

Reply
Thanks for your answer, diana. I was born in the year of the ox. Can I enter a love relationship with a sheep woman if I and her get along?
Answered by Diana | Apr. 02, 2020 21:15

0

0

Reply
Yes, Lee, you would have a large chance to get along well with a sheep woman. Good luck!
Answered by Sheepish from USA | Jun. 02, 2020 19:55

0

0

Reply
Yes Mr. Lee,
I am a sheep wife and my husband is an ox. We have been together for 29 years.
Answered by Sheep | Dec. 27, 2020 22:08

0

0

Reply
I am a sheep woman married to an ox man. 6 years and two kids!