Year of the Horse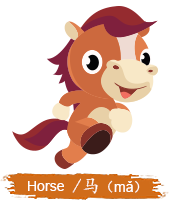 The Horse is the seventh in the 12-year cycle of the Chinese zodiac signs. The Years of the Horse include 1918, 1930, 1942, 1954, 1966, 1978, 1990, 2002, 2014, 2026...

The horse was the most frequent transport means in ancient society and it is considered as No. 1 of the most important 6 animals in China. They are strong, powerful and elegant animals. In Chinese culture, horses are always the representative of heroes and talents. People born in the Year of the Horse will share some similarities with the horse and thus they are brave, strong, talented, and independent. The Five Elements of Horse is Fire (Huo), symbolizing enthusiasm and energy, which entitles the Horse people energetic and enthusiastic character.

Earthly Branch of Birth Year: Wu
Wu Xing (The Five Elements): Huo (Fire)
Yin Yang: Yang

Years of the Horse
As the Chinese zodiac sign is all calculated by the Chinese lunar calendar, don't get a rough result just according to the birth years because your birthday can be a different day in the lunar calendar, and even in a different year.

A quick way to check whether you are a Horse is to see the chart below or type your birth dates directly into the "Find Your Chinese Zodiac" tool.
| Horse Year | Start | End | Element |
| --- | --- | --- | --- |
| 1918 | Feb.11,1918 | Jan.31,1919 | Earth |
| 1930 | Jan.30,1930 | Feb.16,1931 | Metal |
| 1942 | Feb.15,1942 | Feb.4,1943 | Water |
| 1954 | Feb.3,1954 | Jan.23,1955 | Wood |
| 1966 | Jan.21,1966 | Feb.8,1967 | Fire |
| 1978 | Feb.7,1978 | Jan.27,1979 | Earth |
| 1990 | Jan.27,1990 | Feb.14,1991 | Metal |
| 2002 | Feb.12,2002 | Jan.31,2003 | Water |
| 2014 | Jan.31,2014 | Feb.18,2015 | Wood |
| 2026 | Feb.17,2026 | Feb.5,2027 | Fire |
Lucky Signs for People Born in Horse Year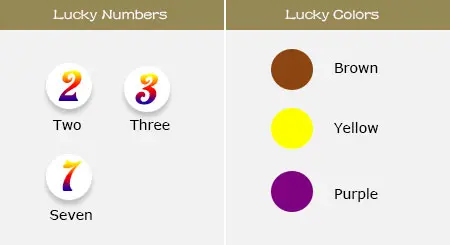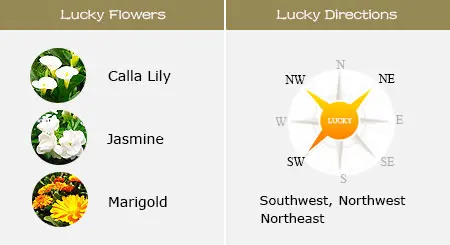 Lucky Things for Horses:
Lucky Numbers: 2, 3, 7
Lucky Colors: brown, yellow, purple
Lucky Flowers: calla lily, jasmine, marigold
Lucky Directions: northeast, southwest and northwest
Things Should be Avoided:
Unlucky Numbers: 1, 5, 6
Unlucky Colors: blue, white, gold
Unlucky Direction: southeast
Personality: Horses are cheerful, enthusiastic, insightful, and considerate
Compared to other zodiac signs, people with Chinese zodiac Horse sign are more lively, energetic, courageous, and enthusiastic about people and life. However, they are not good at hiding emotions and their feelings will be easily shown on the face. But that doesn't affect their great popularity among people, and no wonder that most of them are fond of joining social activities.
Another character of the Horse is that they do have a keen eye and display strong logical thinking, which makes them easily discover the essence through the phenomena and be considerate enough to take care of other people's emotions.
Strengths: Inspired, cheerful, talented, perceptive, intelligent and popular in social circle
Weaknesses: Overly ambitious, overconfident, and sometimes too sophisticated
Horse Men: The lively Horse men always leave an impression on people that they are full of energy. What's more, they are decisive and seldom hesitate, which makes them gain a lot of opportunities. With a strong sense of justice, the Horse men cannot tolerate sin and are glad to offer help to the weak. However, they spend money lavishly and like to pay bills for friends.
Horse Women: Horse women are outstanding among people not only because they have a nice figure but also due to the stylish and fashionable dress code. They have their own lifestyles and are experts in managing time. As a result, they can well balance their career and family. Also, they are nature lovers who enjoy going outside.
Personality by Five Elements: Which Type of 'Horse' Are You?
People born in the different Years of the Horse can show different personalities according to the Five Elements: Wood, Fire, Earth, Metal, and Water. Your element will be decided by the years of birth and check the following chart to learn your type and traits.
| Types | Years of Birth | Personality Traits |
| --- | --- | --- |
| Wood Horse | 1906, 1966 | Imaginative, observant, perceptive, born leader and decision-maker. |
| Fire Horse | 1918, 1978 | Intelligent, passionate, energetic; sensitive to dressing and fashion. |
| Earth Horse | 1930, 1990 | Optimistic, with a strong sense of justice, a typical doer. |
| Metal Horse | 1910, 1970 | Frank by nature, sparing no effort to help friends, having a quick tongue. |
| Water Horse | 1942, 2002 | Considerate, self-sacrificing, and ambitious at work. |
Horse's Personality by Blood Types
• Blood Type O: The Horses with blood type O are born optimists who love to make friends and lead a lively life. However, out of fear of facing challenges and pressure, they are casual about the future and don't have clear plans or goals in life.
• Blood Type A: They are active, confident, and sometimes can be very straightforward. At work, they are practical and high-efficient. If meeting someone who cannot keep pace with them, they may become impatient.
• Blood Type B: These people are lively, responsive, and full of passion for life. They are hopeful about the future and see the positive sides of things more often. In addition, the female Horses are genuine pioneers in fashion.
• Blood Type AB: With a sophisticated character, they can get along well with a majority of people, and rarely disliked by others. They are not wordy but can deliver very practical information in a few words. Though being wise and intelligent, they don't like to show off.
Love Compatibility of the Horse
Quickly input your names and birthdays as well as your partner's ones to the "Chinese Zodiac Compatibility Test" tool, you can get a result immediately about your love compatibility. The followings are the best and bad matches of people with Chinese zodiac Horse sign.
Best Matches: Tiger, Sheep, Rabbit
The Horse sometimes can be very stubborn but they can take the Tiger's advice and they can make a lovely pair. Due to the lively character of the Horse, it is hard for them to get along with irritable people, so they can build a harmonious relationship with the good-tempered Sheep. For the Horse, the Rabbit is both a friend and a partner.
Bad Matches: Rat, Ox, Rooster, Horse
The Horse loves freedom and yearns for the outside world while the Rat is family-oriented, and thus the different values will lead to a lot of disagreements. It is also hard for the Horse to compromise when they are with the Ox, Rooster, and the Horse, which makes it difficult for them to become good partners of each other.

How to Build a Relationship with the Horse
The Horses don't like boring life and their lives are full of zest. So they will only be attracted by innovative and interesting people. When getting along with the Horses, creating a romantic atmosphere from time to time is very essential, and some sweet love words will also be very helpful to enhance the relationship. However, a taboo for the Horse in a relationship is the lie. Try to keep genuine as the Horse really hate lies, even the white ones.
Jobs & Careers for Horses
Best Jobs: Adventurers, writers, architects, businessmen, performers, entrepreneurs, scientists, artists, politicians, critics, tour guides...
The Horses have a quick wit and a good judgement, which helps them to gain some chances at the career. However, the impulsive personality may let them suffer setbacks and failures. If the Horses can strengthen their will power and don't give up half way, it is possible for them to get extraordinary achievements. The Horses are active and love exploring the world, so that adventurers and tour guides are the suitable jobs for them. And they can always perform well in jobs like writers, businessmen, artists, where they can display their talents without any restrictions.
Health & Fitness Advice
Overall, most of the Horses are in good health condition. They are energetic, bouncy and dynamic when they are young. However, the long term exciting but unhealthy lifestyle may bring some potential health risks. For example, the habit of staying up late can weaken the immune system and the irregular diets may also cause gastrointestinal illnesses.

The Horses should care more about their health now. For the young Horses, keep a regular and balanced diet and reject some night parties, which will be good ways to maintain health. For the middle-aged Horses, learn to escape from the heavy work. Make some time to exercise and rest properly.
Horse's Fortune in 2023
It's a lucky year for people born in the year of the Horse as a whole. In the case, keep a good mood and enjoy life happily. Even if meeting difficulties, stay calm and face them bravely. The inauspicious prediction is that they may have some health problems. Take some measures in advance to enhance the immunity and improve resistance against viruses.

Career: Blessed by much luck, they may be promoted to a higher position in the workplace, which may make them busier. Learn to improve the efficiency, in case the work take up their personal time.
Wealth: They would earn a higher salary and additional income through other ways. But the unexpected bills may wait for them ahead.
Relationships: The singles may find their lover and start a romantic relationship. Those seeing someone may get married. But for the married, they need to make more efforts to maintain a happy marriage.
Education: They are very likely to make a breakthrough in school. Also, they would be nice to help their classmates, making them popular and helping them better enjoy the school life.
Health: To reverse the poor health luck, they'd better have meals on time and keep a good mood. For those doing a high-risky job, follow the operation steps strictly.
Horse's Fortune in 2024
Horse's fortune in 2024 is quite good in many aspects except in term of health. The prediction reminds that they may catch throat inflammation, while little ones may suffer from several minor illnesses and the elders may fall. Also, don't dream of being rich through investment. The auspicious predictions are that their income from work would be steady, because of their good performance. Their horoscope in love relationship is satisfying, too.

Career: It's a lucky year no matter for employees, civil officials or entrepreneurs. But still, it requires their efforts and positive attitude to really achieve their goals.
Wealth: They could live a worry-free life relying on their regular income from work. But don't expect to earn a big amount of money from investment or other channels; in other words, be cautious when making investments.
Relationships: In 2024, the singles are likely to start dating while others would maintain a harmonious relationship with their lover. It's advised to make more efforts to maintain the relationship with friends or others.
Education: Either for school students, or those seeking for further education or taking exams for professional certificates, they are blessed by much luck in 2024 and very possible to achieve the goals.
Health: This year, they'd better eat less spicy food to avoid throat inflammation and elders should be careful of their steps not to fall.
Famous People: Horse Zodiac Eminent Personalities
Paul McCartney (Musician and Beatle): June 18, 1942, Water Horse
Angela Merkel (Chancellor of Germany): July 17, 1954, Wood Horse
Jackie Chan (Actor): April 7, 1954, Wood Horse
Kobe Bryant (NBA Guard): August 23, 1978, Earth Horse
Kristen Stewart (Actress): April 9, 1990, Metal Horse
Greta Thunberg (Climate Activist): January 3, 2003, Water Horse
- Last updated on Nov. 13, 2023 by Nancy He -
Questions & Answers on Year of the Horse
Asked by Somnath Nandi from INDIA | Oct. 04, 2023 11:41

Reply
Lucky number
My DOB is 17th April 1978, what is my lucky number for lottery win?
Answers (3)
Answered by Clare | Oct. 08, 2023 02:48

0

0

Reply
Your lucky numbers are 2, 7, and 8 but it cannot help you too much on the lottery.
Answered by TRIXIA PRESNO PERMEJO | Oct. 17, 2023 20:57

0

0

Reply
Hi sir,
can you predict may future and numbers?
please :(
thank you
Answered by Frank | Oct. 17, 2023 20:59

0

0

Reply
HI, Traxia, you need to offer your birth dates.
Asked by Antonette from UNITED ARAB EMIRATES | May. 10, 2023 11:21

Reply
Job Stability
Hi,
I am a Capricorn Earth Horse born on 12/26/1978. I have work right now and it seems nobody appreciates what am doing. I always try my best but my superiors could only see my mistakes and weaknesses. Will I be able to keep my job? or will the management kick me out eventhough I am always trying my best? Is it a good time to move to a different company? Thank you.
Answers (1)
Answered by Bob | May. 10, 2023 20:27

0

0

Reply
Sorry about your terrible experience. Anyway, this year is pretty lucky for you and you may get some great chances in career. Especially at the end of 2023, don't miss the chance. Good luck!
Asked by jumana from UNITED KINGDOM | Mar. 28, 2021 13:52

Reply
rat Scorpio and horse Scorpio- how can I make this union work ?
I am a rat Scorpio married to a horse Scorpio for 11 years. its been challenging and i feel i have been very unlucky for him. how can i make this match harmonious and loving as all Chinese zodiac says rat and horse are a bad match. plus we are having a long distance relationship as i am working abroad. He is very busy and hardly gets time to talk. and we do, we do not have much to say.
Answers (1)
Answered by Sadie | Mar. 28, 2021 19:45

0

0

Reply
Oh, according to the situation, you still need to creat chances to get together with him. You should have more confidence about the relationship.
Asked by Anitra from USA | Mar. 07, 2021 18:30

Reply
Soulmate horse &dragon
I just had a leo dragon come into my sagittarius horse world ..will I marry this dragon?
Answers (1)
Answered by Brayden | Mar. 07, 2021 19:45

0

0

Reply
The prediction shows that you two would have a large chance to become a good match. You should follow your true feelings and be brave to pursue true love.
Asked by Tawanda from UNITED KINGDOM | Jan. 08, 2021 01:18

Reply
2021 predictions
I was born on 29/01/91. Can I have predictions for 2021 overall please.
Answers (1)
Answered by Natalie | Jan. 12, 2021 23:02

0

0

Reply
You are born with Chinese zodiac Horse sign. You may face several difficulties this year. But you can make full use of intelligence to overcome them. Try to set up several goals in career and wealth. There is no big problems in your health condition. If you want to meet your soul mate, you need to join in more social activities on weekends.