Year of the Rooster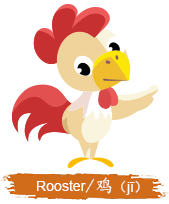 Rooster is the tenth in the 12-year cycle of Chinese zodiac sign. The Years of the Rooster include 1921, 1933, 1945, 1957, 1969, 1981, 1993, 2005, 2017, 2029...

Rooster is almost the epitome of fidelity and punctuality. For ancestors who had no alarm clocks, the crowing was significant, as it could awaken people to get up and start to work. In Chinese culture, another symbolic meaning of chicken carries is exorcising evil spirits.

Earthly Branch: You 酉
Element: Metal (Jin)
Yin Yang: Yin
Season: Autumn
| Rooster Year | Start | End |
| --- | --- | --- |
| 1921 | Feb.8,1921 | Jan.27,1922 |
| 1933 | Jan.26,1933 | Feb.13,1934 |
| 1945 | Feb.13,1945 | Feb.1,1946 |
| 1957 | Jan.31,1957 | Feb.17,1958 |
| 1969 | Feb.17,1969 | Feb.5,1970 |
| 1981 | Feb.5,1981 | Jan.24,1982 |
| 1993 | Jan.23,1993 | Feb.9,1994 |
| 2005 | Feb.9,2005 | Jan.28,2006 |
| 2017 | Jan.28,2017 | Feb.15,2018 |
| 2029 | Feb.13,2029 | Feb.2,2030 |
Lucky Signs for People Born in Rooster Year:
Lucky Numbers: 5, 7, 8
Lucky Colors: gold, brown, brownish yellow, yellow
Lucky Flowers: gladiola, impatiens, cockscomb
Lucky Directions: west, southwest, northeast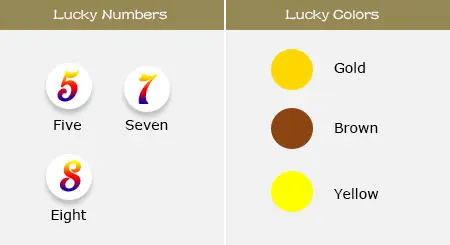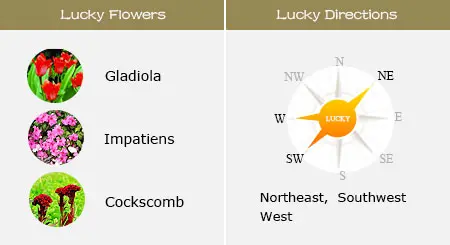 Things Should be Avoided:
Unlucky Numbers: 1, 3, 9

Unlucky Colors: white, green

Unlucky Directions: east, north
People born in the Year of Rooster according to Chinese zodiac have many excellent characteristics, such as being honest, bright, communicative and ambitious. Most of them are born pretty or handsome, and prefer to dress up. In daily life, they seldom rely on others. However, they might be enthusiastic about something quickly, but soon be impassive. Thus, they need to have enough faiths and patience to insist on one thing.
Strengths
Independent, capable, warm-hearted, self-respect, quick minded
Weaknesses
Impatient, critical, eccentric, narrow-minded, selfish
See more about Destiny by Birth Month
Perfect Matches: Ox, Snake
If combining with people in Ox or Snake signs, most of them will obtain everlasting and harmonious marriage lives. The connection between them can become tight. In addition, couples of these combinations always become enviable ones in other people's eyes.
Avoid: Rat, Rabbit, Horse, Rooster, Dog
They have a large chance to obtain a tough and unstable love life if they get married with people with the above five signs. During the whole life, they always meet difficulties and troubles. However, they don't have enough abilities to solve them because of their born different opinions and attitudes with each other. Lots of divergences will damage the relationship finally.
See more about Chinese Zodiac Sign Compatibility
Best Jobs: Politicians, diplomats, public speakers, clothing designers, beauticians, tour guides, actors/ actresses, comedians, scientists…
Best Working Partners: Ox, Dragon, Snake
Best Age to Start a Business: 50-60 years old
Best Career Fields: Cosmetics shop, gallery or law office
See more about Best Business and Career Fields for Rooster
In 2019, the year of Pig, people with Chinese zodiac Rooster will make breakthroughs in career or study, like a promotion or satisfying grades. For entrepreneurs, investing in real estate or other service sectors can bring about a certain amount of benefits. Besides, the health condition of Rooster people could also turn into a better stage in the Year of Pig. However, this year might not be a lucky one to develop love life. Those who have partners are suggested to think about others' feelings and express themselves in a proper way to avoid unnecessary quarrels. The overall fortune for Rooster people will be ok in 2020, especially in their love and relationship. They can easily fall in love with someone and start a romantic relationship.

They have different characteristics based on western astrological signs, like ebullient Aries, serious Taurus, confident Gemini, kind-hearted Cancer, ambitious Leo, prudent Virgo, optimistic Libra, self-disciplined Scorpio, determined Sagittarius, righteous Capricorn, creative Aquarius and wise Pisces.
Blood Type O: Most of them are clever and wise. They can always find the fastest way to learn new things and adapt to new environment.
Blood Type A: They are gentle, generous and kind-hearted in ordinary life. Thus they always win high popularity among surrounding people.
Blood Type B: Type B people have keen insight when they need to make decisions. They are suitable for being the group leader because they usually can provide valuable suggestions.
Blood Type AB: They have outstanding working abilities that can easily attract others' attention. Most of them are willing to help others even though they have more important things to do.
People born in different years of a same zodiac sign vary in personality according to Chinese Five Elements of Wood, Fire, Earth, Metal, and Water. See what kind of Roosters you are.
| Types | Years of Birth | Personality Traits |
| --- | --- | --- |
| Wood Rooster | 1945, 2005 | Energetic, humorous, paying great attention to family. |
| Fire Rooster | 1957, 2017 | Holding strong sense of time, trustworthy; good at managing money. |
| Earth Rooster | 1909, 1969 | Active, perceptive, like traveling and making friends. |
| Metal Rooster | 1921, 1981 | Clear mind and exceptional logic, brave to overcome difficulties. |
| Water Rooster | 1933, 1993 | Smart and agile, sensitive, keen on art and niceness. |
Rooster Zodiac Eminent Personalities
Britney Spears, Justin Timberlake, Elton John, Jennifer Aniston, Anna Kournikova, Anne Heche, Alexis Bledel, Bette Midler, Cate Blanchett, Diane Sawyer, Elijah Wood, James Marsters, Jessica Alba, Matthew McConaughey, Matt Damon, Natalie Portman, Taylor Momsen, Catherine the Great, Amelia Earhart, Rudyard Kipling, Groucho Marx, Peter Ustinov, Tagore, Roger Federer, Serena Williams, Mencius, Mo-tse, Liu Che (Emperor Wu of China's Western Han Dynasty 202 BC - 9 AD), Li Longji (Emperor Xuanzong of China's Tang Dynasty 618 - 907), Zhuge Liang (Premier of Shu in China's Three Kingdoms Period 220 - 280)
- Last modified on Aug. 29, 2019 -
Questions & Answers on Year of the Rooster
Asked by Priya from CANADA | Sep. 23, 2019 12:19

Reply
I am born on Sept 3, 1981 and have been stagnated my career for many years.
I want to move into a different area and also move into a higher level role. When will that happen?
Answers (1)
Answered by Ary from CANADA | Sep. 23, 2019 20:29

0

0

Reply
A new environment will bring some breakthroughs. You should make full use of time to learn more skills and improve personal abilities. In addition, keeping a modest attitude towards people around is also important.
Asked by Mae from UNITED KINGDOM | Sep. 19, 2019 12:00

Reply
Female born in February 1993
Will I have luck in relationship in 2020?
Answers (1)
Answered by Connelly from UGANDA | Sep. 23, 2019 20:27

0

0

Reply
Yes, the early 2020 would be a lucky time for you to fall in love with someone. During this period of time, you can find several ways to enhance the personal charm.
Asked by MB from US | Jul. 18, 2019 04:31

Reply
Will my new business turn profitable this year? I'm a rooster, March 26, 1969
Answers (3)
Answered by Jayden from GERMANY | Jul. 18, 2019 23:34

0

0

Reply
The good news is that you will have some luck in your wealth aspect. Although you may still meet some difficulties, you can solve them easily and change into a better stage.
Answered by Jhoy razon alis from PHILIPPINES | Aug. 27, 2019 12:56

0

0

Reply
Dec 25,1981
Hard to collect my own money from borrowers
Answered by Liam from USA | Aug. 28, 2019 17:46

0

0

Reply
Sorry to hear that. In this year, you could try to do small business or part-time job to gain extra money. And be careful to invest your money.
Asked by Elle from UNITED STATES | May. 24, 2019 17:49

Reply
Job prospects for rooster this year
Would my husband find a job right away? His date of Jan 24, 1970.
Answers (1)
Answered by Jackson from AUSTRALIA | Jun. 04, 2019 23:53

0

0

Reply
Yes, based on the lucky perdition of Dog sign, your husband will find some golden chances to obtain a good job. He need to prepare very well and catch the opportunities timely.
Asked by Vid from UNITED KINGDOM | May. 04, 2019 14:58

Reply
Hi, I am a female metal rooster born in April 1981.
There is some hiccups going on in my marriage life and I want to know is their any future of this relationship. I am literally struggling everyday. Please please answer.
Answers (1)
Answered by Charlotte from USA | May. 13, 2019 20:36

0

0

Reply
According to the prediction, you can make some breakthroughs in your love relationship. You need to figure out the problems and face the difficulties together. If you two still love each other, then there will have a future. Don't worry.