Year of the Rabbit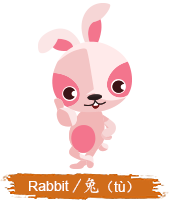 Rabbit is the fourth in the 12-year cycle of Chinese zodiac sign. The Years of the Rabbit include 1915, 1927, 1939, 1951, 1963, 1975, 1987, 1999, 2011, 2023...

For Chinese people, the rabbit is a tame creature representing hope for a long time. It is tender and lovely. The moon goddess Chang'e in Chinese legend had a rabbit as her pet, which stimulated the thought that only this creature was amiable enough to match her noble beauty. People born in the Year of the Rabbit are not aggressive but approachable. They have a decent, noble and elegant manner.

Earthly Branch of Birth Year: Mao
Wu Xing (The Five Elements): Mu (Wood)
Yin Yang: Yin
| Rabbit Year | Start | End |
| --- | --- | --- |
| 1927 | Feb.2,1927 | Jan.22,1928 |
| 1939 | Feb.19,1939 | Feb.8,1940 |
| 1951 | Feb.6,1951 | Jan.26,1952 |
| 1963 | Jan.25,1963 | Feb.12,1964 |
| 1975 | Feb.11,1975 | Jan.30,1976 |
| 1987 | Jan.29,1987 | Feb.16,1988 |
| 1999 | Feb.16,1999 | Feb.4,2000 |
| 2011 | Feb.3,2011 | Jan.22,2012 |
| 2023 | Jan.22,2023 | Feb.9,2024 |
| 2035 | Feb.8,2035 | Jan.27,2036 |
Lucky Signs for People Born in Rabbit Year:
Lucky Numbers: 3, 4, 9
Lucky Colors: red, blue, pink, purple
Lucky Flowers: snapdragon, plantain lily, nerve plant
Lucky Directions: east, southeast, south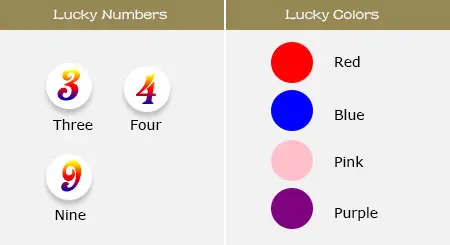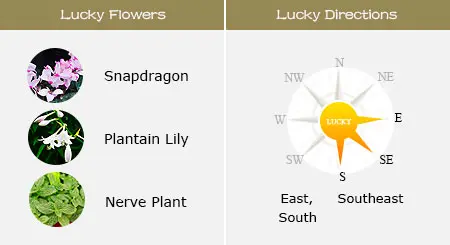 Things Should be Avoided:
Unlucky Numbers: 1, 7, 8

Unlucky Colors: dark brown, dark yellow, white

Unlucky Direction: northwest
People with Chinese zodiac Rabbit sign usually impress others with an image of tenderness, grace and sensitive. They are romantic in relationship, having a high demand in life quality. They avoid arguing with others, and have a capability of converting an enemy into a friend. They are homebody and hospitable, and like house fitting-up. They can work with speed and efficiency, do not insist and get angry easily. But they also like hesitating, which makes them lose many chances.
Strengths
Gentle, sensitive, compassionate, amiable, modest, and merciful
Weaknesses
Amorous, hesitant, stubborn, timid, conservative
See more about Destiny by Birth Month, Destiny by Birth Date
Best Matches: Sheep, Monkey, Dog, Pig
They are romantic in love and adventurous in life. They know how to make compromises to make their relationship lasting and fresh. Living together, they can become more tolerant and considerate, and life will be sweet and happy.
Bad Matches: Snake, Rooster
Their relationship cannot be everlasting, for they will suffer from a series of disagreement and conflicts. They both feel suppressed in marriage life.
See more about Chinese Zodiac Sign Compatibility
Best Jobs: Breeder, teacher, priest, police and judge...
Best Working Partners: Sheep, Dog, Pig
Best Age to Start a Business: 40-50
Best Career Fields: Breeding and pet industry
See more about Best Business and Career Fields for Rabbit
Compared with last year, people born in the Year of Rabbit keep on having a pleasant luck in nearly all aspects. They will make a good fortune for wise investments on real estate and aquaculture, get promotion with the care of important persons and earn extra money from the inheritance of the senior. Besides, they are likely to meet their true love if taking the initiative and joining more social activities. As for health, they are reminded not to visit humid places in case of getting rheumatism.

They have various personality traits based on twelve western astrological signs, like elegant Aries, imaginative Taurus, positive Gemini, sentimental Cancer, wise Leo, cautious Virgo, suspicious Libra, calm Scorpio, self-esteemed Sagittarius, prudent Capricorn, bookish Aquarius and creative Pisces.
Blood Type O: They are decisive, brave and warm-hearted. Helping others will make them feel happy.
Blood Type A: Tender and elegant, they are considerate listeners. They have sharp insight in others' inner thought, so they can always find a good way to communicate with others.
Blood Type B: Their humor makes them associate with more friends. Acute instinct makes them grasp every possible chance to make a fortune.
Blood Type AB: They are emotional and sentimental, enjoying acting alone. They have a special taste and talent in art, which make them looks different.
Rabbit people can be categorized in the following five types according to the traditional Five Elements theory.
| Types | Years of Birth | Personality Traits |
| --- | --- | --- |
| Wood Rabbit | 1915, 1975 | Simple and sprightly outside; shrewd and calculating inside. |
| Fire Rabbit | 1927, 1987 | Broad-minded with special foresight. |
| Earth Rabbit | 1939, 1999 | Aiming for far-off future, with great desire for wealth and success. |
| Metal Rabbit | 1951, 2011 | Kind-hearted, having pleasant relationship with people around. |
| Water Rabbit | 1963, 2023 | Gentle and agreeable; adaptable but easy to be influenced by others. |
Rabbit Zodiac Eminent Personalities
Queen Victoria, Albert Einstein, Michael Jordan, David Beckham, Tiger Woods, Whitney Houston, Johnny Depp, Brad Pitt, Angelina Jolie, Drew Barrymore, Hilary Duff, Orlando Bloom, Zac Efron, Evan Rachel Wood, Jesse McCartney, Tobey Maguire, Lisa Kudrow, Brian Littrell, Charlize Theron, Sara Gilbert, Tom Delonge, Benjamin Bratt, Mike Myers, Orson Welles, Lionel Andrés Messi, Maria Sharapova, Jet Li, Emperor Qianlong of China's Qing Dynasty (1644 - 1911)
- Last modified on Jul. 08, 2019 -
Questions & Answers on Year of the Rabbit
Asked by Avishkar from INDIA | Jul. 13, 2019 07:19

Reply
Born on 1976/26/08 @ 4:30 AM
I want to start an automobile ( 2 wheeler) business, would it be a good choice for business. Which month and year should I get into business.
Asked by georgia from DENMARK | Jul. 04, 2019 01:55

Reply
my bday 30.05.1975 female, my partner bday 29.11.1979 male
hi
i would like to what are our predictions for compatibility and future plans

Answers (1)
Answered by Taylor from UKRAINE | Jul. 08, 2019 01:01

0

0

Reply
Don't worry, Georgia. You can be the couple who have a high possibility to obtain a sweet and everlasting marriage. When meeting difficulties, you can always face them together. More patience and enough encouragement are keys to solve problems. :)
Asked by Albert from UNITED STATES | Jul. 02, 2019 15:54

Reply
My Ex is 05/26/1972 Rat & mines 06/15/1987 Rabbit
We were together for alone 9 months now. I was betrayed by my ex in the past. Now, some reason he wants me to be mature in order to communicate again. What can I do about this?
Answers (1)
Answered by Theodore from UNITED KINGDOM | Jul. 02, 2019 19:15

0

0

Reply
If you still have feelings on him, you two can get back together. And in future life, you two needs to show more understanding and patience to each other.
Asked by Balkumari from INDIA | Jun. 25, 2019 10:16

Reply
My boyfriend DOB 1995/4/27 and my dob 1999/12/21
We are having many problems nowadays..will this relationship work
Answers (1)
Answered by Alex from CANADA | Jun. 25, 2019 20:59

0

0

Reply
You should have more confidence about your relationship. The prediction shows that you can become a good match finally. You two need to solve the problems together. More communications and patience will help you solve the troubles as soon as possible.