Year of the Rabbit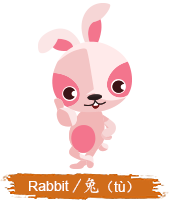 Rabbit ranks fourth in the 12-year cycle of the Chinese zodiac signs. The Years of the Rabbit include 1915, 1927, 1939, 1951, 1963, 1975, 1987, 1999, 2011, 2023...

For Chinese people, the rabbit is a tame creature representing hope and life for a long time. It is tender and lovely. The moon goddess Chang'e in the Chinese legend has a rabbit as her pet, which stimulates the thought that only this creature is amiable enough to match her noble beauty. Another way of saying is that the Rabbit is the incarnation of the moon goddess per se and it is always a symbol of pureness and auspiciousness.

People born in the Year of the Rabbit are gentle and approachable. They have a decent, noble and elegant manner.
Earthly Branch of Birth Year: Mao
Wu Xing (The Five Elements): Mu (Wood)
Yin Yang: Yin

Years of the Rabbit
As the Chinese zodiac Rabbit sign is calculated on the basis of the Chinese lunar calendar, you have to find out your lunar birthdates and then check if you were born in the Year of the Rabbit.

See the chart below or search the result through "Find Your Chinese Zodiac".
| Rabbit Year | Start | End | Element |
| --- | --- | --- | --- |
| 1927 | Feb.2,1927 | Jan.22,1928 | Fire |
| 1939 | Feb.19,1939 | Feb.8,1940 | Earth |
| 1951 | Feb.6,1951 | Jan.26,1952 | Metal |
| 1963 | Jan.25,1963 | Feb.12,1964 | Water |
| 1975 | Feb.11,1975 | Jan.30,1976 | Wood |
| 1987 | Jan.29,1987 | Feb.16,1988 | Fire |
| 1999 | Feb.16,1999 | Feb.4,2000 | Earth |
| 2011 | Feb.3,2011 | Jan.22,2012 | Metal |
| 2023 | Jan.22,2023 | Feb.9,2024 | Water |
| 2035 | Feb.8,2035 | Jan.27,2036 | Wood |
Lucky Signs for People Born in the Rabbit Year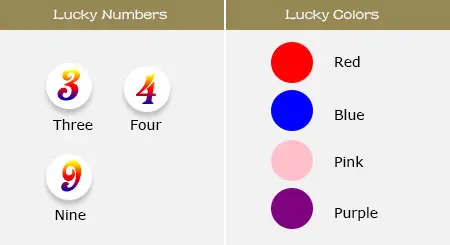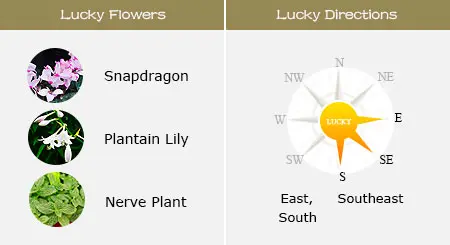 Lucky Things for Rabbits:
Lucky Numbers: 3, 4, 9
Lucky Colors: red, blue, pink, purple
Lucky Flowers: snapdragon, plantain lily, nerve plant
Lucky Directions: east, southeast, south
Things Should be Avoided:
Unlucky Numbers: 1, 7, 8
Unlucky Colors: dark brown, dark yellow, white
Unlucky Direction: northwest
Personality: Rabbits are are gentle, elegant, self-disciplined, and alert
People born in the years of the Rabbit tend to have some characteristics of the real rabbits which are quiet at most times but also acted swiftly when needed. Generally, the Rabbits are positive, gentle and elegant. They love freedom, but once set goals, they just march forward for it without distractions. They are also self-disciplined, the typical kind of people who are strict with themselves but tolerant of others.
Though looking mild and soft, the Rabbits in fact are alert to strangers and outsiders. They don't trust others easily, unlikely to be fooled by others. However, they do have courteous manners in social settings.
Strengths: Optimistic, gracious, generous, kind-hearted, witty and alert
Weaknesses: A little vain, emotionally unstable, easily satisfied with the status-quo
Rabbit Men: Rabbit men are prone to be gentlemen but they are also good at pretending. They may pretend that they don't care about something, however, they do care deep inside. The active thinking enables them excellent negotiation skills at work. What's more, Rabbit men are family-oriented and glad to undertake the household chores.
Rabbit Women: Rabbit women are highly sensible and approachable. They always leave people with an impression of elegant and gracious, and don't like any indecent behaviors. They are also talented in business, considerate at work, and can easily find out the crux.
Personality by Five Elements: Which Type of 'Rabbit' Are You?
The Five Elements in Chinese culture influences everything including the Chinese zodiac Rabbit sign. Different characteristics may show up according to the elements of Wood, Fire, Earth, Metal and Water. Check the following table for your types and traits!
| Types | Years of Birth | Personality Traits |
| --- | --- | --- |
| Wood Rabbit | 1915, 1975 | Smart, active, cheerful and emotional, but maybe a bit selfish. |
| Fire Rabbit | 1946, 2006 | Broad-minded with special foresight, responsible. |
| Earth Rabbit | 1958, 2018 | Straightforward, communicative and resourceful; like to be the center of attention. |
| Metal Rabbit | 1910, 1970 | Kind-hearted, sincere, helpful, and imaginative. |
| Water Rabbit | 1922, 1982 | Easy-going and agreeable; adaptable but with a lower self-control ability. |
Rabbit's Personality by Blood Types
• Blood Type O: The Rabbits of blood type O are energetic, practical, determined and love challenges. They will not give up easily even facing criticism, blames and trapped in dilemma.
• Blood Type A: Rabbits with blood type A are hardworking, patient and respect the rules. With a strong sense of belonging, they also performed well in team work but sometimes are easily influenced by others.
• Blood Type B: They are confident, responsible, and assertive. Just do what they want to do and do not care about others' judge. Though with weaker adaptability, they have a strong ability to handle pressure at work.
• Blood Type AB: Their personality prone to be positive but don't like to follow the rules. Before doing something, they will prepare a lot, however, which doesn't mean that they will adopt others' ideas. Instead, they prefer to handle it in their own way.
Love Compatibility of the Rabbit
Test your love compatibility based on the Chinese zodiac and quickly know if you are real soulmates. Fill in you and your partner's names and birthdates in the "Chinese Zodiac Compatibility Test".
Best Matches: Sheep, Monkey, Dog, Pig
Both the Rabbit and the Sheep are family-oriented and they can surely make a harmonious family. Rabbits and Dogs can also trust and understand each other to build a lasting and fresh relationship. The Pig's honesty and simplicity are just to the smart Rabbit's liking.
Bad Matches: Snake, Rooster
Due to the lack of passion and intimacy, it is hard for the Rabbits and the indifferent Snakes to keep a close relationship. The mild and gentle Rabbit cannot tolerant the aggressive Rooster, and they probably have a lot of conflicts and disagreements in marriage life

How to Get along with Rabbits
Most of the Rabbits yearn for a warm and stable family. If you want to win the Rabbits' heart, then it is important to accompany them in both good and bad times to be aware of peaks and troughs in their mood. Only after going through the ups and downs together, you two can really get a mutual understanding. However, the Rabbits also want to take care of their partners, so let them know that they matter a lot in your life. Rabbits like simple and cozy life but romantic surprises are indispensable!
Jobs & Careers for Rabbits
Best Jobs: Breeder, gardener, teacher, priest, police and judge, litterateur, musician, artist, architect...
It is suggested that the Rabbits should avoid too competitive jobs as the gentle and optimistic personality makes them tired of contending with others. Thus more suitable jobs for them are in planting and breeding industries like a breeder or a gardener. To be a teacher or a priest can also be ideal for the Rabbits. What's more, the Rabbits are gifted in music, art and literature as they have an insight into life and the world. Be open to the chances in these fields.
Health & Fitness Advice
The Rabbits look healthy and energetic at most times, but they do have some symptoms of physical weakness. The urinary system and excretory system function not so well, along with an unbalanced dietary preference for food, which all contribute to a weak immune system. As a result, they often catch colds or fevers and suffer some diseases of the digestive system.

Although people born in the Year of the Rabbit are energetic enough, they don't have patience to take part in sports, not being so expert at it as well. Rabbits should pay attention to their health and take more exercise under the help of fitness experts.
Rabbit's Fortune in 2021
Because the overall fortune prediction of Rabbit people is normal in all aspects, they must have a clear understanding of their life goals and continue to climb to a higher peak in 2021. At the same time, please don't spend too much time on love relationship. After all, schoolwork, career and wealth are more important in this year. In addition, Rabbit people should not be too innocent, and be alert to others. Otherwise they are likely to fall into a terrible situation.

Career: Frustrations may occur in career more frequently in 2021. They are struggle to get a promotion although they work hard.
Wealth: The income of Rabbits may keep the same amount or decline. Be sure not to squander money at will. There is no need to make too much efforts on the part-time jobs.
Relationships: The chance for single Rabbits to meet someone who make their hearts beat will be low this year. The family life of most of them is relatively smooth and harmonious.
Education: They will have greater pressure on study with the increasing difficulties of courses. Be patient when facing some difficult problems. Parents will give them support.
Health: The metal health is more important than the physical health in the year of 2021. They can resolve negative emotions by having activities with friends or talking with their parents.
Famous People: Rabbit Zodiac Eminent Personalities
Michael Jordan (Basketball Superstar): February 17, 1963, Water Rabbit
Johnny Depp (Actor): June 9, 1963, Water Rabbit
Kate Winslet (Actress): October 5, 1975, Wood Rabbit
Tiger Woods (Golfer): December 30, 1975, Wood Rabbit
Lionel Messi (Football Star): June 24, 1987, Fire Rabbit
- Last modified on Mar. 24, 2021 -
Questions & Answers on Year of the Rabbit
Asked by Wilson from MALAYSIA | Feb. 08, 2021 00:18

Reply
I am a water rabbit born 9 March 63. When can I start my own business? Is food trade suitable?
Answers (1)
Answered by Peppy | Feb. 14, 2021 17:07

0

0

Reply
You can catch the golden chances in 2021 and start your own business. The prediction shows that you are suggested to do the business that related to your familiar field.
Asked by Sara from USA | Nov. 30, 2020 08:23

Reply
Future of 2021
Hi. I was born on 6/10/87 and my bf was born on 9/27/71.We've been together for over 7 years. When will he propose finally? Or will he not?

Also, will I get a promotion at work? Will my fortune grow in 2021? Or stay the same as 2020?
Answers (5)
Answered by Gabriel | Dec. 04, 2020 00:06

0

0

Reply
He would have a large chance to propose. Don't worry. In addition, because of your excellent performance, you would have several opportunities to have a promotion or increased salary next year.
Answered by Sara | Jan. 13, 2021 05:59

0

0

Reply
Do you think we are a good match? It's been over 7 years with no proposal still. We argue about the engagement ring/wedding plans already. Should we break up?

I was born on 6/10/87 and my bf was born on 9/27/71.
Answered by Gabriel | Jan. 17, 2021 17:31

0

0

Reply
You should have more confidence about the relationship. Both of you should show more understanding and patience. Towards marriage, you two can find an appropriate time to discuss. Good luck!
Answered by May | Feb. 14, 2021 00:54

0

0

Reply
Honestly, A good match meaning = does not require marriage in this days. This is old school thinking. Overall, it's just a piece of paper. Man dog don't like to be push. Just like we rabbits love freedom! Good Luck!
Answered by Hudei | Mar. 24, 2021 14:49

0

0

Reply
Hi Sara, thank you for your question. I have consulted my boss called John and he thinks that because 7 is your unlucky number, you should probably break up with your bf. I know this is hard to hear but 2021 is a good year for you to find someone new. In fact John is also single and I would be happy to set you up if that is of any interest to you. Best wishes, Hudei Leemad
Asked by Catherine from SINGAPORE | Sep. 01, 2020 10:30

Reply
Will my husband get the promotion he's been trying for this year?
My husband is a Rabbit born on 6 December 1975. He's been trying for a position with better pay and more job responsibilities. But none of his interviews have been successful so far. Will he succeed this year? If not, which year would it more likely for him to get the promotion he's been trying for? What should he work on to get the promotion he wants? Thank you in advance!
Answers (2)
Answered by Landon | Sep. 02, 2020 20:40

0

0

Reply
Based on the prediction, there would have several golden chance for him at the end of 2020 or early 2021. He should insist on.
Answered by Catherine | Sep. 03, 2020 07:07

0

0

Reply
Thank you so much, Landon. I will encourage him to keep trying.
Asked by Harley from AUSTRALIA | Mar. 14, 2020 09:22

Reply
I'd like to know if i am rabbit or a dragon?
My birthday is 31/01/2000
I am born in Australia which i believe had a leap year, would that affect anything? like make me born on the dragon month instead? I have been scouting online for information regarding it. And i have heard even saying there are cusps for this birthday meaning you can land on either one of them because the sun goes into Aquarius which ins a 5 day cycle. anyways i'd really like to know regardless.
Answers (8)
Answered by Harley from AUSTRALIA | Mar. 14, 2020 20:58

0

0

Reply
I'd like to add that i relate HEAVILY to the dragon side, and i only partially relate to rabbit on a few things. I also have done a bit of digging and i read you can take on BOTH signs being so close to each of them, which would be an "Animal Cusp", although they haven't added it to any astrology sites. Anyways it would be super helpful.
Answered by Karen from CAMEROON | Mar. 15, 2020 19:18

0

0

Reply
Your lunar date is Dec.25, 2000. Thus your Chinese zodiac sign is Rabbit.
Answered by Luke Ahlers from UNITED STATES | Jun. 27, 2020 17:11

0

0

Reply
Hey my name I Luke and I was born the year (1999) What is my zodiac animal?
Answered by Luke Ahlers from USA | Jun. 27, 2020 17:12

0

0

Reply
Oh and the date was October 13,1999
Answered by Oliver from FINLAND | Jun. 29, 2020 00:18

0

0

Reply
Hi, Luck, your Chinese zodiac sign is Rabbit.
Answered by Jean | Nov. 03, 2020 22:13

0

0

Reply
Hi! Im born January 4th, year 2000 but the chart says Im rabbit. Im confused. Please help meee
Answered by Kaylee | Nov. 05, 2020 22:06

0

0

Reply
Yes, you are born with Chinese zodiac Rabbit sign. The zodiac is calculated by Chinese lunar calendar.
Answered by Sokmala Chorn | Jun. 28, 2021 09:14

0

0

Reply
Your sign is Rabbit.