Year of the Rabbit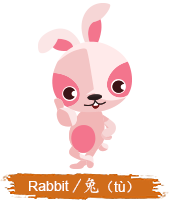 2023 is the Year of the Rabbit based on Chinese zodiac. This is a Year of Water Rabbit, starting from Jan. 22, 2023 (Chinese New Year) and lasting to Feb. 9, 2024. Rabbit ranks fourth in the 12-year cycle of the Chinese zodiac signs. The Years of the Rabbit include 1915, 1927, 1939, 1951, 1963, 1975, 1987, 1999, 2011, 2023...

For Chinese people, the rabbit is a tame creature representing hope and life for a long time. It is tender and lovely. The moon goddess Chang'e in the Chinese legend has a rabbit as her pet, which stimulates the thought that only this creature is amiable enough to match her noble beauty. Another way of saying is that the Rabbit is the incarnation of the moon goddess per se and it is always a symbol of pureness and auspiciousness.

People born in the Year of the Rabbit are gentle and approachable. They have a decent, noble and elegant manner.
Earthly Branch of Birth Year: Mao
Wu Xing (The Five Elements): Mu (Wood)
Yin Yang: Yin

Years of the Rabbit
As the Chinese zodiac Rabbit sign is calculated on the basis of the Chinese lunar calendar, you have to find out your lunar birthdates and then check if you were born in the Year of the Rabbit.

See the chart below or search the result through "Find Your Chinese Zodiac".
| Rabbit Year | Start | End | Element |
| --- | --- | --- | --- |
| 1927 | Feb.2,1927 | Jan.22,1928 | Fire |
| 1939 | Feb.19,1939 | Feb.8,1940 | Earth |
| 1951 | Feb.6,1951 | Jan.26,1952 | Metal |
| 1963 | Jan.25,1963 | Feb.12,1964 | Water |
| 1975 | Feb.11,1975 | Jan.30,1976 | Wood |
| 1987 | Jan.29,1987 | Feb.16,1988 | Fire |
| 1999 | Feb.16,1999 | Feb.4,2000 | Earth |
| 2011 | Feb.3,2011 | Jan.22,2012 | Metal |
| 2023 | Jan.22,2023 | Feb.9,2024 | Water |
| 2035 | Feb.8,2035 | Jan.27,2036 | Wood |
Lucky Signs for People Born in the Rabbit Year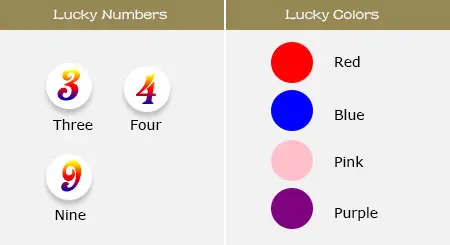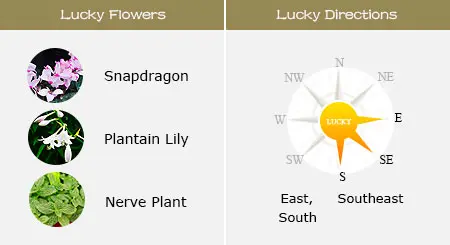 Lucky Things for Rabbits:
Lucky Numbers: 3, 4, 9
Lucky Colors: red, blue, pink, purple
Lucky Flowers: snapdragon, plantain lily, nerve plant
Lucky Directions: east, southeast, south
Things Should be Avoided:
Unlucky Numbers: 1, 7, 8
Unlucky Colors: dark brown, dark yellow, white
Unlucky Direction: northwest
Personality: Rabbits are are gentle, elegant, self-disciplined, and alert
People born in the years of the Rabbit tend to have some characteristics of the real rabbits which are quiet at most times but also acted swiftly when needed. Generally, the Rabbits are positive, gentle and elegant. They love freedom, but once set goals, they just march forward for it without distractions. They are also self-disciplined, the typical kind of people who are strict with themselves but tolerant of others.
Though looking mild and soft, the Rabbits in fact are alert to strangers and outsiders. They don't trust others easily, unlikely to be fooled by others. However, they do have courteous manners in social settings.
Strengths: Optimistic, gracious, generous, kind-hearted, witty and alert
Weaknesses: A little vain, emotionally unstable, easily satisfied with the status-quo
Rabbit Men: Rabbit men are prone to be gentlemen but they are also good at pretending. They may pretend that they don't care about something, however, they do care deep inside. The active thinking enables them excellent negotiation skills at work. What's more, Rabbit men are family-oriented and glad to undertake the household chores.
Rabbit Women: Rabbit women are highly sensible and approachable. They always leave people with an impression of elegant and gracious, and don't like any indecent behaviors. They are also talented in business, considerate at work, and can easily find out the crux.
Personality by Five Elements: Which Type of 'Rabbit' Are You?
The Five Elements in Chinese culture influences everything including the Chinese zodiac Rabbit sign. Different characteristics may show up according to the elements of Wood, Fire, Earth, Metal and Water. Check the following table for your types and traits!
| Types | Years of Birth | Personality Traits |
| --- | --- | --- |
| Wood Rabbit | 1915, 1975 | Smart, active, cheerful and emotional, but maybe a bit selfish. |
| Fire Rabbit | 1927, 1987 | Broad-minded with special foresight, responsible. |
| Earth Rabbit | 1939, 1999 | Straightforward, communicative and resourceful; like to be the center of attention. |
| Metal Rabbit | 1951, 2011 | Kind-hearted, sincere, helpful, and imaginative. |
| Water Rabbit | 1963, 2023 | Easy-going and agreeable; adaptable but with a lower self-control ability. |
Rabbit's Personality by Blood Types
• Blood Type O: The Rabbits of blood type O are energetic, practical, determined and love challenges. They will not give up easily even facing criticism, blames and trapped in dilemma.
• Blood Type A: Rabbits with blood type A are hardworking, patient and respect the rules. With a strong sense of belonging, they also performed well in team work but sometimes are easily influenced by others.
• Blood Type B: They are confident, responsible, and assertive. Just do what they want to do and do not care about others' judge. Though with weaker adaptability, they have a strong ability to handle pressure at work.
• Blood Type AB: Their personality prone to be positive but don't like to follow the rules. Before doing something, they will prepare a lot, however, which doesn't mean that they will adopt others' ideas. Instead, they prefer to handle it in their own way.
Love Compatibility of the Rabbit
Test your love compatibility based on the Chinese zodiac and quickly know if you are real soulmates. Fill in you and your partner's names and birthdates in the "Chinese Zodiac Compatibility Test".
Best Matches: Sheep, Monkey, Dog, Pig
Both the Rabbit and the Sheep are family-oriented and they can surely make a harmonious family. Rabbits and Dogs can also trust and understand each other to build a lasting and fresh relationship. The Pig's honesty and simplicity are just to the smart Rabbit's liking.
Bad Matches: Snake, Rooster
Due to the lack of passion and intimacy, it is hard for the Rabbits and the indifferent Snakes to keep a close relationship. The mild and gentle Rabbit cannot tolerant the aggressive Rooster, and they probably have a lot of conflicts and disagreements in marriage life

How to Get along with Rabbits
Most of the Rabbits yearn for a warm and stable family. If you want to win the Rabbits' heart, then it is important to accompany them in both good and bad times to be aware of peaks and troughs in their mood. Only after going through the ups and downs together, you two can really get a mutual understanding. However, the Rabbits also want to take care of their partners, so let them know that they matter a lot in your life. Rabbits like simple and cozy life but romantic surprises are indispensable!
Jobs & Careers for Rabbits
Best Jobs: Breeder, gardener, teacher, priest, police and judge, litterateur, musician, artist, architect...
It is suggested that the Rabbits should avoid too competitive jobs as the gentle and optimistic personality makes them tired of contending with others. Thus more suitable jobs for them are in planting and breeding industries like a breeder or a gardener. To be a teacher or a priest can also be ideal for the Rabbits. What's more, the Rabbits are gifted in music, art and literature as they have an insight into life and the world. Be open to the chances in these fields.
Health & Fitness Advice
The Rabbits look healthy and energetic at most times, but they do have some symptoms of physical weakness. The urinary system and excretory system function not so well, along with an unbalanced dietary preference for food, which all contribute to a weak immune system. As a result, they often catch colds or fevers and suffer some diseases of the digestive system.

Although people born in the Year of the Rabbit are energetic enough, they don't have patience to take part in sports, not being so expert at it as well. Rabbits should pay attention to their health and take more exercise under the help of fitness experts.
Rabbit's Fortune in 2023
Rabbit horoscope is not good in 2023, when is their
Ben Ming Nian
(Zodiac Year of Birth). Usually, people experience more misfortunes in their Ben Ming Nian than in other years, so they are advised to be more cautious in 2023. It is said that red underclothes can help block away some bad lucks.

Career: The prediction says they may believe in some bad guys and bring themselves troubles in workplace, so take care. In spite of this, they would be willing to work hard and use their talents to finish the tasks and achieve their goals.
Wealth: Although their salary would be steady or even raised a little, it's not at a high level and they'd better not spend money casually, so they would have savings to pay for some unexpected bills this year.
Relationships: Feeling tired dealing with difficulties in work, they may not like to talk a lot after work, which may push their lover farther and farther and give opportunity to the third person. Be aware that relationship needs to be maintained.
Education: It is very possible for them to get good grades in examinations and win praise from teachers. But the premise is that they listen carefully in the class and acquire the knowledge thoroughly.
Health: It is an inauspicious year in the aspect of health and safety. Try more hard to protect themselves from dangers and viruses and be generous when paying for health.
Rabbit's Fortune in 2024
Rabbit's fortune in 2024 ranks 10 among all 12 Chinese zodiac signs, better than last year but not good enough. They should especially make more efforts to take care of themselves, because it is predicted they would be in sub-healthy status. Career and wealth horoscope is not bad; just keep away from conflicts among different team leaders in workplace and don't make blind and impulsive investment. To maintain a harmonious marriage, the married should be more patient to their partner and care more about him or her. The singles are likely to harvest a romantic relationship.

Career: The employees would be blessed by more opportunities. Focus on their work and don't stand up for any side in the workplace, so as to protect themselves from troubles.
Wealth: The Rabbit people may earn more through their hard work. It's not advised to make investment this year if knowing nothing about the project. Instead, using it to improve living quality and save the extra for difficult days.
Relationships: The married should make more efforts to maintain harmonious family atmosphere. As for the singles, it's predicted they would find their lover and get along well with each other.
Education: Their luck in education is average. As long as they would like to learn and spend time in it, they could achieve good scores in quizzes and examinations.
Health: Their health horoscope is the worst among all. Considering it, eat healthily, have enough rest and do exercises regularly in daily life, so as to improve the immunity.
Famous People: Rabbit Zodiac Eminent Personalities
Michael Jordan (Basketball Superstar): February 17, 1963, Water Rabbit
Johnny Depp (Actor): June 9, 1963, Water Rabbit
Kate Winslet (Actress): October 5, 1975, Wood Rabbit
Tiger Woods (Golfer): December 30, 1975, Wood Rabbit
Lionel Messi (Football Star): June 24, 1987, Fire Rabbit
- Last updated on Nov. 23, 2023 by Nancy He -
Questions & Answers on Year of the Rabbit
Asked by James from USA | Nov. 21, 2023 19:17

Reply
Financial future
Hello, my friend was born August 31,1963 at 5:30 am in Cleveland ohio USA. I would like to find out what the future financially holds for him and health wise.
Answers (2)
Answered by Harry | Nov. 22, 2023 23:59

0

0

Reply
These two years are not so smooth for Rabbit people and they need to take care of them in 2024 in health aspect.
Answered by Mp | Nov. 23, 2023 15:43

0

0

Reply
I would like to know specifically about him pls
Asked by Fatemeh Mojtaba from IRAN | Aug. 13, 2023 23:13

Reply
The result of the relationship
Hello, I was born in August 1999 and I am in a relationship with a boy born in November 1999. How will our relationship go? When will this relationship end in marriage?
Answers (1)
Answered by Dorothy | Aug. 14, 2023 20:58

0

0

Reply
According to the love compatibility, you are not so well-matched. However, it can be improved by your joint efforts and you are suggested to communicate more for a relaxing relationship. Best wishes!
Asked by Janan from INDIA | May. 11, 2023 18:55

Reply
When will I get married?
I was born on 7 of August 1987..
Answers (1)
Answered by Molly | May. 11, 2023 23:03

0

0

Reply
I'm sorry but according to the love relationship horoscope, you just have an average luck, so you might not have a chance to get married this year. The fortune may become better in the next year.
Asked by ruffer(thats my nickname btw) from UNITED STATES | May. 03, 2023 08:42

Reply
how do both peices (wolf) and metal rabbit fit me? only thing (check details for rest)
my favorite color is green second is red and honestly its 75% rabbit but 100% pieces (again wolf) i also like parkour
Answers (1)
Answered by Molly | May. 04, 2023 02:17

0

0

Reply
In fact, there is no wolf in 12 Chinese zodiacs and you may offer your birth dates to see what your zodiac sign is.
Asked by Tim Yu from PHILIPPINES | Apr. 22, 2023 12:35

Reply
Fire Rabbit changing jobs
Hi, in your prediction, there may be competition at work for fire rabbit. Would it help if I decide to leave my current job?

I noticed in your graph that April to May are the best montha for rabbits' career. So far, my April is the worst. What should I do?
Answers (3)
Answered by Amada | Apr. 23, 2023 20:16

0

0

Reply
I think the prediction is in general for most, not everyone.
Anyway, if it's indeed your fortune, the competition exists even if you change the job. If you really want to change it, find a better one before quitting the current one.
Answered by fly high bye guy | Apr. 24, 2023 12:40

0

0

Reply
cause who said i cant wear my converse under my dress cuause its not the sammemeeeee
Answered by So person | Apr. 24, 2023 12:42

0

0

Reply
Cutie