Year of the Ox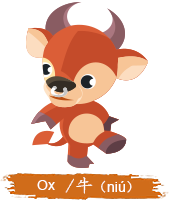 2021 is the Year of the Ox according to Chinese zodiac. This is a Year of Metal Ox, starting from Feb. 12, 2021 (Chinese New Year) and lasting to Jan. 31, 2022. Ox is the second in the 12-year cycle of the Chinese zodiac sign. Years of the Ox include 1913, 1925, 1937, 1949, 1961, 1973, 1985, 1997, 2009, 2021, 2033...

Oxen used to be capable farming tools in an agricultural society, which attach to the symbol of diligence, persistence, and honesty. In Chinese culture, Ox is a faithful friend that made great contributions to the development of the society. Like the ox, people born in the Year of the Ox are industrious, cautious, hold their faith firmly, and always glad to offer help.

It is said that Ox ranks the second among the Chinese zodiacs because it helped the Rat but was later tricked by it. The myth goes that the Jade Emperor declared the order of zodiac signs would be based on the arrival orders of 12 animals. Ox could have arrived the first but it kindly gave a ride to Rat. However, when arriving, Rat just jumped to the terminus ahead of Ox, and thus Ox lost the first place
Earthly Branch of Birth Year: Chou
Wu Xing (The Five Elements): Tu (Earth)
Yin Yang: Yin

Years of the Ox
As Chinese zodiac is calculated by the Chinese lunar calendar and it does not completely accord with your birthdays in the solar calendar. Want to quickly confirm if you are an Ox?

Search it through the "Find Your Chinese Zodiac" or check the birthdays of the following chart, which also tells you what kind of elements you have.

| Ox Year | Start | End | Element |
| --- | --- | --- | --- |
| 1925 | Jan.24,1925 | Feb.12,1926 | Wood |
| 1937 | Feb.11,1937 | Jan.30,1938 | Fire |
| 1949 | Jan.29,1949 | Feb.16,1950 | Earth |
| 1961 | Feb.15,1961 | Feb.4,1962 | Metal |
| 1973 | Feb.3,1973 | Jan.22,1974 | Water |
| 1985 | Feb.20,1985 | Feb.8,1986 | Wood |
| 1997 | Feb.7,1997 | Jan.27,1998 | Fire |
| 2009 | Jan.26,2009 | Feb.13,2010 | Earth |
| 2021 | Feb.11,2021 | Jan.31,2022 | Metal |
| 2033 | Jan.31,2033 | Jan.18,2034 | Water |
Lucky Signs for People Born in Ox Year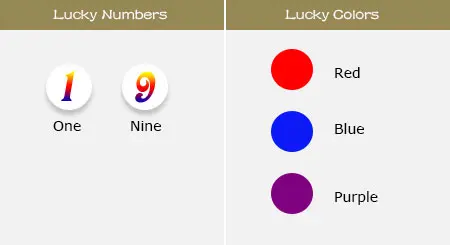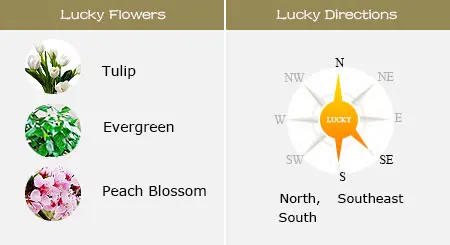 Lucky Things for Oxen:
Lucky Numbers: 1, 9
Lucky Colors: red, blue, purple
Lucky Flowers: tulip, evergreen, peach blossom
Lucky Directions: southeast, south and north
Things Should be Avoided:
Unlucky Numbers: 3, 4
Unlucky Colors: white, green
Unlucky Direction: northwest
Personality: Oxen are faithful, obliging, persistent, and sympathetic
The faithful character of people with Chinese zodiac Ox sign helps them to get trust from the leaders and friends. They also have talents to be leaders and are good at managing, but maybe a little strict. Oxen like routines and respect traditional ideas, doing things step by step. The persistence makes most of them become tireless workers.
They are likely to be self-made and insist that everyone should do their part while not putting up barriers to others' work. Although being a little conservative, Oxen always try to keep just and fair, no matter in life or at work, and never let people down.
Strengths: Loyal, honest, responsible, hard-working, logical
Weaknesses: Less-talkative, conservative, stubborn, overcautious
Ox Men: Most Ox men are mature and have a strong sense of accountability, leaving a deep impression on others. Their good logical thoughts and diligent working make them easily get success in work. However, men with Chinese zodiac Ox sign lack a certain sense of humor and passion in life and sometimes maybe a little assertive and arrogant.
Ox Women: Women born in the Year of the Ox are diligent and tolerant. They don't talk too much, just remaining sincere to be a loyal friend. They are also very ethical and don't like to break any rules. But sometimes their stubbornness may cause some conflicts. Ox women are also industrious and thrifty in managing a household, ensuring smooth-running of a home.
Personality by Five Elements: Which Type of 'Ox' Are You?
The elements, namely Wood, Fire, Earth, Metal, Water, and Metal, all represent different personalities and characters of Oxen. See your types and personality traits in the chart below.
| Types | Years of Birth | Personality Traits |
| --- | --- | --- |
| Wood Ox | 1925, 1985 | Brave, selfless, resourceful, upright and outspoken. |
| Fire Ox | 1937, 1997 | Clever, versatile, but lack of sympathy. |
| Earth Ox | 1949, 2009 | Smart, confident, and resolute, a little conservative. |
| Metal Ox | 1961, 2021 | Busy and active, with good interpersonal relations. |
| Water Ox | 1913, 1973 | Hardworking and diligent, realistic. |
Ox's Personality by Blood Types
• Blood Type O: At work, they like to face all the problems alone and never ask for help until at the wits' end. Being the most loyal friend, they value friendship and will give a sincere hand to friends in trouble.
• Blood Type A: With a cautious character, their decisions come from a thorough thinking. And they never give up halfway, starting well and ending well, which helps them win the trust.
• Blood Type B: They have a clever mind, thinking about a lot of unusual and brilliant ideas. But they are too shy to express themselves. However, once the talent shows, their performances will be impressive.
• Blood Type AB: Having a strong personality, they are selfless and adhere to principles. Thus, people with blood type AB seldom change their views because of others' thoughts.
Love Compatibility of the Ox
Want to know more about your love compatibility with your partner? Just fill the names and birth dates of both persons and you can test if you are true soulmates.
Best Matches: Rat, Snake, Rooster
The best match of the Ox is the Rat as they can complement with each other, while the Ox and the Snake have the same beliefs and are deeply attracted by each other. The Ox and the Rooster are easy to get along well with each other and find common hobbies so that they can enjoy life together.
Bad Matches: Tiger, Dragon, Horse, Sheep
The Ox should be cautious if meeting partners with zodiacs of Tiger, Dragon, Horse, and Sheep because they may have different values, and quarrels may be frequent in daily life. Different life styles also bring a lot of conflicts.

How to Get along with Oxen
Most Ox people will give their heart and soul when falling in love with somebody but won't let a relationship come to light until it's stable, which means their partner should be more patient. They prefer a mature partner and never want to get along with flirtatious people. So sometimes they may choose to wait for a long time to find a soulmate rather than build a relationship quickly. What's more, the Oxen cherish the family and it is necessary to win recognition of their family members.
Jobs & Careers for Oxen
Best Jobs: Lawyer, doctor, teacher, technician, politician, office clerk, consultant...
On the one hand, people born in the Year of the Ox are typical realists, upright and simple. They tend to do things in their own way and have a strong thinking ability, which enable them to be qualified for the rational jobs like lawyers and consultants. On the other hand, the Oxen are very focused and conscientious at work. With a strong sense of responsibility, they are also adapt to professional jobs like doctors and technicians.
Health & Fitness Advice
Young Ox people don't need to worry about their health as they are energetic, active and have a high resistance to disease. The small diseases like colds and fevers are not serious. However, as people born in the Year of the Ox are very hardworking, they may meet some troubles with age, like cervical spondylosis. The long term unhealthy diet may also cause digestive diseases.

Thus for Ox men, more outdoor activities are needed and they can play basketball, tennis or soccer with friends to exercise. For Ox women, yoga is recommended to build the body. Also, try to keep a healthy diet.
Ox's Fortune in 2021
For people born with Chinese zodiac Ox sign, they are honest and kind-hearted all the time. However, entering the Chinese Zodiac Birth Year (Ben Ming Nian), their overall fortune are not stable. Some of them would encounter many troubles, which will be a great challenge for them. However, there is no need to be too frustrated in 2021 because there is always hope in desperate conditions. Based on Ox fortune prediction in 2021, they will make some breakthroughs and turn disadvantages into advantages as long as they catch every golden opportunities. Just create a beautiful and brilliant life positively!

Career: Although there would have many challenges in career, Ox people should be brave to make some changes and try the best to finish work tasks. If they can maintain the harmonious interpersonal relationship, they will obtain some chances for development.
Wealth: 2021 won't be a suitable year for investment. They need to work harder and harder in order to have stable salary. Do not rely on gambling or lottery. Accumulating wealth step by step is the wise choice.
Relationships: If Ox people want to establish a sweet and stable love life, they need to behave braver when falling in love with someone. For married ones, enough communications and patience are keys to solve divergences in daily life.
Education: Based on the prediction, they need to make great efforts to make progresses in studies. They should learn how to improve the efficiency of learning. In order to enhance personal abilities and gain more experience, they can cultivate more hobbies and join in more social practice activities.
Health: For Ox people who are busy with work, they should still put the health in the first place. No matter how tired or busy at work, they must have enough rest and keep the balanced diet. Otherwise, they would be bothered by serious illness in 2021.
Famous People: Ox Zodiac Eminent Personalities
Walt Disney (Co-founder of Walt Disney Productions): December 5, 1901, Metal Ox
Margaret Thatcher (British Prime Minister): October 13, 1925, Wood Ox
Diana Spencer (Princess of Wales): July 1, 1961, Metal Ox
Barack Obama (44th US President): August 4, 1961, Metal Ox
Bruno Mars (Singer): October 8, 1985, Wood Ox
- Last modified on Jan. 06, 2021 -
Questions & Answers on Year of the Ox
Asked by Mohini from INDIA | Jan. 16, 2021 22:19

Reply
Life partner
Women, date of birth 7 June 1973, divorced, can I find suitable life partner this year ?
Answers (1)
Answered by Charlotte | Jan. 17, 2021 23:09

0

0

Reply
Yes. Dear, you should have more confidence about yourself because you are actually a good person. The prediction shows that you may fall in love with someone in the first half of 2021.
Asked by JS from INDIA | Dec. 09, 2020 10:49

Reply
Future prospects
Hello, I am a man born on 18 November 1985. I have been looking for a job since past 6 months but with no luck.Will I get a good job in December 2020? Also, how will 2021 be financially and professionally for me? Will I have good luck in ban nian?
Answers (2)
Answered by Clara | Dec. 10, 2020 19:05

0

0

Reply
You need to keep the positive attitude. It's predicted that the situation would get better next year. You should insist on. I believe that you would find a nice job at the beginning of 2021. In this way, the wealth pressure would be released a lot.
Answered by Elle | Jan. 07, 2021 02:31

0

0

Reply
Hi I am a girl born in march 16,1985 iwant to know if it's good for me to start business or better to continue working as employee.thanks
Asked by Mai from SINGAPORE | Nov. 25, 2020 12:35

Reply
Hi I am a teen, born on February 18, 2003.
I heard that the Year of the Ox is not going to be a good year for me.
Do you know what I should do to avoid as much bad luck?
Answers (1)
Answered by Simran | Nov. 27, 2020 01:43

0

0

Reply
Don't worry. You still can make some breakthroughs to make the situation much better. The outstanding personal abilities can help you gain more opportunities. :)
Asked by john from UNITED KINGDOM | Nov. 15, 2020 07:35

Reply
career and married life
2020 has been bad for me on married life , i am a water ox
any chances of it improving in 2021
Answers (1)
Answered by Shea | Nov. 15, 2020 22:43

0

0

Reply
Don't worry. You still have several opportunities to change the situation. The prediction shows that the overall situation would change into a better stage next year. You can learn more things or improve personal abilities to adapt the new changes.
Asked by Jaimie | Sep. 26, 2020 04:17

Reply
Lovelife
Hi I'm a woman born on march 27 1985.
When will I have a love relationship? Will it be this year or next year?
Will it lead to marriage?
Answers (2)
Answered by Eliana | Sep. 30, 2020 00:07

0

0

Reply
The prediction shows that you would have a stable and sweet love relationship at the end of the year or early 2021. In addition, it will lead to marriage.
Answered by pang | Dec. 31, 2020 21:41

0

0

Reply
Find yourself and love yourself. That most important