Year of the Pig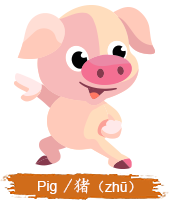 Pig is the twelfth in the 12-year cycle of Chinese zodiac sign. The Years of the Pig include 1923, 1935, 1947, 1959, 1971, 1983, 1995, 2007, 2019, 2031, 2043...

Pig is not thought to be a smart animal in China. It likes sleeping and eating and becomes fat. Thus it usually features laziness and clumsiness. On the positive side, it behaves itself, has no plan to harm others, and can bring affluence to people. Consequently, it has been regarded as wealth.

Earthly Branch of Birth Year: Hai
Wu Xing (The Five Elements): Shui (Water)
Yin Yang: Yin
| Pig Year | Start | End |
| --- | --- | --- |
| 1923 | Feb.16,1923 | Feb.4,1924 |
| 1935 | Feb.4,1935 | Jan.23,1936 |
| 1947 | Jan.22,1947 | Feb.9,1948 |
| 1959 | Feb.8,1959 | Jan.27,1960 |
| 1971 | Jan.27,1971 | Feb.24,1972 |
| 1983 | Feb.13,1983 | Feb.1,1984 |
| 1995 | Jan.31,1995 | Feb.18,1996 |
| 2007 | Feb.18,2007 | Feb.6,2008 |
| 2019 | Feb.5,2019 | Jan.24,2020 |
| 2031 | Jan.23,2031 | Feb.10,2032 |
Lucky Signs for People Born in Pig Year:
Lucky Numbers: 2, 5, 8
Lucky Colors: yellow, grey, brown, gold
Lucky Flowers: hydrangea, pitcher plant, marguerite
Lucky Directions: southeast, northeast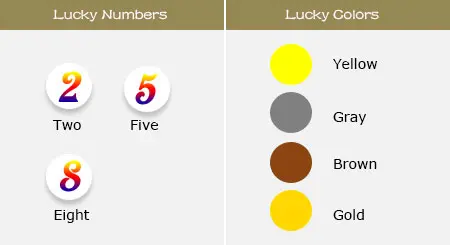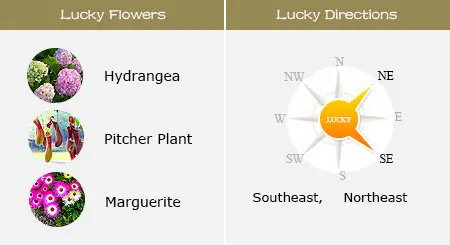 Things Should be Avoided:
Unlucky Numbers: 1, 3, 9

Unlucky Colors:

red, blue, green

Unlucky Directions: east, west
People with Chinese zodiac Pig sign are considerate, responsible, independent and optimistic. They always show generousness and mercy to endure other people's mistakes, which help them gain harmonious interpersonal relationships. However, sometimes they will behave lazy and lack actions. In addition, pure hearts would let them be cheated easily in daily life.
Strengths
Warm-hearted, good-tempered, loyal, honest, gentle
Weaknesses
Naive, gullible, sluggish, short-tempered
See more about Destiny by Birth Month
Perfect Matches: Tiger, Rabbit, Sheep
These combinations always have a high possibility to obtain a sweet and everlasting marriage. When meeting difficulties, they can face them together. More patience and enough encouragement are keys to solve problems. They have common goals and similar values, which add more fun in daily life.
Avoid: Snake, Monkey
Totally different personalities may lead to conflicts. They always have completely contrary opinions about one thing, and cannot reach an agreement because of their stubbornness. If getting married, one would always think about his/her own advantages and feelings, which would hurt the other.
See more about Chinese Zodiac Sign Compatibility
Best Jobs: Veterinarians, foresters, teachers, civil servants, policemen, doctors, breeders, professors, artists…
Best Working Partners: Tiger, Rabbit & Sheep
Best Age to Start a Business: 40-50
Best Career Field: Restaurant, charity, cram school
See more about Pig's Best Business and Career Fields
According to Pig fortune prediction in 2020, people with Pig sign of Chinese character will go through a little ups and downs this year. Pressures from work make them breathless, and they are likely to be calculated by their friends and people with vile characters around them, which is not good for maintaining virtuous relationships. Their wealth fortune won't be very good because of the unfavorable working environment. For the love and relationship, they will become very popular with the opposite sex. However, if they do not handle the relationship properly, they will lead to marital discord in marriage life.

Their personalities are different based on 12 western astrological signs, including lenient Aries, honest Taurus, talented Gemini, prudent Cancer, romantic Leo, right-minded Virgo, loyal Libra, ambitious Scorpio, sensitive Sagittarius, responsible Capricorn, brave Aquarius and gentle Pisces.
Blood Type O: They are brave and full of enthusiasm. Most of them are independent. They believe that success should be achieved by own efforts.
Blood Type A: Their gentle and optimistic characteristics can always influence people around. They are reliable, and always try their best to help friends who are in trouble.
Blood Type B: In most cases, they are honest to everyone, which gives enough sense of security to their partners.
Blood Type AB: They have high responsibility towards career, with enviable intelligence and outstanding abilities. They are born leaders that can make full use of everyone's advantages.
The system of Five Elements in Chinese culture influences people's character, ability, and luck. See analysis on the following five types of Pigs.
| Types | Years of Birth | Personality Traits |
| --- | --- | --- |
| Wood Pig | 1935, 1995 | Simple and honest, easygoing, endurable but sometimes impetuous. |
| Fire Pig | 1947, 2007 | Dependent, cooperative, owning great ambitions and good luck in wealth. |
| Earth Pig | 1959, 2019 | Good at socializing and maintaining interpersonal relation. |
| Metal Pig | 1911, 1971 | Gentle, broad-minded, frank, helpful. |
| Water Pig | 1923, 1983 | Responsible, serious, like to go one's own way. |
Pig Zodiac Eminent Personalities
Henry VIII, Oliver Cromwell, Albert Schweitzer, Christopher Boykin, Ernest Hemingwa, Stephen King, Alfred Hitchcock, Woody Allen, Arnold Schwartzenegger, Ewan McGregor, Hillary Rodham Clinton, Jenna Elfman, Julie Andrews, Lucille Ball, Luke Wilson, Mahalia Jackson, Magic Johnson, Mark Wahlberg, Nicholas Brendon, Rachel Weisz, Ronald Reagan, Agyness Deyn, Amber Tamblyn, Amy Winehouse, Carrie Underwood, Mila Kunis, Chiang Kai-shek (an influential Kuomintang leader of 20th century China), Lao She (a Chinese author)
- Last modified on Mar. 04, 2020 -
Questions & Answers on Year of the Pig
Asked by Kodakgal from USA | Mar. 02, 2020 05:17

Reply
Wood tiger husband for pig gal
Do my wood tiger man(6/26/1974) wants to settle down with me (water pig12/8/83)? I been having dreams about getting married on beach and being pregnant.
Answers (1)
Answered by Steve from UNITED KINGDOM | Mar. 04, 2020 00:42

0

0

Reply
According to the prediction, you two can become a good match. You know how to make compromises to make your relationship lasting and fresh. Don't worry. Besides, joining more outdoor activities together can improve your relationship a lot. :)
Asked by stephanie from USA | Feb. 05, 2020 10:53

Reply
Are we not a good match?
My fiance is a Pig and I am a Monkey.. I was born July 1992 and he was born August 1983..
We have a lot of common interests and think a like but we do feel like we are opposites.
Just curious for more information- Thank you!

Cancer & Leo
Answers (1)
Answered by Molly from UNITED KINGDOM | Feb. 09, 2020 20:06

0

0

Reply
Don't worry. You are born with a good match. In daily life, both of you should show more understanding and patience to each other. On weekends, you can join in more outdoor activities together. This way may improve the relationship.
Asked by M from CANADA | Feb. 02, 2020 06:53

Reply
Hubby bday is 10.21.1983 & I am 12.17.1989
We have had our ups and downs but have always seemed to come out strong in the long run... last year was the toughest year yet... How does 2020 look for us? We have been engaged for past few years..
Answers (3)
Answered by James from UNITED KINGDOM | Feb. 02, 2020 17:29

0

0

Reply
Don't worry. You treat each other with true heart, and both of you are deeply attached for family life. If adding more romance to life, your relationship will be better.
Answered by Joyce from USA | Feb. 14, 2020 23:04

0

0

Reply
You are sensitive, affectionate, and generous while he likes to keep to himself, often away from you. But he's a salesman, and can string you along... convince you of anything because 1) you love him, and 2) he knows he can exploit it because he's got the chops. Not a match for certain!
Answered by MM from CANADA | Feb. 16, 2020 06:13

0

0

Reply
Joyce, thanks for your input. I was just curious to see what ppl would reply and see how accurate this zodiac thing could be when I left out details re: what stresses we have had and the reason for delay in engagement (nothing to do with relationship). Thanks for your attempt, however your reply is certainly far from reality. The fact that you also ended it off with advice, not knowing anything about the couple is unreal.... however just your opinion that came off completely disrespectful.
The first reply based on family was more accurate although realistically could be an answer for most.
Asked by Pooja Nair from INDIA | Jan. 31, 2020 08:03

Reply
My husband born 12 Feb 1976..want to know how soon we will monitoring flourish
Answers (1)
Answered by Paula from AUSTRALIA | Feb. 01, 2020 22:09

0

0

Reply
Based on the prediction, the wealth situation would become better than last year. You can invest some money on low-risked fields. In this way, you may earn some extra money. In daily life, saving money is also important. Good luck!