Destinations
Asia
Middle East
Africa
South America
Why Choose Us?
Free 24/7 Services
100% Tailor Made
Hand-picked Hotels
Expert Local Guides
No Hidden Charge
Best Value for Money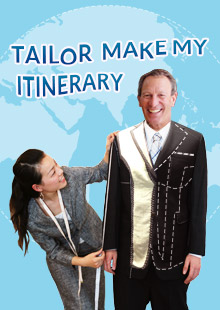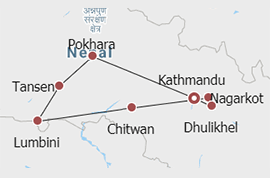 Himalayan Country Nepal
TNP12: 14 Days Kathmandu - Pokhara - Tansen - Lumbini - Chitwan - Nagarkot - Dhulikhel - Kathmandu
Day 1
Arrival in Kathmandu
Our guide will welcome you at the arrival hall of Tribhuvan International Airport based on your flight schedule. You will be free to arrange your individual activities after being transferred to the hotel.
This morning we will visit the old Kathmandu city by walking along the old path across Vishnumati River to Swoyambhunath Stupa. En route, you can see a cluster of palaces, temples and architectures built in the Middle Age. In the afternoon, we will show you the Pashupatinath Temple and the Bouddhanath Stupa.
Today we will move southward to Dakshinkali. After visiting the Pharping village, we proceed to Bungmati and Khokana. In these two villages, we can have glimpses of the old Newari habitat and lifestyle. Originated from Tibet-Burman, the Newaris are among the largest aborigines of Nepal, and they follow both Buddhism and Hinduism.
Day 4
Kathmandu - Pokhara
Following breakfast at the hotel, we will drive about 200kms to Pokhara, where your Nepal adventures tours start. Pokhara is the most renowned scenic spot of Nepal to enjoy the amazing view of the Himalaya Mountains. You will lodge at the hotel in Pokhara for three nights. The rest of the day is free at your leisure.
We will take the whole day to hike to the Begnaskote or Sarangkote village.
This morning we will explore the Pokhara City including its popular bazaars. A boat ride on Phewa Lake is arranged for you in the afternoon.
Today your Nepal adventures tour package goes to Tansen, around 80kms from Pokhara city. Located in the west of Nepal, this small hill town attracts great numbers of visitors with its unique charm. You will be free on your own after checking in at the hotel.
We can take a hike to Ranighat, which is built on the banks of Kaligandaki River. Alternatively, we could just have the day spend in Tansen to explore its various bazaars and experience local's lifestyle.
Day 9
Tansen - Lumbini - Chitwan
In the morning we will drive about 105kms to visit Lumbini, which is the birthplace of Gautama Buddha and one of the holiest Buddhist shrines. Afterwards, we drive about 75kms to Royal Chitwan National Park, a highlight destination of your Nepal adventures tours. We will have two nights stay at the jungle lodge.
We will spend the day taking some exciting jungle activities, such as elephant back safari, elephant briefing, canoeing trip, nature walk, bird watching, Tharu stick dance and so on.
Day 11
Chitwan - Nagarkot
We will first drive 145kms to Kathmandu and then continue transferring 34kms to arrive at our destination - Nagarkote. It is called the observatory of Himalaya, from where one can get a good panoramic view of some world-famous Himalayan peaks including Annapurna, Fishtail, Everest and Kanchendzonga.
Day 12
Nagarkot - Dhulikhel
After visiting Nagarkote, we will move to the 1600 years old Changunarayan Temple, which is considered the oldest Hindu temple in Nepal. After that, we will walk to Bhaktapur by crossing the paddy fields and small farming villages. Then we will drive to Dhulikhel in the late afternoon.
Enjoy the splendid scene of sunrise from the hotel. Following breakfast, we will take a full day hiking to Namoboudha. Lunch box is provided today. After walking through several huts and farms, we arrive at Panauti. It is an ancient tranquil village with traditional buildings all over the place. We will get back to Dhulikhel to appreciate the beautiful sunset scenery. Your Nepal adventures tour package will finish here. You may have some good rest tonight and get prepared for your departure.
Day 14
Dhulikhel - Departure from Kathmandu
In the morning we will drive about 1.5 hours back to Kathmandu and get to the airport to connect your onward flight.
Itineraries you may also like: