Perfect Plan for an Overnight Layover in Beijing: 12 to 24 Hours
What to do if you have 12 hours in Beijing? If it is night, staying at the airport and having a good rest is the best choice. If it is the day time, or the layover is longer than 12 hours, you can enjoy a tour in the city. For the overnight layover in Beijing as long as 24 hours, you will get sufficient time for a day tour. Here are our advices in details.
12-Hour Layover in Beijing at Night
When your 12-hour layover in Beijing occurs at night, we advise you to sleep over in a hotel near the airport, to have a good rest and save your energy for your following trip. Or you can rest at a timely lounge at the airport, to go aboard your connecting flight more easily.

12-Hour Layover in Beijing in Day or Longer Layover
If your 12-hour layover in Beijing is at daytime, such as 08:00-20:00, or even longer, like 13 or 14 hours, apart from 3 hours for going to the scenic spots and returning to the airport and 2 hours for handling the flight boarding procedure, you still have 7-9 hours. Thus the 12 to 14 hours layover in Beijing in day is enough for you to visit some famous Beijing attractions.

Here is the itinerary for your reference:
Have breakfast on the plane. After claiming luggage or applying for the connecting luggage transport, you can take the subway to Tiananmen Square.



From Capital Airport: Take Airport Express to Dongzhimen Station, then change to Subway Line 2 to Qianmen Station, taking about 1h20min.



From Daxing Airport: Take Subway New Airport Line to Caoqiao Station, transfer to Subway Line 10 to Jiaomen West Station, then get on Subway Line 4 to Xidan Station, and lastly change to Subway Line 1 to Tainanmen West/Tiananmen East Station, which takes about 1h 15min. You can also go directly by taxi, taking CNY160-200 and 85-110 minutes based on traffic conditions.

10:00-10:30: Tiananmen Square
Tiananmen Square is the largest urban square worldwide, which allows one million people gathering there at the same time. Monument to the People's Heroes, Tiananmen Tower and memorial halls surrounded are also eye-catching.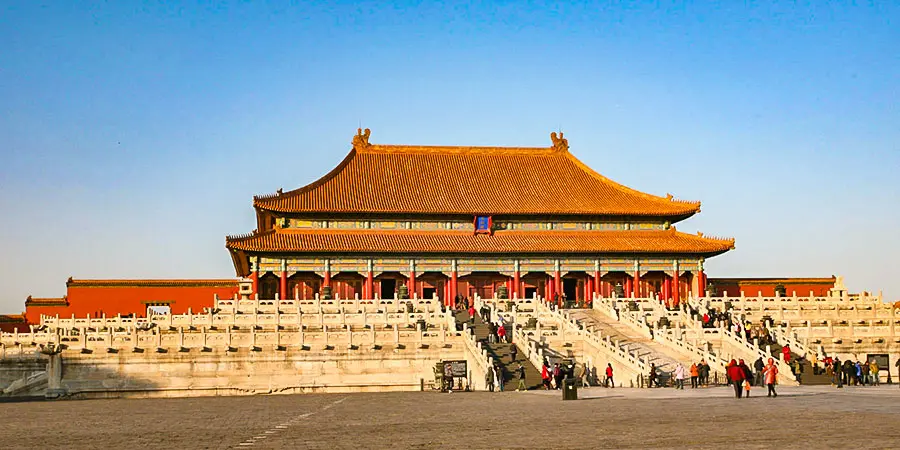 Visit Forbidden City of Beijing
Forbidden City is the best-preserved ancient wooden complex with the largest scale around the world. It used to be mysterious imperial palace, and many treasured relics are kept in these magnificent halls.

You may buy box meal before entering the Forbidden City as lunch, or have lunch in the Forbidden City, or after getting out.

13:00-14:30: Take a taxi or charter a car to Badaling/Mutianyu Great Wall
You would cost CNY 700-1,000 for the trip to the Great Wall and return trip to the airport.

14:30-16:30: Badaling or Mutianyu Great Wall
Great Wall is a giant ancient military defense system in China and reputed as one of the Seven Wonders of the World. Badaling Great Wall is the most famous Great Wall section, usually with a number of tourists. Mutianyu Great Wall is also well preserved, but with less tourists.

16:30-18:00: Get back to the airport by taxi or chartered car

Kind Reminder: Such an itinerary demands that you are familiar with visiting routes at the attractions and there is no traffic jam. If you meet up traffic jams or get in trouble to find the right visit route, please shorten the sightseeing time accordingly. If you want to smoothly visit both the Forbidden City and Great Wall during your 12 hours in Beijing, why not join our guided Beijing day tour.
24-Hour Overnight Layover in Beijing
If you have an overnight layover in Beijing for 24 hours, the travel itinerary above is referentially useful and you can stroll in the attractions unhurriedly.

As for the accommodation, if you arrive in Beijing at late night or early morning, especially from 22:00 to 10:00 next morning, you'd better find a hotel near the airport. Because many public transport stop service then, and it is convenient for you to go on your flight journey 24 hours later. If you arrive at Beijing airport at 10:00-22:00 in daytime, stay overnight at a hotel in downtown is also feasible.

- Last updated on Apr. 14, 2023 by Catherine He -