An Ultimate Guide for Layover in Beijing
With the implement of 144-hour visa free policy, most transfer passengers at
Beijing Capital Airport
and
Daxing Airport
are allowed to enter the city for a visit during their layover. However, when the Beijing airport layover is within 6 hours, you'd better stay in the airport and discover some fun things to do. Below is an ultimate guide for the long layover in Beijing.
Beijing Layover Visa: 144-Hour Visa Free Policy
The citizens from 53 countries, including US, Canada, Brazil, UK, France, Germany, Australia, New Zealand, Japan, Singapore, United Arab Emirates, etc., could are eligible for the 144-hour visa free policy. As long as you get off the plane at Beijing airport, you can apply for the stay permit with your eligible passport and interline air tickets. With the stay permit, you can travel in Beijing, Tianjin and Hebei in 144 hours.



Read More: 144-Hour Visa-Free Transit in Beijing, Tianjin, and Hebei

Layover in Beijing within 6 Hours: Stay at the Airport
What to do in Beijing layover within 6 hours? Regardless of the 2 hours to go through the boarding procedures for your connecting flight and at least 2 hours consumed from and to the airport, the rest time is too short to have a tour in Beijing. Thus you'd better stay at the airport.

What to do in Beijing airport layover to kill some? Both Capital Airport and Daxing Airport in Beijing houses large-scale dining area with various restaurants. You can find fast food, local snacks, Chinese cuisines, drinks, etc. at the airport. There are also many shops with souvenirs, Chinese specialties, daily uses, exotic crafts, and some brand products, etc., where are good places to kill time. In addition, plenty of lounges are available for you to have a rest. Or you can simply have a seat to surf the internet on your mobile. Both airports have free Wi-Fi.



Read More:
5 Things to Do in Beijing Airport - Capital Airport
What to Do in Beijing Airport - Daxing Airport

8 to 12 Hours Layover: Half-Day or 1-Day Tour of Beijing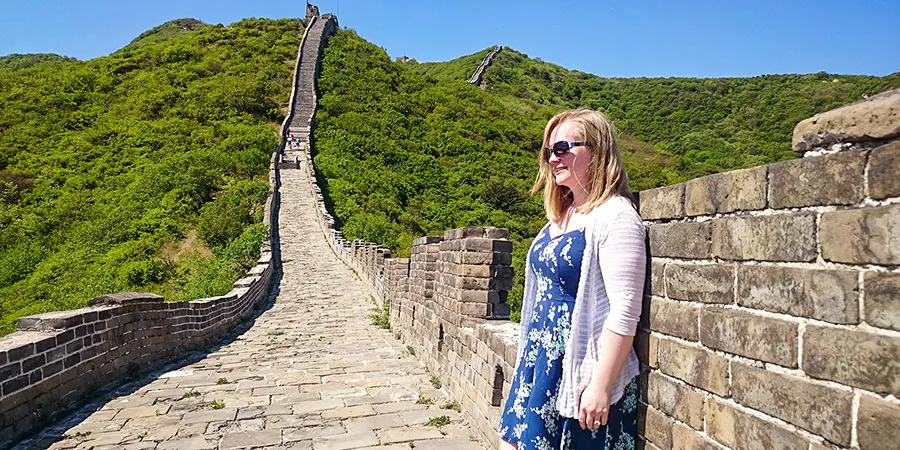 Visit Great Wall of Beijing
During the 8-hour layover in Beijing, not counting the time travelling from and to the airport and the time for coping with the boarding, you will get 3-4 hours for sightseeing, which is only enough to visit one of the most famous attractions in Beijing, Forbidden City or Great Wall.

If your layover is longer, like 9-12 hours, you may visit more attractions. That's to say, you can visit at least two attractions in the downtown of Beijing, such as the most-visited Forbidden City and Temple of Heaven, or Summer Palace.

However, you have to tour in daytime. If the 8-12 hours' layover in Beijing is at night, you'd better have a rest in the airport time lounge or a nearby hotel.



Read More:
How to Plan an 8-hour Layover in Beijing: Advices for 4 to 12 Hours' Stay
What to do in Beijing in one day – 6 Special Things to Do

12 to 24 Hours Layover: Beijing Day Trips
For the layover in Beijing more than 12 hours, a one-day tour is an option workable. You can make full use of the time to visit two, three or more attractions in Beijing. Tiananmen Square, Forbidden City, Jingshan Park and the Great Wall all can be included into your plan.

What call your attention should be the traffic condition and travelling routes inside the maze-like attractions. When you have difficulties to get to or stroll around the scenic spots, cut down your travel list accordingly.



Read More: Perfect Plan for an Overnight Layover in Beijing: 12 to 24 Hours

2 to 6 Days Layover: In-depth Discovery of the Capital City
2-6 days long layover in Beijing ensures you a discovery tour. On the first 2-3 or 2-4 days, you can tour all the most popular attractions, to learn Chinese history and culture, and to experience local life. In addition to Forbidden City, Great Wall, Temple of Heaven, Hutongs, and other classic attractions, you can also visit Jingshan Park, Prince Gong's Mansion, Wangfujing Street, Beijing Zoo, etc., and watch a Beijing Opera performance or a Kung Fu show at the Red Theater.

As for the even longer 5 - 6 days layover in Beijing, the farther attractions can be visited on the last 2 days, such as Simatai Great Wall and Gubei Water Town at the most northeast corner in Beijing area, Mountain Resort of Chengde, Beidaihe Scenic Area in Qinhuangdao, Ancient Cultural Street and Huangyaguan Great Wall in Tianjin. Pingyao, Xi'an and Luoyang are also considerable destinations, which can be reached by high speed train within 4h, 6h, and 4.5h respectively.



Read More: Long Layover in Beijing – How to spend 1 to 6 days in Beijing?

- Last updated on Apr. 14, 2023 by Catherine He -