How Many Days to Spend in Beijing?
Beijing is a popular destination for tourists. But how many days in Beijing is the best? Generally speaking, 3 to 5 days are sufficient to tour the super city. 3 or 4 days allows you to sightsee around the city with all the highlights. When you have 5 or more days, you can travel to another city by high speed train after touring Beijing.

How many days to see Beijing - Beijing suggested itinerary for 1-5 days
1 day
Tian'anmen Square, Forbidden City, Badaling or Mutianyu Great Wall.
2 days
Tian'anmen Square, Forbidden City, Badaling or Mutianyu Great Wall for the 1st day;
Temple of Heaven, Summer Palace, Hutong for the 2nd day.
3 days
Tian'anmen Square, Forbidden City, Jingshan Park, Beihai Park for the 1st day;
Mutianyu Great Wall, Hutongs, Prince Gong's Mansion, Kungfu Show at Red Theater for the 2nd day;
Temple of Heaven, Summer Palace, Wangfujing Street for the 3rd day.
4 days
The above plan for '3 days', plus Beijing Zoo, Yonghe Lama Temple, Qianmen, and Dashilar.
5 days
3 days in Beijing, and 2 days to Pingyao Ancient City, Luoyang, Datong, or Xi'an.
How many days to spend in Beijing - Full Itineraries for 1-5 days
1 Day in Beijing
Lay aside the question of how many days to visit Beijing. When you have only one day there, you could visit the most famous attractions. In the morning, you may go to Tiananmen Square and stroll around there. Walking a bit to the north, you can then visit Forbidden City – the large ancient royal complex within 2-3 hours. Have lunch at the restaurant inside the Forbidden City, or after getting out. You may go to Badaling/Mutianyu Great Wall in the afternoon. As there are visitors everywhere at Badaling on holidays, Mutianyu is more recommended at such a time.

2 Days in Beijing
Having two days in Beijing, you can plan the first day as the above Beijing suggested itinerary for 1 day. As for the second day, you may visit Temple of Heaven first, to see the ancient architecture and the locals taking exercise. Then visit Summer Palace, China's most magnificent garden with the lake, hill, bridges, ancient palaces, pavilions and corridors. You can then go to a Hutong area for lunch and stroll around the Hutongs in the afternoon. The alternative Hutongs include Shichahai, Nanluoguxiang, Bada Hutong (Eight Great Hutongs), etc.

3 Days in Beijing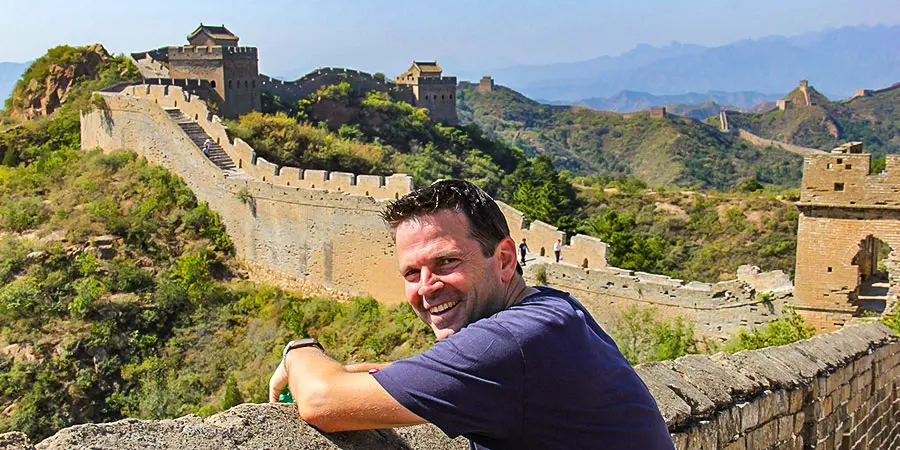 Tourists on Great Wall of Beijing
When your expected answer to how many days for Beijing is three days, you can enjoy a discovery Beijing tour. On the 1st day, after strolling around Tiananmen Square and Forbidden City, eat lunch in the neighborhood. Then go on an afternoon tour to Jingshan Park opposite to the north exit of the Forbidden City. It is a nice place to overlook the whole Forbidden City. After that, you may relax at the adjacent Beihai Park to the west, to go boating and appreciate the lake and the White Dagoba.

On the 2nd day, visit Mutianyu Great Wall in the morning and have lunch after getting down the Great Wall or at the Hutongs after you return to the downtown. Shichahai with many Hutongs in the neighborhood is recommended. There, you can also visit the large-scaled Prince Gong's Mansion with the beautiful garden. At last, you may go to Red Theater for the Kung Fu Show at dusk.

Temple of Heaven and Summer Palace can be planned in the morning of the 3rd day. Lunch is recommended to be planned in Wangfujing Street in the city center, where you can have more choices. After lunch, you can hang out on this well-known shopping street to pick up some featured souvenirs.

4 Days in Beijing
Carrying out the plan for the above 3 days, you may visit some more attractions on the 4th day. In the morning, you can go to see giant pandas in Beijing Zoo, and then visit splendid Yonghe Temple, which was once a prince's palace but now is a Tibetan Lama temple.

This afternoon, we recommend Qianmen area with Dashilar. You'd better have lunch there and the Peking Roast Duck should be tried. Qianmen is a historical remains with the old city gate tower, and Dashilar Street is the 600-year-old commercial street with old buildings and time-honored brands. You can find the handcrafts, silks, local traditional costumes, Chinese tea, local foods, etc. There are branches for both Quanjude and Bianyifang, two most famous Peking Roast Duck restaurants.

5 Days in Beijing
If you plan to spend 5 days in Beijing, we suggest you to spend the first 3 days following the above Beijing suggested itinerary and the last 2 days touring some nearby cities. On the 3rd day, you can cut your visiting time at the Wangfujing, and take a high speed train to Pingyao, Luoyang, Datong, or Xi'an in the afternoon, taking 4h, 4-4.5h, 4.5-6h and 2-2.5h respectively.

On the fourth day, you may enjoy a city tour in the city you are in. If you are in Pingyao, you can stroll around Pingyao Ancient City to see the ancient city wall, Rishengchang Former Bank, Pingyao Ancient Government Office, etc., as well as go to Shuanglin Temple, Qiao Family Compound, and other attractions nearby. In Luoyang, you may pay a visit to Longmen Grottoes and Shaolin Temple, to experience Chinese Buddhist culture as well as kung fu of Shaolin Temple. In Datong, Yungang Grottoes, Mt. Hengshan with Hanging Monastery, and Wooden Pagoda are the top attractions. As for Xi'an, you may visit Xi'an City Wall, Bell Tower, Muslim Quarter, Terracotta Warriors, Giant Wild Goose Pagoda, etc.

On the last day, you may continue your Beijing suggested itinerary to one or two attractions in the city you visit. And later take an afternoon high speed train to go back to Beijing.


Further Reading:
An Ultimate Guide for Layover in Beijing
- Last updated on Apr. 14, 2023 by Catherine He -