Beijing Itinerary 4 Days: What to Do & How to Plan
What to do in Beijing in 4 days? 4 days in Beijing are enough for a panoramic tour covering top attractions, best shows, signature food and most prosperous shopping destinations. Below is such a Beijing itinerary 4 days for reference:
Day 1: Tiananmen Square, Forbidden City, Jingshan Park, Beihai Park
On the first day of your Beijing itinerary 4 days, you can take a few best known attractions in the city center as the beginning. We suggest you to visit Tiananmen Square and Forbidden City at first, which can be regarded as the most important attractions in Beijing.

Located at the very center of Beijing downtown, they are symbolic landmarks of China. On the vast Tiananmen Square, you can see the towering Monument to the People's Heroes, and Memorial Hall of Chairman Mao and other solemn buildings in the surroundings. Walking through Tiananmen Tower, you will get to Forbidden City, the imperial home to emperors for almost six centuries. It is the largest wooden-structured complex throughout the world, stately and grand. There are so many glorious rooms that it takes 2 or 3 hours in general to sightsee through them.

You can have lunch in the restaurant inside the Forbidden City, or take your own box meal in advance, or eat after getting out the royal city.

Jingshan Park is right opposite to the exit of the Forbidden City. It will be the next advised stop on the itinerary of four days in Beijing. Jingshan Park was the mountainous royal garden in ancient times, which has always been the best viewing point to overlook Forbidden City and old Beijing city. Standing on the top of Jingshan Mountain, the whole Forbidden City would be in your eyes, as well as the modern skyscrapers far away. At last, Beihai Park to the east of Jingshan Park is a classic northern garden with very a large water area, incredible landscapes, bridges, and eye-catching White Dagoba.

Day 2: Badaling Great Wall, Shichahai Hutongs, Yandaixie Street, Prince Gong's Mansion, Houhai Bar Street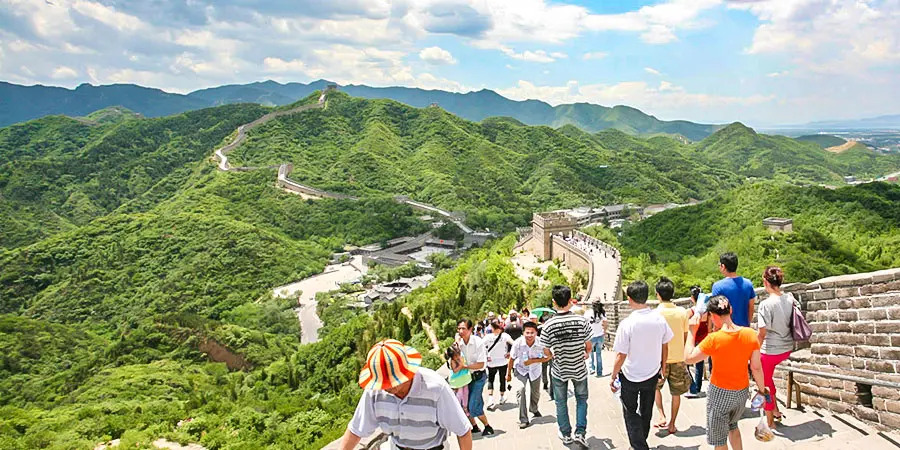 Visit Great Wall of China
What to see in Beijing in 4 days next? The Great Wall of China must be included. Among all the sections, Badaling is the best-preserved and the most popular on majestic mountain ridges. However, it is crowded on holidays, so we advise you replace it with Mutianyu Great Wall in this case. Mutianyu is also well preserved and reputed as the most beautiful Great Wall covered by dense vegetation.

After climbing the magnificent Great Wall, get back to downtown and have lunch in Shichahai Hutongs. After lunch, you can stroll through these lanes in depth and pay a visit to a courtyard, which is the highlight of Hutongs. Yandaixie Street, the commercial Hutong in Shichahai, is also distinctive, where you can taste local snacks and see paper cutting, sugar-figure blowing and other local arts. Prince Gong's Mansion nearby is the only prince residence of Qing Dynasty (1644 - 1911 AD) open to public. Apart from the splendid architecture and garden, it is also a museum to introduce its history and several hosts in succession. Between Yandaixie Street and Prince Gong's Mansion, Houhai Bar Street is a good place to release from nervous city life. The old-timey bars by the lake, beers, wines, music, etc. all are appealing for the night.

Day 3: Beijing Zoo, Summer Palace, Yonghe Temple, Red Theater
On the following visits of the Beijing itinerary 4 days, you can find more fun in addition to classic attractions. Beijing Zoo is a nice choice, in particular, for parent-child tour. It is the oldest and the top zoo in China, with the rare animals from all over the world, like green peafowls, Arabic baboons, Chilean flamingos, African black rhinos, and Malayan tapirs, etc. There are also giant pandas inside you can pay a visit.

Then go farther west to Summer Palace, the best classic garden in China. Summer Palace mainly consists of Kunming Lake and Longevity Hill, which was the resort of royal family.

After that, you may have lunch and go to eastern downtown for Yonghe Temple and the Kung Fu show at Red Theater. Yonghe Temple was originally constructed to be the mansion for Prince Yong, the later Yongzheng Emperor. After his death, the mansion was transformed into a Lama Temple, with unusually grand scale and magnificent halls. The excellent drama, the Legend of Kung Fu, is also wonderful for Chinese martial arts lovers, showing Kung Fu with the stories of a Kungfu master.

Day 4: Temple of Heaven, Qianmen, Dashilar Street, Peking Roast Duck, Wangfujing
On the last day of your 4 days in Beijing, you can wind up your trip to visit last several sites you'd like to go, shop for some souvenirs, and taste notable local food.

Temple of Heaven is a vital heritage in Beijing, used to be the national worship site to the Heaven, with noted Altar of Prayer for Good Harvests. The sacred place is visit-worthy, having multiple nice architecture. In the early morning, locals like to go there for exercise.

A little northwest to Temple of Heaven, Qianmen is the only ancient city gate having survived in Beijing, with the remarkable gate tower. Then you can go to adjacent Dashilar Street, which is a traditional shopping street 600 years old. Many time-honored brands have shops on the street with ancient-style buildings. You can find traditional silks, shoes, old writing materials, and foods, etc. there.

On Beijing itinerary 4 days, why not try Peking Roast Duck, the most famous Beijing food. You can taste it as your lunch today in this area. Quanjude, the best roast duck brand for the BBQ ones, has a shop on the Qianmen Avenue by Dashilar. Bianyifang, another roast duck restaurant known for its steam baked ones, shops nearby, too.



Quanjude – Qianmen Branch
Address: No.30, Qianmen Avenue, Dongcheng District
Average Price: CNY 195 per person
Opening Times: 11:00-13:30 & 16:30-19:00



Bianyifang – Xianyukou Branch
Address: on the Xianyukou Foodie Street, east side of Qianmen Avenue, Dongcheng District
Average Price: CNY 139 per person
Opening Times: 11:00-21:00

In the afternoon, do some shopping on Wangfujing Street, the best known commercial street with large shopping malls. You may taste some snacks and select some souvenirs there to cherish the memory of your four days in Beijing.


Further Reading:
An Ultimate Guide for Layover in Beijing
Long Layover in Beijing – How to Spend 1 to 6 Days in Beijing?
- Last updated on Apr. 14, 2023 by Catherine He -