China Bike Tours

Notes: The itineraries provided here are only for your reference. We do not offer the price and operate this tour at present since we are still trying to find the proper local agents who can deal with bike tours. If you are interested, you may follow our itinerary and journey by yourselves, but please be sure to keep safety in mind all the time. Thank you.
Historical Routes: Beijing, Nanjing, Xian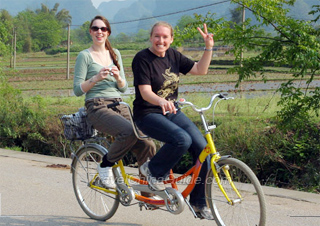 Beijing, Xian and Nanjing are the three famous ancient capitals of China. If you want to cycle a long journey, the route Beijing-Xian-Nanjing is highly recommended. Be sure preplan your travel fully and detailedly. In Beijing, traveling around the Hutongs by bicycle is a wonderful trip. In Xian you can get almost the whole view of the ancient city by cycling along the City Wall. In Nanjing, you can cycle along the Qinhuai River while admiring the famous attractions such as the Confucius Temple, Zhanyuan Garden and Zhonghua Gate.
Excellent Sceneries: Guilin, Huangshan, Suzhou, Harbin, Changsha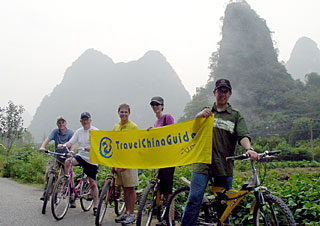 As the top popular tourist cities of China, Guilin, Huangshan and Suzhou can provide terrific feelings for cycling lovers. A classical route in Guilin is to cycle on both highroad and path in the countryside of Yangshuo. In Huangshan you can just travel around the city or you may go bike riding on the Tunxi Ancient Street to savor the local culture. While in Suzhou, a trip around Suzhou Gardens will be fantastic. In Harbin, you are suggested to cycle the city in summer since during winter the roads are usually covered with snow and ice thus could be very slippery. As the capital of Hunan Province, Changsha is good for cycling around the urban area.
Golden Beaches: Haikou, Guangzhou, Qingdao, Xiamen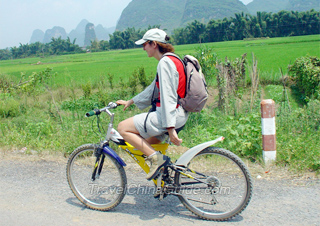 Would you like to cycle in the coastal city? Here the four coastal cities we provide will satisfy your demand. From Haikou, you can ride to Sanya and start travel there by following the route of Hainan International road bike race. In Qingdao, it is a good idea to cycle along the coast, passing through the city major attractions, such as Zhanqiao and Badaguan Scenic Area. In Xiamen, a leisure cycling on the Gulangyu Island might be the first choice.
Yunnan Ethnic Minorities: Kunming, Dali, Lijiang, Jinghong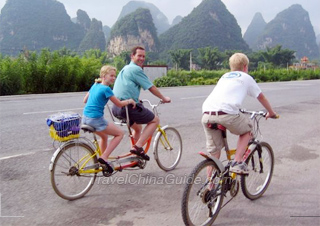 If you want to travel the Yunnan Province, cycling along the route Kunming-Dali-Lijiang will be a very exciting journey. Known as a City of Perpetual Spring, Kunming has many scenic spots for a cycling trip. In Dali, you will have a chance to go for a bike tour in the local ethnic villages. In the picturesque Lijiang, a trip to the Tiger Leaping Gorge is highly recommended. If you are interested in learning the culture of local ethnic minorities, just ride to the colorful city, Jinghong.
Southwest Adventure: Chongqing, Chengdu, Guiyang, Lhasa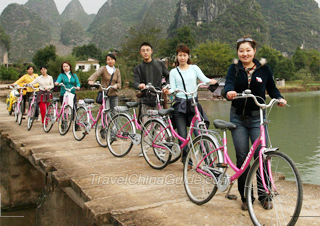 If you prefer a long journey in Southwest China, the route Chongqing-Chengdu-Guiyang-Lhasa will be a good one. But it could be very arduous since you will traverse the Sichuan Basin, Yunnan-Guizhou Plateau and reach the Qinghai-Tibet Plateau. We have to say it will not be easy for you to go cycling in Chongqing City since there are so many uphill and downhill roads in the mountain city. If you want to challenge it, you may try to ride from Chongqing to Dazu Rock Carvings. In Chengdu, you may ride to the local villages to appreciate the beautiful landscape. In Guiyang a trip to Huaxi Garden will be wonderful. In Tibet, the route we provided here is from Golmod to Lhasa, through which you will pass the famous Thanglha Mountain and Namtso Lake.
Northwest Exploration: Hohhot, Yinchuan, Xining (Qinghai Lake Cycling Race)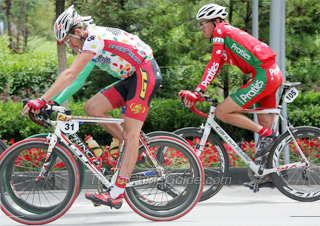 In the map of China you will find that this three cities stands almost in a line. So the route Hohhot-Yinchuan-Xining might be a perfect one for you to explore from the Inner Mongolian Plateau to the Qinghai-Tibet Plateau. In Hohhot, you may go for an enjoyable bicycle trip on the boundless grassland; cycling in the ancient city Yinchuan can make you learn a lot about the local culture; Riding in Xining, you may go along the track of Qinghai Lake International Cycling Race.
Lanzhou, Dunhuang, Urumqi
Do you think it is a good idea to ride from Gansu Province's Lanzhou to Xinjiang's Urumqi? If so, then you may choose Dunhuang as the midway stop where you can pay a visit to the famous Mogao Caves. In Lanzhou, there are a bunches of parks, including the Shifogou National Forest Park and the Five-Spring Mountain Park, to enjoy your cycling trip. However, Urumqi may not be your final destination if you are still robust. Here we suggest you go westward to Ili and have a cycling along the charming Sayram Lake.