Guangxi Travel Guide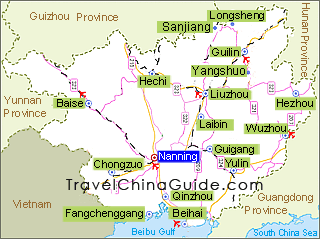 Click to enlarge the above map
Guangxi Facts:
English Name: Guangxi
Chinese Name: 广西 (Guǎng Xī)
Abbreviation: Gui
Administration Type: Autonomous Region
Capital: Nanning
Location: 20°54' to 26°24' N, 104°26' to 112°04' E
Climte: tropical/ subtropical monsoon climate
Area: 236,700 km² (91,390mi²)
Population (2010): 46026629

Area Code & Zip Code

Pictures
Cities in Guangxi
Recommended Guangxi Itineraries
Famous Attractions
Guangxi Introduction
Characterized by spectacular landscapes, charming natural scenery and diverse ethnic customs, Guangxi Zhuang Autonomous Region is an impressive region to visit.

The Region is situated in the southern part of China, facing the Beibu Gulf on the South China Sea and has a border with Vietnam to the southwest. It is southwest China's most convenient access to the sea. From here, visitors can easily cross overland into Vietnam or vice-versa. Lying in low latitude areas and straddling the tropic of Cancer, this region has a subtropical/tropical monsoon climate: rainy, warm and humid. July is the warmest month and average temperatures are 23-29°C; the coldest time is January and average temperatures are between 6-16°C. 80% of its rain falls between April and September. As a whole, Guangxi is like a large basin with higher ground surrounding a lower center. In addition, the region is very mountainous with a few plains. The capital city Nanning is also known as the 'Green City' because of its rich lush tropical plants.



No. 1 Scenic Spot under Heaven
'Guilin's landscape tops those elsewhere while Yangshuo's landscape tops that of Guilin'. This famous Chinese saying well stresses the unparalleled beauty of Guilin and Yangshuo, both of which are located in Guangxi and should not be missed when traveling to that region. Guilin boasts characteristic karst formations, diversely shaped by the weathering and erosion of millions of years. The most famous one is Li River, which resembles a clear jade ribbon winding around the unusual-looking green hills. The Li River is a pearl in China's beautiful landscape as well as the highlight and soul of Guilin scenery. Some other attractive sites in Guilin include Elephant Trunk Hill, Seven-Star Park, Reed Flute Cave and Wave Subduing Hill (Fubo Hill). Yangshuo is a small and peaceful town with stunning countryside scenery. Small villages hiding behind characteristic hills, water buffaloes patrolling green fields, fishermen drifting on clear rivers, all provide a feeling of tranquility far from the hustle and bustle of city life. The town's West Street, lined with western-style cafes, restaurants and hotels is a gathering place for travelers from both home and abroad. To travel between these two wonderful places, one can cruise along the Li River which provides an excellent viewpoint on the charming scenery. Apart from these two places, many other sites there are worth visiting as well, such as the Dragon's Backbone Rice Terraces in Longsheng, Chengyang Wind and Rain Bridge and Mapang Drum Tower in Sanjiang, Silver Beach in Beihai, Detian Waterfall and Mt. Qingxiu in Nanning, etc.



Ethnic Folklore
There are many ethnic groups dwelling in that area and they account for more than one third of local total population. Among them, the Zhuang is the largest group which represented one third of the ethnic population in November 2010. Zhuang people are good at singing and dancing. The Sanyuesan Singing Festival is one of their most popular festivals where Zhuang people practice antiphonal singing. Their most famous dance is the Bronze Drum Dance. The Zhuang residences are built on stilts: the ground floor is used for housing livestock while the upper floor is for humans. Traditional Zhuang clothes are double-breasted with tight waists and usually blue and black. Apart from the Zhuang, other ethnic groups like the Yao, Miao, Dong and Shui also play an important role there. Their languages, clothes, architecture and food differ and each has its own particular characteristics. They also celebrate different festivals, such as the Danu and Panwang Festivals for Yao, the Huashan Festival for Miao and the Firecrackers Festival for Dong. All these unique and distinctive customs and cultures contribute to making a tour of Guangxi very enjoyable to visitors.