Great Wall of China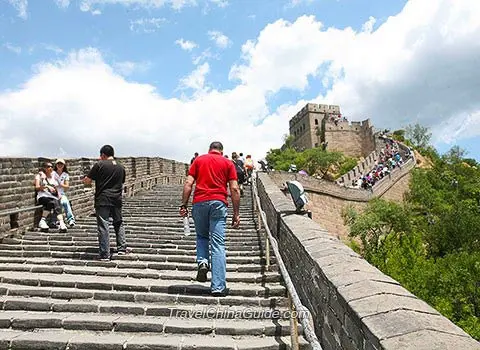 Badaling, Beijing


Pictures

Video
The Great Wall, one of the greatest wonders of the world, was listed as a World Heritage by UNESCO in 1987. Just like a gigantic dragon, it winds up and down across deserts, grasslands, mountains and plateaus, stretching approximately 21,196 kilometers from east to west of China.
With a history of about 2,700 years, some of the Great Wall sections are now in ruins or have disappeared. However, the Great Wall of China is still one of the most appealing attractions all around the world owing to its architectural grandeur and historical significance.

Great Wall FAQ

How long is the Great Wall of China?

How tall is the Great Wall?

Can it be Seen from the Space?
Chinese Name: 长城/万里长城
Chinese Pinyin: Cháng Chéng/Wàn Lǐ Cháng Chéng
Length: 21,196.18 kilometers
(13,170.70 miles)
Construction Period: 2,500 years from the
Spring and Autumn Period (770 – 476 BC)
to 1878 in late Qing Dynasty (1644 - 1911)
Having a wonderful Great Wall tour is a must for one's China trip. Along this super long wall, Beijing ranks the top destination for its proper maintenance of the abundant wall relics of the Ming Dynasty. Badaling and Mutianyu are best sections to see neat and complete walls and beacon towers; while Jinshanling and Simatai offer challenging Great Wall hiking routes with open and wild scenery. Want to discover the charm of the wall with TravelChinaGuide? Let's get started!

See
Great Wall Tour Tips
for making a practical travel plan, including the best travel time, packing list as well as health and safety concerns.
The Wall we see today was mostly built during the Ming Dynasty (1368 - 1644). It starts from Hushan in the east to Jiayuguan Pass in the west traversing Liaoning, Hebei, Beijing, Tianjin, Shanxi, Inner Mongolia, Ningxia, Shaanxi, Gansu and Qinghai. Here lists the famous sections for you to know the incredible diversity of scenery along the wall and practical travel tips.

See
which section to visit
Excitement abounds regarding the vicissitude of the Wall of the Qin, Han, and Ming Dynasties.

The Great Wall was originally built in the Spring and Autumn, and Warring States Periods as a defensive fortification by the three states: Yan, Zhao and Qin. It went through constant extensions and repairs in later dynasties. It began as independent walls for different states when it was first built, and did not become the "Great" wall until the Qin Dynasty.

Emperor Qin Shi Huang succeeded in his effort to have the walls joined together to fend off the invasions from the Huns in the north. Since then, the Wall has served as a monument of the Chinese nation throughout history.
The mystery of the construction of the wall is amazing. The construction, which drew heavily on the local resources for construction materials, was carried out in-line with the local conditions under the management of contract and responsibility system. A great army of manpower, composed of soldiers, prisoners and local people, built the wall. The construction result demonstrates the wisdom and tenacity of the Chinese people.
Great Wall carries a considerable part of Chinese culture. It has long been incorporated into Chinese mythology and symbolism. The most well-known legend is about the collapse of a section of the Wall caused by Meng Jiangnu, who cried bitterly over the death of her husband after he died while building the wall. This legend has been spread widely through textbooks, folk songs and traditional operas.
Following a 45-day long survey of 101 sections of the Wall in different provinces, the China Great Wall Academy reported on December 12, 2002 that the forces of nature and destruction by mankind are bringing about gradual reduction of extent of the Wall with the result that less than 30% remains in good condition. The Academy has called for greater protection of this important relic.

As a reputable China travel agency, we are recommended by many former clients. You may read our customers'
China Tours Reviews
on Tripadvisor.
- Last modified on Jan. 20, 2019 -
Questions & Answers on China Great Wall
Asked by Devin from USA | Jan. 16, 2019 20:14

Reply
Hi. So I have a 19-layover in Beijing, landing around 19:00 then flying out the next day at 13:45.
Let's say I stay in a hotel close to the Capital Intl. Airport. Would I have enough time to wake up and go see The Great Wall if I got there at 06:00 when it opens and be able to get back to the airport with enough time to get through security and such for my 13:45 flight? The Great Wall is definitely on my bucket list and if I can pull this off, I'd love the best recommendations on how to do it in the best amount of time. Thank you for any feedback! -Devin
Answers (2)
Answered by Diana from SINGAPORE | Jan. 17, 2019 18:40

0

0

Reply
The time is very tight. The open time of the Great Wall is 7:30 and you need to arrive at the airport at least before 11:00. It takes about 1 hour from the airport to the Great Wall by taxi. So you need to start off in an early morning and only about 2 hours can be spent on the Great Wall.
Answered by Devin from USA | Jan. 20, 2019 16:51

0

0

Reply
Thank you very much for the response. What about the Forbidden City? Is that easier or harder to access than The Great Wall? Also, what if I gave myself an 8-hour layover on my way back to the US? If my flight lands at 14:20, and I had eight hours before my flight out of Beijing, would that give me more time to see one, or maybe both, of those?
Asked by Matilde Farré from SPAIN | Jan. 04, 2019 14:32

Reply
How many tourists visited the Great Wall of China in 2017?
Please, I need the exact number because I always find that there are approximately 10 million and I find it very inaccurate. I need the resource too.
Thank you
Answers (1)
Answered by Andy from USA | Jan. 06, 2019 18:15

0

0

Reply
I'm sorry but no accurate figures about the tourists can be found.
Asked by paula from USAPAI | Dec. 14, 2018 03:45

Reply
My cruise stops for 36 hrs in Tianjin, & Shanghai
Do I need a visa for sightseeing?
I will be doing on my own not using the ships'excursions.
Answers (1)
Answered by Sam from NETHERLANDS | Dec. 16, 2018 18:21

0

0

Reply
Yes, you need to apply for a visa in advance since the 144 hour free visa policy is only adapt to either Beijing, Tianjin, Hebei Province or Shanghai, Jiangsu and Zhejiang.
Asked by Daniel S. Quiñones from PHILIPPINES | Nov. 20, 2018 16:30

Reply
What is the best month of the year to visit the Great Wall?
Upon reaching Beijing International Airport, can you go directly to Badaling or Mutianyu Great Wall?
Answers (1)
Answered by Anna from USA | Nov. 20, 2018 17:44

0

0

Reply
The spring and autumn will be the best time to visit the Great Wall since the weather would be moderate.

You cannot go to the scenic area directly from the airport. You need to go to the urban area first and then take a bus to the scenic areas or you can take a taxi directly but it will surely be very expensive.
Asked by Marlen from GEORGIA | Nov. 07, 2018 14:53

Reply
When did they make it illegal to take pieces of the great wall of china
Answers (1)
Answered by Mia from UNITED KINGDOM | Nov. 07, 2018 17:48

0

0

Reply
Since 2006, it has been illegal to take away any part of the Wall.