China Train Schedule & Tickets Booking
Follow us on:



4.9

out of

5
Travel China Guide - a leading China-based tour operator provides an up-to-date schedule, and a ticket booking service for most Chinese cities.

Best service guaranteed
No hidden fees
No long queues
No language barrier
100% refund if tickets are unavailable
I found the booking experience very efficient and the frequent feedback gave me confidence that the ticket system would work. The soft sleeper experience was excellent and the screen system in the waiting room made it...
Details
Mrs.Imogen McCarthy from New Zealand, Jul. 09, 2014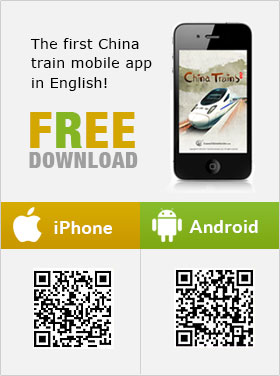 Quick Guide on China Train
See schedule of major Chinese cities:

What's On

New Bullet Trains Open on July 1, 2014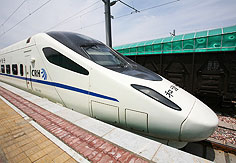 The Chinese railway has adopted a new diagram from July 1, 2014. 60 more rail routes have been put into service and 53 are bullet trains. The new bullet trains from Chengdu to Shanghai, Hangzhou and Fuzhou shorten the journeys to 15 hours, 15 hours and 20 minutes, and 15 hours and 12 minutes, respectively. More bullet trains are available from Chengdu to Wuhan, Zhengzhou, Nanchang, Nanjing, Hankou and Lichuan, and from Chongqing to Shanghai, Fuzhou, Xiamen, Hankou, Wuhan and Yichang. New high-speed railway service from Beijing to Xiamen shortens the journey from 32 hours to 13 hours. More highs-speed rail services are available from Beijing to Taiyuan, Nanning, Guiyang and Jinan. The Xian-Taiyuan high-speed railway service is also put into service from July 1, which shortens the trip from 10 hours to 3.5 hours. Visitors now are able to reach Pingyao Old City from Xian within 3 hours.
What's more, the Lanzhou-Urumqi high-speed rail is going to be put into use by the end of 2014. At that time, passengers will reach Urumqi within 8 hours.

Train Ticket Delivery Service Offered by Railway Stations Is Available in Yunnan for Chinese Passengers
From July 10, 2014, passengers are able to have their tickets delivered to any personal address in 13 cities of Yunnan when booking with the official site 12306.cn at least 36 hours before departure. However, this new project only applies to Chinese passengers with second general ID cards. Hong Kong, Macau, Taiwan, and foreign citizens can not use the service. A delivery fee of CNY17 per order should be paid together with the ticket online. Each order has at most 5 tickets and should be delivered to one address and passengers' second general ID cards will be checked by the courier. The 13 cities are Kunming, Dali, Lijiang, Qujing, Mengzi, Wenshan, Hekou, Ruili, Yuxi, Baoshan, Pu'er, Chuxiong, and Jinghong.