Travel China Guide - a leading China-based tour operator provides an up-to-date schedule, and a ticket booking service for most Chinese cities.

One-on-one Expert Service
Efficient after-sales support
No language barrier
No change fees
Easy cancellation
99% obtaining tickets
100% refund if tickets are unavailable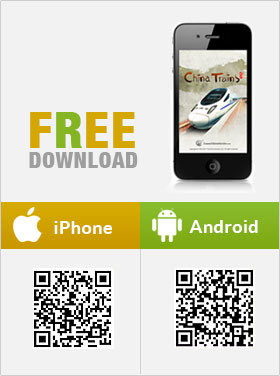 Quick Guide on China Train
See schedule of major Chinese cities:
Major High-Speed Rail Lines:

What's On

China Train Timetable to be Adjusted on July 1st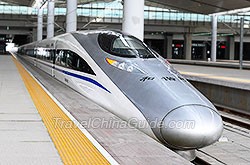 Since July 1st, 2015, China Railway Corporation will carry out a new timetable:
1. Bullet trains from Beijing to Huangshan (G351/G352) and Guiyang (G81/G402, G401/G404, G403/G82) will start running for the first time, reducing the travel time for about 14 and 15 hours respectively.
2. G265/G270 from Beijing to Hefei will run further to Huangshan; K571/2 from Beijing to Longyan will be extended to Xiamen.
3. Additional departures from Beijing to Fuzhou (G27/G302, G28/G301, G303/G304), Xiamen (G321/G326, G323/G322, G325/G324), Shenyang (G217/G218, G219/G220), Qingdao (Z7/8), Shenzhen (D927/8), Shijiazhuang (G6721/G6720), Qinhuangdao (T5685/6), and Hengshui (K7771/2) will be operated.
4. T177/8 from Beijing to Urumqi will be upgraded to Z179/80.
5. Those from Beijing to Xiamen (G165/6), Huaihua (G441/2), Qinhuangdao (K7751/2), and Qinghecheng (L7739/40) will stop running.

Temporary Trains to/from Beijing to Be Operated during Dragon Boat Festival
To meet the increasing travel demands of the coming Dragon Boat Festival, Beijing Railway Bureau will operate additional 7 pairs of temporary trains from June 19th, 2015 to June 22nd, 2015.
In details:
Beijing-Qinhuangdao: D4519/D4520, D4521/D4522;
Beijing-Beidaihe: T5695/T5696, T5697/T5698, T5699/T5700;
Beijing-Qingchenghe: K5223/K5224;
Beijing West-Handan: K5213/K5214

Hefei-Fuzhou High Speed Railway to Be Opened

An Additional Train to Run between Beijing and Kunming

Read More