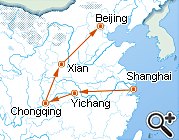 Golden Triangle & Yangtze
B-401: 15 Days China Tours from Mexico City to Shanghai

Yichang - Yangtze River

Chongqing

Xian

Beijing
Day 1
Mexico City - Shanghai
Traveling to China may be a once in a lifetime experience for some people, especially for those who live in the areas with limited connections with China. If you plan a China tour from Mexico, Aeromexico is the only airline which offers regular connections between Mexico City and Shanghai. By taking AM98, you will leave from Mexico City at 22:44 and reach Shanghai at 06:30+2. Although the flying time is 18 hours and 46 minutes, you will land in Shanghai two days later as the time in Shanghai is 13 hours ahead of the time in Mexico City. Since this flight is not available daily, you may also consider making transfer at Los Angeles, Chicago, Dallas or Vancouver to Shanghai.
Just a tip: you are going to take a
Yangtze River
cruise from Yichang to Chongqing on this China backpacking tours. Since there will be formal parties on board at night, it is not compulsory but a suggestion that you bring some formal clothes. See more
Yangtze Cruise Tips
.
Day 2
Mexico City - Shanghai
Today you are on the plane for your journey to Shanghai and your China tour from Mexico City will literally begin the next day. Along this route, you will visit some of the most popular tourist destinations in China, such as Beijing, Shanghai, and Xian. The four-night and five-day Yangtze River cruise should be one of the highlights of this itinerary. Flowing down the winding river with green hills by your side, you must feel like being inside an endless landscape scroll.

Please have a good rest on the plane today and get ready for your following trip!
The Bund
When arriving at Shanghai Pudong Airport, take a bus or taxi to the hotel you booked in the downtown area. We suggest you the Manhattan Bund Business Hotel, which is 200 yards west of
the Bund
. You are advised to take maglev train from the airport to Longyang Road first, and transfer to subway line 2 to East Nanjing Road Station; use Exit 5 and walk 400 yards eastwards, you will see the hotel on your right. Have a good rest in the hotel. If you are not too tired, you can walk around to get familiar with the surrounding bus stops, subway stations, and shops.
Accommodation Suggestion: Manhattan Bund Business Hotel
The first destination we recommend for your independent tours from Mexico City is the
Yu Garden
. From your hotel, you may take a taxi to get there and it costs CNY15.
Getting out of the garden, you can wander about the
Old Street
in front of the nearby
Old City God Temple
to view the sights of old Shanghai and have a taste of local food in one of the century-aged restaurants on the street.
Shanghai is not only a destination to delve into the modern history of China from 1920s, but also a metropolis of the 21st century, where urbanites all live a fast lifestyle. Want to know about it? We recommend the following hiking route to you: walk west along the Old Street for about 430 yards to South Henan Road; enter Fangbang Road and keep walking all the way west to
Xin Tian Di
; go along South Huangpi Road, and you will enjoy both historical
Shikumen residences
and modern buildings by your side. You can also take a taxi to Xin Tian Di if you find it too energy-consuming to follow this 30-minute walk, and the taxi fare is around CNY20. Xin Tian Di is divided into South Block and North Block by a quiet lane and the
Site of the First National Congress of the Communist Party of China
is located at the northern side of the road. It is worth a visit if you are interested in Chinese history.
On your way back to the hotel, you can take subway line 10 from Xintiandi to East Nanjing Road, and then walk back to your hotel.
This morning we suggest you take a bullet train to Yichang, where you can start a Yangtze River cruise to Chongqing. You are advised to reserve the train tickets and cruise tickets in advance on your own or turn to TravelChinaGuide for convenience. Please get up early and check out of the hotel after breakfast. Then take a taxi to Shanghai Hongqiao Railway Station in around 40 minutes at a cost of CNY70. Subway line 2 also takes you to the train station from East Nanjing Road Station, and the travel time is also about 40 minutes.
After 7 hours' journey, you will arrive at Yichang East Railway Station. Then go out the exit, you will find the Yichang Tourist Information Center, where have free shuttle bus to the pier. The bus transfer will take 1.5 hours. Shuttle Service is available daily from 16:00 to 21:30. Upon arrival, check in at the 5-star President No. 6 cruise ship and stay overnight onboard. From now on, your Yangtze River cruise begins.
Cruise:
President No.6
Day 6
Yangtze River Cruise
The cruise ship starts sailing at around 7:00. You will be announced to have a free buffet breakfast and morning coffee. Please do keep the broadcaster on to avoid missing any announcement.
There will be about one hour's trip sailing through the eastern section of the
Xiling Gorge
. After having lunch on the ship, you will go ashore to visit the
Three Gorges Dam
. At night, a welcome party will be held at 18:00. The crew on the ship will put forward various performances to entertain you, including dancing, singing, and games.
Day 7
Yangtze River Cruise
Today is the highlight of your Yangtze Cruise. You will have a shore excursion to the
Shennong Stream
in the morning. Originating from the southern slope of the
Shennongjia Nature Reserve
, the Shennong Stream stretches about 35 miles from north to south and eventually joins the Yangtze River at the mouth of the
Wu Gorge
. Along the stream, you will pass through four gorges: Shennong Gorge, Mianzhu Gorge, Yingwu Gorge (Parrot Gorge), and Longchang Gorge. The ship will also sail through Wu Gorge,
Qutang Gorge
, and
White Emperor City
in sequence.
Day 8
Yangtze River Cruise
Today, the ship will stop for an ashore visit to the Shuangguishan National Forest Park. It will be very enjoyable to stroll in the tranquil park, breathe the fresh air and listen to birds singing. What's more, there are over 20 cultural attractions in the park which can make you gain a better understanding of Chinese traditional culture. When you return to the ship, you can have a break either in your room or on the deck viewing joyful scenes. Besides natural landscape, the ship will also pass by the
Fengdu Ghost City
, which was build to reproduce the underworld in the way people imagined.
Since it is the last night on the ship, the captain will throw a farewell party to draw a happy ending to your Yangtze River Cruise.
A Countryside Woman
The ship will get to Chongqing Chaotianmen Port at around 8:30. Collect your luggage and disembark from the ship. Then take a taxi from the port to Chongqing Jiangbei Airport. The taxi ride takes around 40 minutes and costs about CNY50. You will take a flight to Xian afterwards, and surely, you are supposed to book the air tickets in advance. Upon arrival, check in and board the plane under the instructions of the airport.
When landing at Xian Xianyang International Airport, you can take a taxi to the downtown area to find a hotel for rest. We recommend you the 3-star Ibis Hotel, which is located on Heping Road and a few minutes walking distance to the
Bell Tower
. You can take airport shuttle bus East Street Line to the terminal, and then walk south along Heping Road for 600 yards to find the hotel. The bus trip should take around 1 hour and cost CNY25.
Accommodation Suggestion: Ibis Hotel
Our suggestion for today's China holiday tour is to visit
Shaanxi History Museum
,
Giant Wild Goose Pagoda
,
Great Mosque
, and
Muslim Quarter
. Get up early and find a restaurant nearby to eat something before your trip.
From your hotel, walk south to take bus no. 30 at Huaxia Bank bus stop. Get off at Cuihua Road after 6 stops, walk west for 120 yards and you will arrive at the gate of Shaanxi History Museum. It's free to visit, but you still have to queue up for a free ticket using your passport. The recommended visiting time in the museum is two hours.
Getting out of the museum, you can walk eastwards for 600 yards to the North Square of the Big Wild Goose Pagoda. There are a few restaurants on the square, where you can taste Xian noodles and Chinese hamburger.
Afterwards, walk west along East Xiaozhai Road to find Dayanta bus stop; take tourist bus no. 8(610) there and get off at Bell Tower (Zhonglou), then walk towards the
Drum Tower
. Behind it, you will find the way to the Great Mosque at the Huajue Lane and the Muslim Quarter. You can feast your stomach with local snacks there. Then, take a taxi back to your hotel at a cost of CNY15.
Today, you are recommended to take a self-exploration to the
Terracotta Army Museum
and
City Wall
. From your hotel, please take bus 14, 30, or 40 in front of your hotel to the terminal stop, Xian Railway Station. Get on tourist bus no. 5 (306) on the east square of the station to reach the Terracotta Army Museum in about one hour. After visiting the museum, you may have lunch in a nearby fast food restaurant and then, still take tourist bus no. 5 back to the city.
Upon arrival at the train station, walk south for 350 yards to take bus 14 or 40 to Heping Gate, through which you can climb up to the City Wall. You will have an afternoon exploring the City Wall either on foot or by bike.
After that, you are suggested to descend down from Heping Gate and walk north for 400 yards to your hotel.
Pit 1 of Terracotta Army Museum
You will take a high speed train to Beijing this morning. After checking out of the hotel, walk to Huaxia Bank bus stop to take bus 40 or 216 to Nanmen, then you can use subway line 2 from Yongningmen Station to Xian North Railway Station (Beikezhan). You are suggested to take a train that departs before noon and you will arrive in Beijing at dinner time. You can also search your preferred train schedule with the search tool at the bottom of this page. By the way, the train tickets are in great demand in travel peak season, so you can turn to TravelChinaGuide to book the tickets in advance and collect the tickets at the train station.
Upon your arrival at Beijing West Railway Station, we recommend you head for the 3-star Ibis Jianguomen Hotel for three nights' stay. You may take subway line 9 to Military Museum, where you can transfer to line 1 to Jianguomen Station; leave from Exit B and walk eastwards for 700 yards; turn south into South Jianhua Road and the hotel is 130 yards ahead of you. For the convenience, you may also get to the hotel directly by taxi, which costs around CNY40. After having a short rest, you may do some shopping at
Beijing Silk Street
(Xiushui Street). From your hotel, you can walk north to Jianguomen Outer Street and then go east for 500 yards to the market.
Accommodation Suggestion: Ibis Jianguomen Hotel
Your self-guided Beijing tour from Mexico City starts from this morning. After breakfast, walk to Jianguomen Subway Station to take line 1 to Tiananmen East Station and get out from Exit D. Walk west and you will get to the
Tiananmen Square
, where you may have a full view of the
Tiananmen Tower
on the northern side of Chang'an Street. Behind the tower is the Meridian Gate, the south gate of the
Forbidden City
. You may hire a guide or an audio guide at the gate to have a good understanding of each spot. The recommended visiting time is 2 - 3 hours, so it will be around lunch time on your arrival at the north gate, the Gate of Divine Prowess.
After having a meal in a nearby restaurant, you can walk to
Jingshan Park
, which is opposite the Gate of Divine Prowess, to have a full view of the Forbidden City. Get out from the west gate of the Jingshan Park and keep heading west, you will get to the
Beihai Park
. Opposite the northern gate of the Beihai Park is
Shichahai Area
, which is a good place to experience the nightlife in Beijing.
When you return, you can walk to Shichahai Subway Station to take line 8 to Gulou Dajie, where you can transfer to line 2 to Jianguomen. Please note that the subways in Beijing usually stop at around 23:00. Or, you may take a taxi back to your hotel, which may cost you CNY30.
Our clients at the Temple of Heaven
We suggest you get up early and have a big breakfast at hotel, since today you will take a long trip to
Juyongguan Great Wall
in the suburban area of Beijing. Walk to Jianguomen Subway Station to take line 2 to Jishuitan Station and leave from Exit B2; walk east to Deshengmen bus stop and take bus no. 919 to Shahe; transfer to bus Chang 68 at the same stop to go directly to Juyongguan.
On the way back, you may still take bus Chang 68 to Shahe Stop, but transfer to bus Chang 19 or Zhuan 49 to Zhuxinzhuang Subway Station then. There, you can take subway line 8 to Olympic Sports Center. Get out from Exit B2, you will see the
National Stadium
(Bird's Nest) and
National Aquatics Center
(Water Cube) in front of you.
When today's tour is over, take subway line 8 to Gulou Dajie and transfer to line 2. Get off at Jianguomen and walk back to your hotel.
Day 15
Beijing - Mexico City
Your China tour from Mexico City ends today. Please pack up your luggage after breakfast and check out of the hotel. If you are going to catch a flight back to Mexico City, please walk to Jianguomen Station to take subway line 2 to Dongzhimen, where you can transfer to Airport Express to Beijing Capital Airport for your homeward flight. Alternatively, a taxi from hotel to the airport would cost CNY100 or so and the ride takes about 50 minutes.

As the non-stop flight from Beijing to Mexico City is not available, it is recommended that you take an early morning flight HU7609 0630/0850 of Hainan Airlines or MU5183 0740/0950 of China Eastern Airlines from Beijing to Shanghai Pudong Airport, and then connect flight AM99 1335/1903 from Shanghai to Mexico City. You will arrive home the same day after 18.5 hours' flight. According to the current flight information, flight AM99 is scheduled to fly on Tuesday, Thursday and Sunday. Other than Shanghai, you can also make transfer at Vancouver, Paris, Chicago, New York or Washington before flying back home.
Need detailed infomation on train, flight or bus/ metro schedule? Use the search tool below.
If the above route does not meet your requirements, you could DIY an itinerary by choosing daily guided tours, free days, hotels, trains and/or flights freely. Our estimated quotation can be a reference for your independent travel.

Similar Guided Itineraries:
Golden Triangle & Yangtze: 11 Days Small Group Beijing - Xian - Chongqing - Yangtze River Cruise - Yichang - Shanghai starting from $1799
Classic Cities & Yangtze: 12 Days Private Shanghai - Yichang - Yangtze River - Chongqing - Xian - Beijing starting from $1939