Customer Reviews
Private Itineraries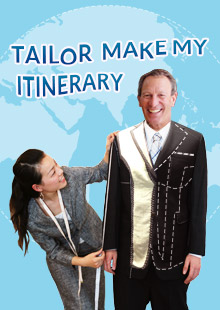 2020 Customer Reviews
Clients: Johanna Choy
Country: United States
Thank you for working so closing with me to plan our tour. My son and I had a wonderful time in China. Everything you scheduled for us went well and I would like to share our experience on your website.
Beijing Guide: John
John was very prompt in meeting us at the designated times at our hotel and very knowledgeable in the history and government of the places we visited and China as a whole. He had very good English, and was the best English-speaker of our four tour guides. John had a very good sense of humor and was easy to talk to. He gave us plenty of free time to do things on our own, which we liked and was very flexible with the day's touring schedule. He even gave us options at the beginning of each day for us to plan our own itinerary. The city of Beijing was a great place for us to start our vacation. The Great Wall was beautiful, but perhaps we should have arrived earlier to avoid the throngs of tourists who arrive in the late morning.
Xian Guide: Jacky
Xian is by far our favorite city of our vacation. The friendly and approachable people, the Chinese culture, and the hustle and bustle of everyday life in Xian is a fascinating eye-opener for any Westerner who has never been to Central Asia. Because it was so different from our home in New York City, we found every single aspect of life very interesting. Jacky was a superior tour guide for Xian and is the perfect person for the job. He is young, energetic, knowledgeable, forthcoming, and honest. Without needing us to ask many questions, Jacky often told us all he knew about where we were going, what we were seeing along the way, and other facts about Xian's life that we did not know. Jacky went out of his way to make sure we had a pleasant stay at the hotel. On the first night, our hotel room's lock did not work and he came to our room to help resolve the problem with the hotel staff even after 12am midnight. We did not ask him to come, but he did so on his own volition and we really appreciated it. Throughout the tour, Jacky was very attentive to our needs and gave us the best opportunity to experience Xian.
Chengdu Guide: Jack
The Leshan Giant Buddha was breathtaking, as it was difficult to imagine how the Buddhas were built so large, so long ago.
Shanghai
We did not hire a tour guide for Shanghai, but it was easy to get around with taxis. The hotel they booked for us was wonderful. It was in a very convenience location for shopping and sightseeing, and the hotel has the best food among all the hotels we had stayed in. Chinese language music CDs in Shanghai were very inexpensive and my son brought several.
Clients: Arlen &. Lindsay
Country: United States
It is a great joy to have Emily arrange our China holiday. The meals were all very good. We liked having some choices, for example at the lunch in the local condo in Xi'an (this was one of the highlights) and we liked that the guides explained the dishes so we could chose things we may not like to eat. Hotel breakfasts were outstanding. All restaurants were clean and service was very good. Amazed at how well the service people got so many people fed at the evening performance in Xi'an. Our favorite is the lunch prepared by local family in Xi'an. Our guide Roger in Xi'an was our favorite. His English was very good; he went out of his way to satisfy all our requests. He had so many facts on the area and attractions we visited, it was very hard to keep up with him. He was fun to talk with about how Chinese people lived and what they thought. We did not feel he was pushing any of the "souvenir shops" which we appreciated. Peter in Shanghai was also very good. Our flight was 2 hours late but he met us with a smile at the airport. His attitude was equally as good as Rogers. Our guides overwhelmed us with relevant knowledge. It's clear that they were trained to NOT just answer our questions, but to provide a rich background of the historical aspects of the cities. In fact, I now am planning to study areas of Chinese history that they brought to my attention. We really think that is a positive of this company and all the three guides did great in this area. Our last day in Shanghai, Peter gave us several options on what to do. It was a little hard choosing as we had no concept of the choices. Perhaps a more structured itinerary that day would have been better for us, although other people might like the open choices. This is not a "disappointment" at all, just an observation. The drivers were great, always where they were supposed to be. Vans were clean and we had plenty of room. The hotels exceeded our expectations. Frankly, I was worried about what level of quality we would have in the "Standard" category, but all were exceptional. Breakfasts were exceptional in terms of quantity and quality. Service and room hygiene great...equal to most Western hotels.
In three days with Roger, we felt we got to know each other very well. He is someone I could be friends with. He changed my perception/stereotype of Chinese people as being withdrawn and unhappy... Roger is an outgoing, happy, personable man and being a tour guide seems to be a great fit for his personality. He is a credit to his company. We would very definitely recommend this company to any of our friends who might be planning a trip to China in the future.
Clients: Marianne
Country: France
First, let me express how much I enjoyed my vacation. Their planning and thoughtfulness truly made my journey to China a memorable treasure that I will often remember fondly. I especially want to thank my tour consultants for their time, hard work, dedication, expertise and kindness, which made my journey both delightful and pleasurable. Secondly, let me assure that a very important reason for me choosing TravelChinaGuide was, because they offer small group tours. I personally don't like to travel with large groups. I think this is a very strong selling point, which sets their company apart from other tour business groups and I know many people will be willing to take advantage of small group option. Also, I believe the guides finds the small groups more to their preference because, they can establish a greater, stronger customer relationship. I enjoyed my tour very much and am looking forward to my next vacation.
Clients: Max Garrick
Country: United States
We have just returned from our journey. It was even more fantastic than we had hoped. Our thanks and appreciation. Our guides and drivers were excellent and dedicated. The vehicle was stout and strong. Hats off to our drivers. We have only praise about everything. All the accommodations were far, far better than we anticipated, and everyone was kind and gracious. No unfriendly people were ever encountered. China was fascinating, but chokingly polluted. The tour guides there and transportation were excellent, and I shall never forget a minute of the constant surprises and enchantment of the entirety of our adventure. Thank you. It was the "wow" of my life.
Clients: Helena Afonso
Country: Portugal
Very perfect organization on our tour! The days spent in Beijing were wonderful and even an extra dinner was given to us to compensate the disappoitment time of arrival in China. We loved the capital and I was fascinated with the extraordinary great wall scenery full of people from all over the world! The food we ate after the visit, I remember a sichuanese speciality, very hot but delicious...... In Xian Celine was awaiting for us at airport. The food was first class in every restaurant, the massage center she indicated to us was also excellent and recovered our dead feet...... after so much walking around the places. The night-show with the traditional ancient chinese dances were superb, we enjoyed every minute. The last 2 days in Shanghai were also fascinating, I loved this modern city also. I feel like mention as well the perfect hotels everywhere, not only in the capitals but in Xian and Shanghai. Also the clean public surfaces, in airports, hotels, banks, shopping centers etc...were outstanding. I must copngratulate Chinese people for the extraordinary service they are offering to tourists and foreigners, I will dare to stay, this country is a poential NO.1 tourist place in the future. Many many thanks for everything you have given to me!
Clients: Bill Kerwin
Country: USA
We would recommend TravelChina to others. Having you take care of all the planning details allowed us to focus on just having fun and enjoy China's beauty.
All of our worries disappeared the moment Kitty, our Beijing guide, greeted us at the airport. For the following three days, she and our driver showed us the many fascinating sites around Beijing including the Forbidden City, the Great Wall, the Temple of Heaven, and the Summer Palace.
We then flew to Xian, and at the last day in Xian, we choose to travel to Huashan. The rock formations and canyons were incredible. The views were somewhat similar to Yosemite National Park in the United States. It's hard to describe in words the true beauty of the Mountain. The trails and bridges were also amazing. We must have climbed 10,000 stairs. All of the trails were made of stone. The individuals who built the trails were artist making them look like logs to match the natural environment. Unfortunately, there was a slight mix up at Guilin airport, when our guide, Jenny, accidentally picked up another couple instead of us. However another guide helped us out and we got to our hotel that evening safely. The following morning everything was cleared up and we were on our way. Jenny was very knowledgeable and her English was excellent. We enjoyed her company very much. The hotel was less desirable than the other hotels that we stayed at but, the incredible scenery definitely made up for it. Thank you so much for all of your help. We had an unforgettable holiday.
Clients: Margaret
Country: UK
This organization was helpful to the very end of our trip. We were satisfied with all our guides. We also were very pleased with their selection of the hotels for our stay in China. The facilities were excellent and the management of the hotels were extremely helpful. They also had done a very good service in providing for our restaurant meals during our tours. The food was very good and we enjoyed the atmosphere of the places they had selected. We have traveled to a great many countries of the world and we have never received better assistance! Thanks for all of the help..
Clients: Manuel Gutierrez
Thanks to all for a memorable tour. All of our guides were outstanding. They were well informed, their language skills were very good and they always performed in a professional manner. My group and I agree that Barry (in Beijing) and Carol (in Xi'an) demonstrated an energetic and enthusiastic ability to energize our group's interest in the subject matter. They command strong interpersonal and verbal communications skills and an ability to carry out their work obligations with vigor and resolve. They believe in giving an honest day's work for an honest day's pay. They are certainly an asset to their work group and to your company.
All drivers performed (under severe conditions) in a safe and professional manner. Their driving experience, without question, was a credit to our safety. The drivers kept the cars clean and provided courteous service at all times. For example, our drop-off or pick-up points were also performed in a safe and courteous manner. Our personal property was always guarded and safe in their care.
Your meal arrangements were most impressive and excellent. I want to compliment you on your presentation of China's regional cuisines. If I was to recommend one meal it would be either the Peking duck in Beijing or the Dumpling banquet in Xi'an. My only regret is that I will not easily find that type of food in New Mexico. Thank you for your generosity. My mother used to say, "when guests come, we always set our table with our best dishes." So it is with your tour company.
I found your itinerary and agenda to be a well balanced program consisting of: Chinese culture, Environment, Art, Architecture, Visual arts, Performing arts Chinese cuisine and of course Chinese History, both ancient and modern. The key word is "balanced". I think the visitor, whatever their nationality, will fine your program satisfying and rewarding if "balance" is preserved.
One additional word on "time distribution". You should be vigilant against rushing the Tour to keep a time table. Many years ago I booked a tour in Spain where the guide continually rushed us to keep the timetable. I have traveled to Spain at least once a year since then but, not with that tour company. The size of the group should determine the agenda and thus the timetable. You may have to cut back on the number of sights to be visited but never rush! For my tour group, consisting of five people, this was never a problem. We always had plenty of time at the sight and we were never rushed. This is why I prefer a small group tour.
I believe your company's water policy was adhered to during my tour. The drivers distributed water during the day. Water shortage was never a problem in our group.
Thanks again for offering me such a memorable trip.
Clients: Dr. Kalman
Country: US
I just returned from my China trip 3 days ago. After I finished the tour, I went to Putuoshan on my own. I had a marvelous time in Putuoshan. It is fascinating, the food is good and the trip is not very difficult. Also, the hotels are quite nice. I had 3 guides on my trip. My guide in Shanghai was a delightful young lady named Si-Si ( not her real name, but the name I called her). She was extremely knowledgable and very friendly. The lunch was just adequate. Dinner was very good and in fine restaurants. There was only one problem- I had to eat alone. The hotel in Xian was fine. The rooms were beautiful, large and the view from my room -1501 was pectacular! The location at Renaissance Shanghai was so convenient! By the way, I ran into a neighbor and his family from Glendale, California while in Yu Yuan Garden: it truly is a small world!
Clients: Jones
Country: Australia
We would highly recommend TCG Tours to any of our friends and will definitely use TCG Tours when we return to China. We were treated with complete honesty and fairness in all dealings, and they made our trip into China very easy. In fact, we waited until the last minute to book the tour due to the failing health of my wife's 99 year old Father which resulted in us being unable to get the economy air fare to Beijing. Instead we had to buy the business class fare which was more money. Then, a few days later and to our surprise, TCG emailed us to let us know that 2 economy seats had come available and we could save money by switching from business class to economy! How many times will a tour operator do something like that? TCG showed their integrity by allowing us to switch. However, we did NOT switch and were glad we paid more as the business class seats on the right side of the airplane gave us a better view. It is scary to go into a foreign country with only some electronic tickets and the promise that a travel agency will have hotel rooms, guides, tours, cars, airline tickets, etc., all waiting for you. TCG did just that. The scariest moment was when we arrived in Beijing with 25,000 Chinese crowding all the walkways and exits and trying to find our guide. However, as soon as we walked out of the station there was our guide ready to take our hand, another seamless transition thanks to TCG. We give TCG our highest recommendation.