Customer Reviews
Private Itineraries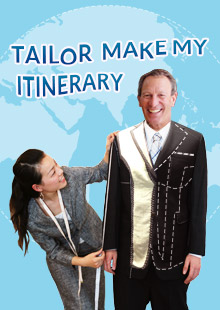 2020 Customer Reviews
Clients: Ling Ling
Country: Singapore
Here are the feedback on our journey.
On our itinerary, we have requested not to have meals arranged so that we could have more flexibility with our dining choices. All the guides have given us good suggestions on where to eat and what local delicacies to try. We are happy with all the meals we had. All the guides were very professional and obliging. All the guides could converse in English well. The drivers were very experienced and most diligent in maintaining the cleanliness of their cars. Thanks to them, we were able to ride safely and comfortably throughout the journey. (1)Tracy at Xi'an. On our 2nd day in Xi'an, one of our friends could not continue his trip and had to return home immediately due to an urgent family matter. Our tour guide, Tracy, was exceedingly helpful in arranging for my friend to return home at the earliest possible time. Thanks to her initiatives and coordination, my friend flew home on the same evening. At the same time, the rest of us could continue our journey without much disruptions. (2) Linda at Beijing. Linda was always thoughtful and attentive to our needs throughout the 3 days we spent together. She surprised us by arranging a cake for my friend, Louise, as soon as she knew it was her birtrhday on 22 Dec. We were very touched by her kind gesture (and that of the agency) and it meant so much to us that our dear friend's birthday was celebrated as a "grand affair" even when we are so far away from home. (3) Li Xia at Shanghai. Li Xia was absolutely fun to be with. She was more like a friend than a tour guide to us, not only briefing us on the background and history of places we visit but also sharing her experience growing up in Shanghai and working as a tour guide. Whenever the bus ride was long, she would keep us occupied by pointing out interesting sites along the way so that we would not feel bored. Her organisational skills were excellent as she could accomodate our various requests most of the time and she was especially considerate with our photography requirements, finding us the most scenic spots for the best photographs. Thank you very much to you and your colleagues for the wonderful arrangements.
Clients: Hugh C. Daly
Country: US
I am writing this to praise and thank all of the people of TravelGuideChina who were so helpful to my daughter and to me during our recent trip to China and my hospitalization with a severe and sudden illness. Our tour guide, Candy and our driver, Colin during our tour of Beijing and my hospitalization did their best to help me. They became our friends just a few minutes after they welcomed us upon our arrival at the Beijing Airport. They really wanted us to enjoy our visit to Beijing and they certainly succeeded. It was like visiting the historic places of the city with young friends who wanted to be with us and to be helpful in every way. I am 88 years old and Candy took very special care of me as we walked through the historic sites. She said I reminded her of her grandfather and I thought of her as a granddaughter who really cared about me. We enjoyed telling both Candy and Colin of our life in the United States and of learning something of their lives in China. When I became seriously ill in my hotel room just before living for Xian, Colin came to my room and provided necessary assistance to my daughter, who was seeking to have me transported to the hospital. We were both very grateful for his help at a critical time. Throughout my hospital stay both Candy and Colin remained in close touch with my daughter and were very helpful to her. Candy even stayed in the city so that she could be with my daughter in the evening when she otherwise would be alone. Both Candy and Colin were friends when she needed some assistance. We hope that we can remain in touch with these two young people and I would be very pleased if they could visit my home, that is a short distance from Washington, DC. Candy also assisted my daughter in making arrangement for her continue stay at the hotel while I was hospitalized and she was there to help in any way when we were leaving the hotel for the airport. Colin drove us to the airport and when we arrived at the very busy terminal we were immediately greeted by one of your people who had a porter waiting to take us to the proper area, that avoided some very long lines. That was an impressive experience for both my daughter and me. You were so helpful and efficient. I highly recommend your company.
Clients: George & Kathleen B.
Country: Canada
Full evaluation follows.
1. Maggie (tour guide) in Beijing was better than excellent. She was knowledgeable about nearly every topic and her attitude was a perfect 10. We loved her and would like to bring her to Canada to work at our business. She is everything you could hope for in a tour guide (or any other job). She always looked out for us whether we were in the car, in a crowd, at a site, or dining. Great English. Attractive and fashionably dressed. Always on time. Great attitude and always positive. She is simply the best. The car and driver were also very good. In Tibet we were very happy with Bamba as he was almost as good as Maggie although that would be next to impossible. Bamba would be given a 9.9 rating as we reserve a perfect 10 for Maggie. Bamba was also everything we could hope for in a guide. He had excellent knowledge of every topic, was always courteous and helpful, and made us feel very safe and at home in Lhasa. Our tour of the Potala Palace was fantastic and he did an exceptional job of pacing us on the many stairs so we were never winded, and he worked us through the crowds so we always felt like we had time to see everything. The hotel was excellent. The hallways are full of museum pieces, the lobby has beautiful works of art and locals playing musical instruments, the staff is first class, the room was very good although they need to put in 100 watt bulbs instead of 40 watt bulbs so you could actually see at night, and the food was very good. We really liked the hotel (especially the great attitude of the staff) and would highly recommend it although it is not as close to the city center as other hotels. The first night both my wife and I got ill from the altitude change and used the hotel Dr. to help us. He did a fine job of assisting us and personally brought us an oxygen tank to our room and helped us get it hooked up. We believe it did help us get over our severe headaches and by the next morning we were nearly back to normal although we did continue to have a slight headache the 2nd day.
2. Meals were fine although the one in Xi'an was just OK. The meals with Sophie in Shanghai were very good, but it may have been because we enjoyed being with Sophie which made the food seem better;
3. Cars: Cars in Beijing & Shanghai were very good; car in Tibet was OK but a little worn out; car in Xi'an made us feel unsafe as it appeared the shock absorbers were worn out and we were a little concerned for our safety and we would not use that car again.
Clients: John T Kearns & Ms. Jane G Kearns
Country: US
We were quite satisfied with our China tour from Travel China Guide. At the beginning of the tour in Chongqing, our guide, whose name we have forgotten, met us at the airport, and did a very nice job of showing us around to Ciqikou. He even accommodated our request by taking us to the zoo on the monorail. Chongqing is an impressive city, and the pandas in the zoo are also wonderful.
On our boat, our accommodations were comfortable, and the staff worked hard to make our trip a success. Meals on the boat seemed carefully planned. We had many dishes to choose from, and all of them were appetizing and tasty. Each buffet was beautifully decorated by a wonderfully talented chef; a treat to see as well as to eat. We were delighted to have so much opportunity to perfect our skills at using chopsticks. We also liked the entertainment provided by the talented young people working on the boat. And we enjoyed the demonstrations and displays of arts and crafts. The guide on the boat, Helen, who addressed the English-speaking passengers, does a really terrific job. She is knowledgeable about the sights to be seen from the boat, and about the history and customs of people living along the river. Helen is energetic, well organized, and extremely cheerful. She seems to enjoy her job, and she makes her audience enjoy their tour. Her contribution to everyone's enjoyment of the trip down the Yangtze is enormous.
The excursions to Shibaozhai and to take the pea pod boats on the Shennong Stream added a lot to our trip. Our guides for these trips were quite good, but the sights that we saw were so impressive that they overshadowed what the guides could tell us.
In Yichang, we enjoyed our guide Steven (we think that was his name). He was cheerful and funny, and kept us entertained. We very much appreciated Steven's help in getting us checked in at the airport. He went out of his way to be helpful. This website will be helpful if you look for a China tour.
Clients: SOPHIE TANG
Country: Australia
Had a marvelous time in China and enjoyed our time in Lhasa mostly as we have dreamed of being there for a long time. At Lhasa, we had the chance to meet Mr. LABA CIREN and Mr. NYI MA. Mr. Laba Ciren drove us safely to everywhere, even when it was already late, always with his friendly smile and his care. His car is always clean and neat! It is Mr. NYI MA, our Tibetan tour guide, who is the highlight of our trip, not any palace nor grand temple. Mr. NYI MA is the most patient and caring tour guide I've ever known. He never rushed us, knowing that we had trouble of catching our breath due to the high altitude sickness. He took great care to every single meal of us, bringing food to our room (we were too sick to go down for breakfast!), helping us reminding restaurants that we can NOT eat chicken nor egg! (Thanks to TravelChina's restaurant selection, we can enjoy many different cuisine, all are amazing, from Sichuan, Nepalese, to Chinese and Tibetan!!!) Most of all, Mr. NYI MA is the most clever and sage person that we've ever had the chance to talk with. His knowledge in Buddhism and Tibetan culture is vast and deep. His years of staying and studying at monastery made him a living encyclopedia of Tibetan culture. And he never lost his patience to us who were always late, sick, slow and forgetful (high altitude sickness)! His calmness and his great care to guests surely touched us. We learned a lot from Mr. NYI MA, and he just humbly said that it was TIBETAN HOSPITALITY. We would like to send our most sincere thanks to the two gentlemen Mr. Laba Ciren and Mr. Nyi Ma. Without their generous help, our dream China trip will not ever come true! We'll strongly recommend TravelChina to all traveler fellows who desire to take their dream trip to the mysterious and amazing plateau of Tibet.
Clients: Curtis Key
Country: USA
I've just return from all of my travels. I want to say first that my China tour & Yangtze River Cruise was absolutely spectacular! The transportation arrangements that tcg made along with the guides that met me were all simply perfect. John, who met me upon my arrival was particularly helpful, as there was a slight problem with my passport number not matching the one on the e-ticket. After a few phone calls, though, he was able to resolve this and get me my boarding pass for the flight. Once I arrived in Chongqing a guide once again met me promptly after I received my bags. He was very pleasant and was very informative about the city of Chongqing and its surroundings. He made my arrival on the boat (at 1am in the morning!) very easy. The cruise along the Yangtze was amazing! Each morning I would be awoken by pleasant music and would then go and enjoy an enticing spread of both Western and Chinese breakfast foods. My most memorable food was the Sichuan pickles that they served along side the rice congee each morning. As I love hot and spicy food, this was quite enjoyable. The excursion up the Shennong Stream was delightful. Our boat's guide, Shirley, was adorable! She was both very informative, always with a smile and made our trip fun and exciting. The same goes for the guide at Shuangguishan, Tasha (?). She told us all about the history in a very interesting way. Upon disembarking in Yichang, my guide Grace, was there to meet me as soon as I was off of the boat. If I were to ever return to Yichang, I would love to have Grace as a guide again. Grace is a very interesting lady. She was also very knowledgeable about the history and I learned a lot from the tour she gave. Overall, my trip is one that I will never forget. The scenery of the Yangtze, the gracious and friendly people and the exquisite cuisine are all calling me to return as soon as possible.