Terracotta Army
The Terracotta Army, aka Terracotta Warriors and Horses, is a super large collection of terra cotta sculptures reproducing the mega imperial guard troops of Emperor Qin Shi Huang (259 - 210BC), the first emperor of the first unified dynasty of Imperial China.

Being the most significant archeological excavations of the 20th century and a World Heritage Site, the Terracotta Army Museum is no doubt a must-see for every visitor to Xian. Its location in Lintong, 40 kilometers (25 miles) northeast of downtown Xian, is about one hour's drive, and can be reached by bus, taxi, or chartered car.

How to Tour the Terracotta Army
Originally the ancient funerary project for Emperor Qin Shi Huang, the Terracotta Army is now a live museum, officially named Emperor Qinshihuang's Mausoleum Site Museum, showing the life stories of the emperor and the once powerful Qin Empire (221 – 207BC), mainly in the following exhibitions:

1. Museum of Qin Terracotta Warriors and Horses
containing three major pits – Pit 1, Pit 2, Pit 3,
and the Bronze Chariots and Horses Exhibition Hall.
Insider's Suggestion:



MUST-SEE, 2 to 4 hours

2. Qin Shi Huang's Mausoleum Site Park (Lishan Garden)
centering on the burial mound of Qin Shi Huang Mausoleum, with several Accessory Pits around, including:

Pit K0006 -Civil Official Figures

Pit K0007 – Bronze Aquatic Birds (not open yet)

Pit K9801 - Stone Armor and Helmets (not open yet)

Pit K9901 - Acrobatics Figures
Insider's Suggestion:

extra 2 hours, for slow paced travelers, indepth visit

Discovery in 1974
A group of peasants uncovered some pottery while digging for a well nearby the royal tomb in 1974. It caught the attention of archeologists immediately. They came to Xian in droves to study and extend the digs. They had established beyond doubt that these artifacts were associated with the Qin Dynasty.


Museum of Qin Terracotta Warriors and Horses
The State Council authorized to build a museum on site in 1975. Life size terracotta figures of warriors and horses arranged in battle formations are the star features at the museum. They are replicas of what the imperial guard should look like in those days of pomp and vigor.

The museum covers an area of 16,300 square meters, divided into three sections: No. 1 Pit, No. 2 Pit, and No. 3 Pit respectively. They were tagged in the order of their discoveries. No. 1 Pit is the largest, first opened to the public on China's National Day - Oct. 1st, 1979. There are columns of soldiers at the front, followed by war chariots at the back.

No. 2 Pit, found in 1976, is 20 meters northeast of No. 1 Pit. It contained over a thousand warriors and 90 chariots of wood. It was unveiled to the public in 1994. Archeologists came upon No. 3 Pit also in 1976, 25 meters northwest of No. 1 Pit. It looked like to be the command center of the armed forces. It went on display in 1989, with 68 warriors, a war chariot and four horses.

Altogether over 7,000 pottery soldiers, horses, chariots, and even weapons have been unearthed from these pits. Most of them have been restored to their former grandeur.
| | |
| --- | --- |
| Terra cotta army stand in battle array. | Our Tour Group to Terra-cotta Warriors |
Terracotta Army Facts
History & Chronicle
FAQ


Types of Terracotta Warriors
Infantry Warriors
Cavalry Warriors
Chariot Warriors
Kneeling Archers
Standing Archers
Terracotta Horses

Faces of Terracotta Warriors
Green-Faced Terracotta Warrior
Moustache of Terracotta Warriors
Hairstyle and Headgear of Terracotta Warriors
What Are the Terracotta Warriors Wearing?
True Colors of Terracotta Warriors
Exquisite Weaponry of Terra Cotta Army
Military Formation of Terracotta Army
Who Built the Terracotta Warriors
How the Terracotta Warriors were Made
Stories of Terracotta Warriors
The Third Excavation of Pit 1

How to get to Terracotta Warriors from Xian / Beijing / Shanghai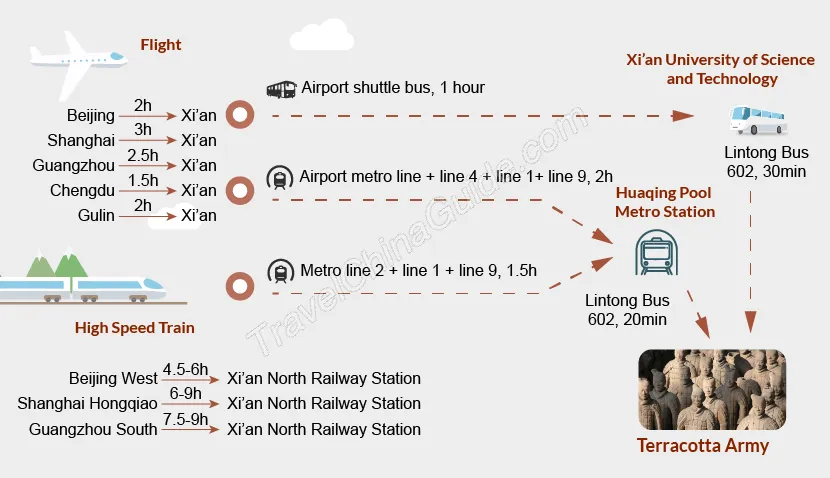 How to get to Terracotta Warriors from Xian Xianyang International Airport
Visitors can take Airport Shuttle Line 2 to Xian Railway Station. The bus departs every 15 minutes from 6:30 to 2:30 and the ticket costs CNY 25. At the east square of the railway station, take tourism bus no.5 (306), or 914, and get off at the Binmayong.

Visitors can also hire a taxi from the airport. Remember to take the legitimate green colored taxies and the fee is about CNY 200. To avoid being cheated, please make it clear to the taxi driver that you only go to the Museum of Qin Terracotta Warriors and Horses and refuse to go to other sites or souvenir shops.


How to get to Terracotta Army from Xian Railway Station or downtown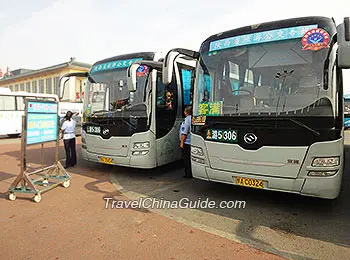 Tourism Bus No.5 (306) at Railway Station
Go to the the east square of the railway station to take tourism bus no.5 (306). It takes one hour and the fare is CNY7 per person.

One can also take bus 307, which departs from Tangchengqiang Jiuqu Hub and passes Tang Paradise, Big Wild Goose Pagoda, Banpo Museum Bus Hub, and Huaqing Hot Spring. The whole journey takes 2.5 hours and costs CNY8 per person.

How to get to Terracotta Army from Xian North Railway Station
There are free shuttle buses between North Railway Station and the museum. They are scheduled from the railway station from 8:00 to 16:00 and return buses from the museum run from 10:30 to 19:30. The whole journey takes about one hour.
Note: To take the free shuttle bus, you will get a boarding pass by showing your train ticket on the arrival day and the entrance ticket to any attraction of Lintong. Upon arrival at the North Railway Station, you can buy the tickets of Lintong attractions at the Tourist Service Center on the underground.

From Lintong District:
Take bus 914/ 3-18 to Binmayong.

Xian Bus / Metro Search

Inside Traffic:
30 free shuttle buses are traveling between the Museum of Qin Terracotta Warriors and Horses and the Qin Shi Huang Mausoleum for tourists' convenience. One can take them by showing the entrance ticket of the museum.
Operating hours: 8:30-18:30
Admission Fee:

March to November: CNY150
December to next February: CNY120
Notes:
1. The fare is for the through ticket of Emperor Qinshihuang's Mausoleum Site Museum, including the Museum of Qin Terracotta Warriors and Horses, Lishan Garden and shuttle buses inside the scenic area.
2. All visitors need to show ID certificates like passports when booking tickets and entering the museum.

Guide Services:
The exhibits are well explained in both Chinese and English. Visitors can also choose the guide service for further information. It costs around CNY 100 to hire a guide.
Opening Hours:
March 16 to November 15: 8:30 - 18:00, ticketing stops at 17:00;
November 16 to March 15: 8:30 - 17:30, ticketing stops at 16:30.
Time for a Visit:
3 hours
Tip: The museum has many group visitors in the morning. Independent travelers may visit in the early afternoon to avoid the crowd. In this case, please note that the last bus running from the museum to downtown Xian departs at 19:00.

Note: As of Aug. 1, 2017, the circular-screen theater in the museum will be closed for renovation. When to reopen remains unknown.
Print


Travel with Us:

3-Day Private Xian Tour
from $219

1-Day Terracotta Warrior Tours
from $49

8-Day Beijing/ Xian/ Shanghai Small Group Tour
from $899

More
Xian Tours