Terracotta Army
The Terracotta Army in Xian, aka Terracotta Warriors and Horses, is a super large collection of life-size terra cotta sculptures in battle formations, reproducing the mega imperial guard troops of Emperor Qin Shi Huang (259 - 210BC), the first emperor of the first unified dynasty of Imperial China.
Being the most significant archeological excavations of the 20th century and a UNESCO World Heritage Site, the Terracotta Army is no doubt a must-see for every visitor to Xian.
Originally the ancient funerary project for Emperor Qin Shi Huang, it is now a live museum, officially named
Emperor Qinshihuang's Mausoleum Site Museum
, showing the life stories of the emperor and the once powerful
Qin Empire
(221 – 207BC) in those days of pomp and vigor.
Terracotta Army Facts

10 Amazing Facts You didn't Know

History – over 2,200 years

Chronicle – 246 BC to today

Discovery – by local famers, in 1974

Who Built the Terracotta Warriors?

How the Terracotta Warriors were Made

World Leaders & Celebrities Who Have Visited the Terracotta Army

Overseas Exhibitions
Terracotta Army Visitor Guide

3-Day Private Xian Tour
from $219

Xian 1-Day Terracotta Warrior Tours
from $49, 6 options

8-Day Beijing / Xian / Shanghai Small Group Tour
from $899

How to Tour the Terracotta Army
– Day tour plan for independent travelers
What to See

1. Museum of Qin Terracotta Warriors and Horses

Insider's Suggestion:



MUST-SEE, 2 to 4 hours

It contains 3 major pits tagged in the order of their discoveries and the Bronze Chariots and Horses Exhibition Hall.

Pit 1: the largest; found in 1974 and opened to the public on Oct. 1st, 1979. There is the vanguard in three rows followed by a massive battle array of infantry and war chariots.

Pit 2: found in 1976; 20 meters northeast of No. 1 Pit. It is the most spectacular one for the variety of divisions including infantry, crossbow team, cavalry, and 80 chariots.

Pit 3: found in 1976; 25 meters northwest of No. 1 Pit. It was the command post of the armed forces, with 68 warriors and a chariot led by four horses.

2. Qin Shi Huang's Mausoleum Site Park (Lishan Garden)

Insider's Suggestion:

extra 2 hours, for slow paced travelers, in-depth visit
centering on the burial mound of Qin Shi Huang Mausoleum, with several Accessory Pits around, including:

Pit K0006 – Civil Official Figures

Pit K0007 – Bronze Aquatic Birds (not open yet)

Pit K9801 – Stone Armor and Helmets (not open yet)

Pit K9901 – Acrobatics Figures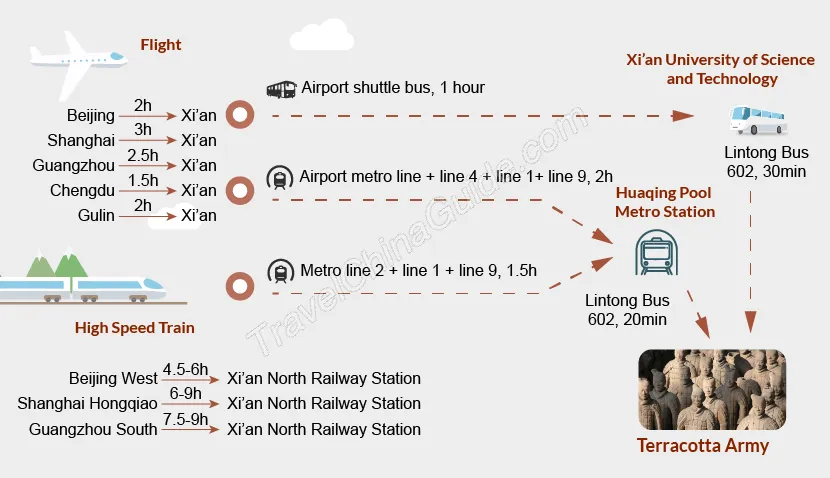 1. The tourist bus line 5 (306) runs from the east square of Xian Railway Station to Terracotta Warriors Museum in one hour, costing CNY7 per person.
2. Bus 307 runs from Tang City Wall Zone 9 Bus Station to the museum in 2.5 hours and costs CNY8 per person, passing by Tang Paradise, Big Wild Goose Pagoda, Banpo Museum Bus Hub, and Huaqing Palace.
3. Free shuttle buses run between North Railway Station and the museum.
4. A taxi from downtown Xian to the museum takes 40-50 minutes and costs about CNY 150.
Print

Ticket Price

March to November: CNY150
December to February: CNY120
Notes:
1. The fare is for the through ticket of Emperor Qinshihuang's Mausoleum Site Museum, including the Museum of Qin Terracotta Warriors and Horses, Qin Shi Huang's Mausoleum Site Park (Lishan Garden), and the shuttle bus between the two spots available from 8:30 to 18:30.
2. Visitors need to show identity cards or passports when buying tickets and entering the museum.

Audio Guide
Rent: CNY 40 per person; Deposit: CNY 100
Opening Hours
March 16 to November 15: 8:30 - 18:00, ticketing stops at 17:00;
November 16 to March 15: 8:30 - 17:30, ticketing stops at 16:30.
Time for a Visit
3 hours

As of Aug. 1, 2017, the circular-screen theater in the museum is closed for renovation. The reopening time remains unknown.
Further Reading
Upon ascending the throne at the age of 13, Emperor Qin Shi Huang had begun to prepare for his mausoleum. Taking 11 years to finish, the mausoleum is speculated to house many treasures and sacrificial objects. The most amazing masterpiece should be the Terracotta Army guarding the emperor in his life after death.


Military Formation

Weaponry
Features of Statues