Chongqing Metro Maps

At present, Chongqing rail transit system has 6 main lines. Line 1, 5, 6 and 10 (including International Expo Line) are metro lines, while Line 2 and 3 are light rails. These metro lines connect local nine main urban districts with important transportation hubs such as railway stations and airport.

Lines in Operation:

Line 1
: Xiaoshizi - Jiandingpo

Line 2
: Jiaochangkou - Yudong

Line 3
: Main Line: Yudong - Jiangbei Airport; Branch Line: Bijin - Jurenba

Line 5
: Dalongshan - Garden Expo Center

Line 6
: Chayuan - Yuelai/Beibei

Line 10
: Liyuchi - Wangjiazhuang
Lines to be Opened:

Line 4
: Min'an Avenue - Tangjiatuo

Line 9
: Huashigou - Gaotanyan

Circle Line
: West Railway Station - Shapingba - West Railway Station

Line 7: Shuangfu - Zhuangyuanbei

Line 8: Jieshi - Renmincun

Line 11: Tushan - Gongyeyuanqu

Line 12: Jinfengnan - Lujiao South

Line 13: Huxi - Yuelia

Line 14: Shuitu - Yulin

Line 15: Shuangbei - Fangyuanba

Line 16: Xiangjiagang - Fuxing

Line 17: Jiangjin - Xiyong
Planning Map of Chongqing Rail Transit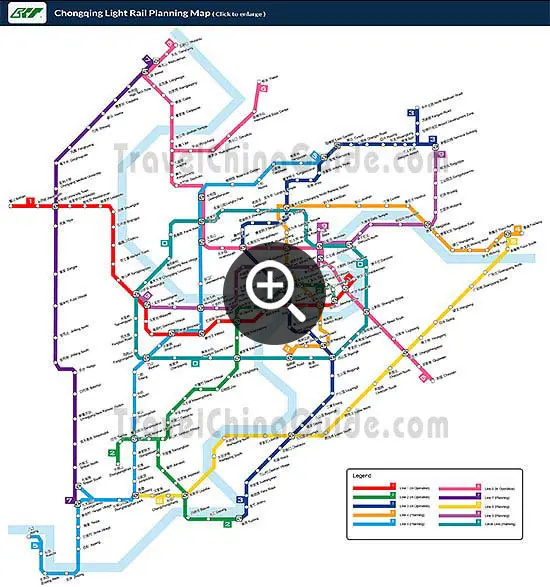 Back: Chongqing Maps
-
- Last modified on Oct. 21, 2019 -
Questions & Answers on Chongqing Metro Maps
Asked by Vivian from MALAYSIA | Oct. 19, 2019 17:11

Reply
I will be arriving at Chongqing west railway station on Nov 7th & staying at CBD area.
How do I get to the nearest metro station from West railway station ? By bus or taxi ? How much does is the ride ? Thanks.
Answers (1)
Answered by Claire from UNITED KINGDOM | Oct. 21, 2019 20:07

0

0

Reply
The nearest one is Library metro station and is 4km away from the railway station. So you need to take taxi with around CNY15.
Asked by Kee | Jul. 01, 2019 02:54

Reply
How can I get to 重庆市渝中区时代天街D馆?
This is the first time I travel to Chong Qing, which subway line should I take to get to Yuzhong Qu, Time Square D Hall? Can I buy the tickets on the spots (at the station)? Or I have to buy etickets? Thank you!
Answers (1)
Answered by Drew from USA | Jul. 01, 2019 19:15

0

0

Reply
The nearby subway stations are Yuanjiagang Station(Line 2) and Shiyou Rd Station(Line 1). You can buy the ticket on the spot.
Asked by FREDERICKLIM | Mar. 10, 2019 22:47

Reply
Hi, my flight will arrive Chongqing Int Airport just past Mid-Night.
What time is the last Metro Train to City Center for Metro Line 3 and Line 1 ??
As per CQ Subway Map 2019, from the Airport I need to take Metro Line 3 and switch to Metro Line 1 at LIANGLUKOU in order to proceed to the last station of Metro Line 1, XIAUSHENZI, am I right ??
Please guide me as this is my first trip to CQ and my hotel is on Bayi Road, Yuzhong District. Thank you.
Answers (4)
Answered by Kaylee from UNITED KINGDOM | Mar. 14, 2019 23:26

0

0

Reply
Yes, you can. The last schedule of metro line 3 is 22:30 and metro line 1 is 23:20.
Answered by FREDERICKLIM | Mar. 15, 2019 20:50

0

0

Reply
Hi Kaylee, thanks for your guide and feedback, However, the last schedule for Metro Line 3 from Jiangbei Airport as you mentioned leaves Chongqing Airport is at 22:30 (10:30pm) but my flight arrives at 00:45 (00:45am). So, I have to book an Airport Taxi to get to downtown city.
Answered by Kaylee | Mar. 17, 2019 23:36

0

0

Reply
Yes, for your convenient, you are suggested to take a taxi at that time.
Generally speaking, from the airport to Bayi Road, the cab fare is CNY80 to 90 at that time.
Answered by FREDERICKLIM | Mar. 18, 2019 20:43

0

0

Reply
Hi Kaylee, that's great, thanks for your valuable feedback. Appreciate it. I guess I can book from the Airport Taxi booth within the Terminal, rather than the private car drivers who are lobbying outside the terminal.
Asked by Trang from VIỆT NAM | Dec. 15, 2018 17:33

Reply
Use metro system to explore Chongqing tourism spots
Hi, I am planning visit the city in 5 days this New year eve. As I got terrible problem with carsick, I wish to explore the city using train, metro, boat (no bus, no taxi). I am thus looking for info on tourist spot destinations of metro, train in the city region. Desperately hope for help. Thanks indeed.
Trang, from Vietnam
Answers (1)
Answered by Zachary from GERMANY | Dec. 17, 2018 19:53

0

0

Reply
You are advised to tour around Ci Qi Kou, Chaotianmen Dock, Hongya Cave and Jiefangbei CBD. These scenic areas can be easily accessed by public transportation, such as public bus and metro.
Have a nice journey!