Beijing Attractions
Beijing, the heart of China, is always the first choice of travelers who are willing to know a time-honored and developed city of China. It has been the political, economic and cultural center of China for over 800 years from the Yuan Dynasty. The numerous royal buildings with long history endow Beijing with incomparable charm, not only the 'Nation's Best' but also the 'World's Best'. On the other hand, as the host city of the 2008 Olympic Games, this oriental ancient city presented her best fashion fascination to the world.
Top Attractions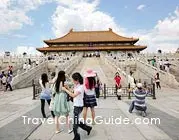 Forbidden City
The magnificent Forbidden City is the largest and the best-preserved imperial palace complex in the world. It has 9,999 rooms in flourishing period with just a single room short of the number that ancient Chinese belief represents 'Divine Perfection' and surrounded by a moat six meters deep and ten-meter high wall. For five centuries, this palace functioned as the administrative center of the country.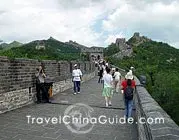 Great Wall in Beijing
The
Great Wall of China
is one of the 'Eight Wonders of the World' and is enlisted in the World Heritage Directory. This immense wall was built to keep out invaders as well as to retain the inhabitants. It spans five provinces from Shanhaiguan Pass in the east to Jiayuguan Pass in the west, looking like a gigantic dragon across deserts, grasslands and mountains. In the downtown area, it is possible to climb
Badaling Great Wall
.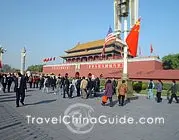 Tiananmen Square
The solemn and respectful Tiananmen Square is the largest central city square in the world, which serves not only the city's symbol but also the whole of China. This immense courtyard is surrounded by a variety of significant edifices such as the
Tiananmen Tower
,
Great Hall of the People
,
Memorial Hall of Chairman Mao
,
Monument to the People's Heroes
and
National Museum
.
Imperial Gardens & Mausoleums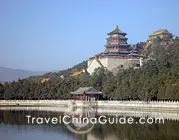 It is the capital city of several Dynasties. Therefore, besides the spectacular imperial palaces, it also possesses the most luxurious royal gardens—the well-preserved Summer Palace with an area of 727 acres, the elegant Beihai Park and the destroyed Old Summer Palace. On the other hand, those Emperors also constructed spectacular mausoleums for themselves. The Ming Tombs of the 13 emperors should be the most excellent necropolis.
Temples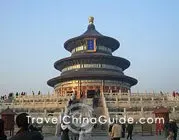 Due to religion was always related with the supreme imperial power, it at one time served as the focus of religious life with lots of beautiful temples. The Temple of Heaven, where the Emperors paid homage to the glory of heaven, is the largest group of structures in the country dedicated to rituals. To be opposite, the Altar of Earth was used to worship the God of the Earth. The Great Bell Temple, where the Emperor prayed for rainfall in the Qing Dynasty.
Historical Sites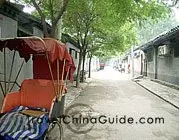 If you would like to experience the local life and have a different vacation in Beijing, there is a great deal of Hutongs and Courtyards distributed for your choice. The Prince Gong's Mansion should be the most magnificent courtyard, which was the residence of an official and then a prince. Other famous historical sites include the Bell and Drum Towers, Liulichang Cultural Street (Colored Glaze Factory Culture Street) for people interested in Chinese calligraphy, painting or other artwork, the Lugou Bridge carved with marvelous stone lions.
Modern Scenic Spots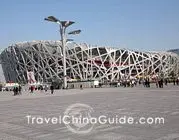 Thanks for the 29th Summer Olympics, the city has been well-known for travelers all over the world. This hospitable metropolis has been mixed with lots of modern elements, which is also a new part for its mysterious orient civilization. Your Beijing vacation should not miss the representative buildings displaying this international metropolis, such as the National Stadium and the National Aquatics Center for 2008 Olympics.
Natural Beauties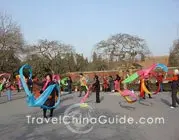 For a peaceful and interesting stroll, please visit the beautiful parks. Located at the back of the Forbidden City, the Jingshan Park is an ideal place for an overview of the city, which was also an imperial garden in ancient time. The Fragrant Hills Park has the most beautiful red maple leaves in every autumn. The Taoranting Park is a wonderful workmanship of Chinese ancient and modern architectural skills. The Stone Flower Cave is an astonishing karst park.

Recommended Tours with Low Price:

Private Beijing 1-Day Tours
: 10 options to Tiananmen Square, Forbidden City, Great Wall...

4-Day Beijing Small Group
: to Forbidden City, Badaling Great Wall, Temple of Heaven, Hutong...

8-Day Beijing-Xi'an-Shanghai
: 8 days small group to Great Wall, Terracotta Army Museum, the Bund...
More
Beijing Tours
- Last modified on Dec. 05, 2018 -
Questions & Answers on Beijing Attractions
Asked by Lek from SINGAPORE | Oct. 03, 2018 06:36

Reply
shilinxia glass platform and jing dong grand canyon
I am planning to go these 2 places in one day somewhere in late october. Can i know the bus to take from shilinxia glass platform to jing dong grand canyon or vice versa.
how long is the journey between these 2 places and how much?

Answers (1)
Answered by Vida from USA | Oct. 10, 2018 01:13

0

0

Reply
Dear, there is the direct bus Ping NO. 25 between the two attractions. The bus ride needs about 40 minutes to one hour. But it is difficult to wait for the bus. So you are advised to hire a car or join one-day tour for the two attractions.
Asked by Clara G Parra from UNITED STATES | Jun. 14, 2018 21:01

Reply
How do I purchase tickets to see a Kung Fu Show?
Answers (1)
Answered by Orlando from NEW ZEALAND | Jun. 18, 2018 21:19

0

0

Reply
You can buy the tickets when you get there or order the ticket in the official website. But it's only in Chinese so you'd better find a Chinese friend help you.
Asked by rini from MALAYSIA | Jun. 09, 2018 02:45

Reply
We will at Beijing for 4days and how to allocate the attraction place to visit?
such as Badaling Great Wall, Forbidden City, Jing Shan Park, Temple of Heaven, Summer Palace, Ming Tombs, National Stadium, Tiananmen Square, National Museum, Niujie Mosque, Yonghe Temple and Temple of Confucius. We will used public transport and stay at Qianmen Courtyard.

Thank you.
Answers (1)
Answered by Sally from CANADA | Jun. 11, 2018 03:14

0

0

Reply
Day 1: Tiananmen Square, National Stadium, National Museum
Day 2: Forbidden City, Jingshan Park, Yonghe Temple and Temple of Confucius
Day 3: Temple of Heaven, Summer Palace, Ming Tombs
Day 4: Badaling Great Wall

Asked by Matthew from AUSTRALIA | Feb. 21, 2018 21:07

Reply
What is the Beijing temple of Confucius used for today?
i would like to know what the temple is used for today. Do they do tours or is it still operational?
Answers (2)
Answered by Rose from CANADA | Feb. 23, 2018 01:53

0

0

Reply
It serves as a cultural attraction and museum now.
Answered by Matthew from AU | Feb. 23, 2018 15:19

0

0

Reply
Thanks
Asked by Dilip from NEW ZEALAND | Nov. 10, 2016 10:28

Reply
how do i spend my time in Beijing for 13 hours? Any sightseeing in the city centre?
Or Great Wall? What do you suggest how much travel time and by what time should i reach back to airport what is travel time by taxi?
Thank you

Answers (1)
Answered by Barry from USA | Nov. 11, 2016 01:39

2

0

Reply
During the layover, you are advised to pay a visit to the downtown area. You can go to see Tian'anmen Square, Forbidden City, South Gong and Drum Lane, and Wangfujing Pedestrian Street. You should return back to airport at least 2 hours prior to departure. If by taxi, the trip takes about 50 minutes, and the fare is around CNY 90.
If you plan to go to the Great Wall, you may charter a car or join a tour. As I know, TravelChinaGuide arranges such tours. If you are interested, you can contact them through tours

travelchinaguide.com. ;)